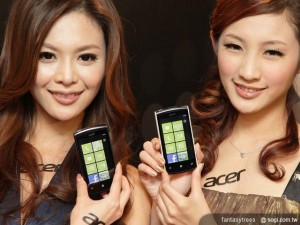 The Acer Allegro, which has just become available in France, has also been launched in Taiwan today.
The handset is being billed as the cheapest Windows Phone 7 phone and features a 3.6 inch screen, 1 ghz Qualcomm MSM8255 Snapdragon processor, 512MB RAM and 8GB storage. China has recently overtaken the US as the biggest smartphone market, making these lower-end handsets essential if Windows Phone 7 is to be a player there.
The handset will be available in sky blue and pearl white,  and comes with an extra battery and is expected to become available on the 11/30 at Synnex stores.
The smarthpone has a  battery capacity of 1,300 mAh, according to official figures, and can support up to 17.5 days of standby time, or 9 hours of talk time.
Interestingly Sogi.tw.com appear to confirm the phone does not have a flash, a first for Windows Phone 7.
Read more at Sogi here.