We all know Microsoft is expecting Nokia to bring volume to Windows Phone 7, but the OEM was meant to lift all boats and cause a general improvement in the sales of Windows Phone 7 devices.
More predictably however it seems, at least according to game data, that Nokia's Lumia 800 is racing ahead of all other Windows Phone 7 handsets, and according to SurvivalCraft's game analytics, is dominating the market with 31% of all handsets.
In USA, where the handset is yet to launch (and where Nokia is not a massive brand name of course) SurvivalCraft sessions are dominated by older generation handsets, though the Samsung Focus Flash is starting to make an appearance, indicating that the European phenomena is not just an artefact of getting a new handset.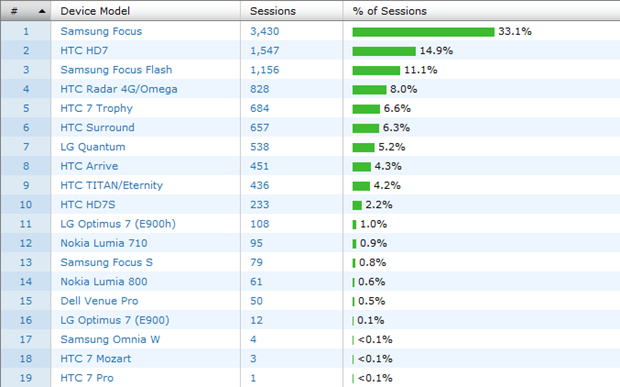 The implications are of course interesting. The Nokia Lumia 800 is just getting into its stride, while the marketing for the other Gen 2 Windows Phone 7 handsets have all but disappeared.  Will we in 3 months see a world where 90% of the Windows Phone market are Nokia handsets, and would this be a good thing or a bad thing?
Let us know your thoughts below.
Read more at Kaalus, Survivalcraft's developer's website here. Survivalcraft is $1.99 with a free trial and can be downloaded here.