Microsoft has many accessories for its Lumia phone lineup and sound plays an important role there. Besides speakers the new telecommunication company also offers many headphones, and one of them is the Purity Pro by Monster. These are wireless headphones with a pretty huge price tag which will work perfectly with your Windows Phone device, but whether wireless headphones can keep up in terms of sound and if the price is justified you can read here after the break.
The Purity Pro's box is pretty huge and black and is full of bits. Of course there's the headphones and the manual, but also a charger, a cable (in case you do not want to use Bluetooth) and even a bag. The bag actually is pretty nice; not only does it keep your headphones safe but it can also be attached to any kind of backpack which allows easy transportation.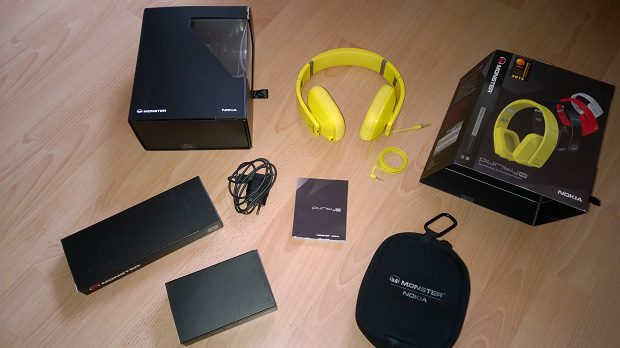 Once fully charged you can begin using the headphones – easily connect them via NFC or Bluetooth or just use the cable. Besides being less handy the cable only has advantages. For example can you use the equalizer (I do not understand to this days why the equalizer does not support Bluetooth headphones!) and the battery does not drain at all. Connected via Bluetooth however the buttons to fast forward and rewind work – you have to decide which feature is more important to you.
In terms of sound these dudes do not need to hide! For my taste the equalizer-less Bluetooth connection has a little too much vocal, a wired connection with the equalizer set however makes them sound simply great. The bass is deep and clear while the highs do not hiss (except when you turn them too high). Yes, every sort of music sounds great and is a pleasure to listen to. The best experience, however, will be rap with a huge amount of bass. Even low quality YouTube videos become a lot more enjoyable. Anyway, they cannot compete with the Bose MIE2 which as in-ears are smaller and even cheaper. The bass is a bit less low but there are just more details coming out of these little earbobs.
A nice, but not really necessary feature is the voice guidance. When the headphones are connected, fully charged or when their battery is almost empty, a voice (optionally in English or Chinese) will tell you so, e.g. "connected". Thanks to Nokia's Accessories app in the settings even an app to open automatically on connection can be chosen if desired. Pretty handy!
Of course the Purity Pro also have a microphone built in which is used for making calls or using Windows Phone's voice recognition feature, Cortana for example. Me and the person on the other site both found the Purity Pro headphones to have a realistic calling experience, but the a-Jays five seemed to have a higher quality microphone built in.
The built quality is something Nokia (now Microsoft) is well known for and normally this is an excellent point – even low end devices are very high quality. And the more you get to know Nokia phones the more you wonder about the built quality of these headphones. You will not have the feeling they will not last one or two years, but the plastic housing on they are made of does feel cheap. The transition from the plastic to the cushion is very sharp and I even think it can be pulled apart easily – I did not try as I did not want to have to pay the damage. To the contrary the head clip (which hinges for changing the size are made of aluminium and look very good!) is very solid and seems to withstand a good load of force.
All in all the Purity Pro by Monster are good headphones with a very good sound quality but a moderate built quality. Also, in terms of sound perfection, they have to admit defeat of the Bose headphones.
Is the price of nearly 200 Euro justified? Not entirely, but its not too far off either.
Do any of our readers own these headphones? Give us your own review below.