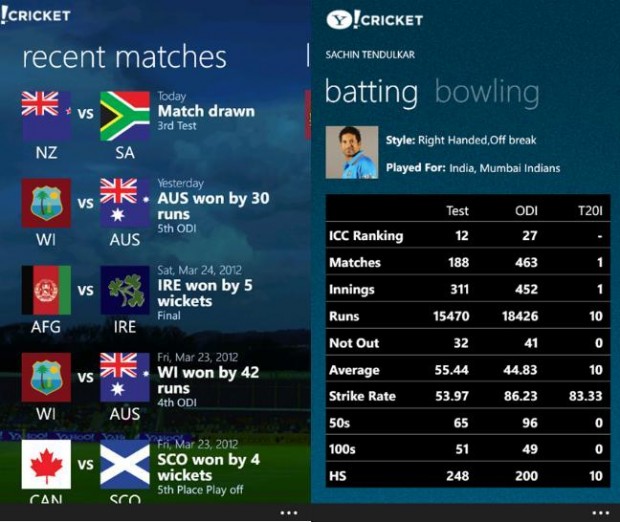 Another important app in Indian Windows Phone Marketplace landed today, its Yahoo! Cricket. Cricket is the most loved sport in India with millions of people enjoying it everyday. Just in time for the recently started IPL5, Yahoo India has released its Cricket app for Windows Phone. The app gives you everything you expect from a standard cricket news app such as live scores, commentary, news, photos, fixtures, results, etc,.
App Description:
Yahoo! Cricket is the best place to enjoy the game of cricket (and not just follow) on the web, and now you can do that on your Windows phone too. This App comes with a slew of features and user-friendly interactions not seen on any Cricket App for and Windows phone yet.

Here are some of them:

A quick look at all the live scores of matches currently happening.

A very interactive scorecard. Browse through the batting line-up to know about partnerships, who got out when, and who is coming up next.

Provides users with various ways of enjoying a cricket match – from the basic scores, all the way up to a detailed ball-by-ball commentary

Nifty shortcuts like shaking to refresh scores, flipping to switch between a summary view and a detailed view

View specially created photo galleries showing the latest from the world of cricket.

Read all the latest news articles on the game.

A simple way to browse through results of completed matches, and to know schedules of upcoming matches.

Browse through all international teams and players
Download the free app here from the marketplace.