Artificial intelligence (AI) has significantly impacted the art world, transforming many other industries. The Wonder AI Art Generator has become a significant player in artificial intelligence-generated art.
The limits of human creativity have been pushed beyond imagination with the development of AI technologies. Artists, designers, and art fans worldwide have noticed the fantastic innovation known as The Wonder AI Art Generator.
Below you can see how you can try this app out. In case you're using a laptop, we recommend using the Wonder – AI Art Generator PC version.
Even though this is not an in-depth Wonder AI Art Generator review, we can't stop ourselves from wondering: Does Wonder AI Art Generator live up to the hype?
Let's investigate further.
What is the Wonder AI Art Generator?
Wonder AI Art Generator uses deep learning algorithms to produce works of art independently. These algorithms analyze enormous datasets of artistic styles, methods, and compositions to imitate human creative abilities. The result is an AI capable of creating stunning works of art, including paintings, illustrations, and digital graphics.
How Does the Wonder AI Art Generator Work?
The Wonder AI Art Generator process comprises two essential stages: training and generation. A vast array of artworks created by human artists are fed to the AI model during the training phase, thus allowing it to analyze and use the information.
More specifically, the model can recognize patterns, styles, and artistic nuances from this data. Following training, the AI can create creative artwork by fusing aspects of the respective styles.
Follow these steps to create your own art using this tool:
Open the app on your device. We're using an iPad Pro for this example.
Write the prompt for the image you want to create.
Under the Select Style section, click See All, and choose a style that suits your needs. We chose Pen & Ink in this case.
Click the Create button to start the process.
Wait for the creation process to complete.
Wonder AI Art Generator can be used for free if you sign up for a 3-day trial. With this trial, you get 50 credits to use for creating art. After the 3 trial days, you will have to pay.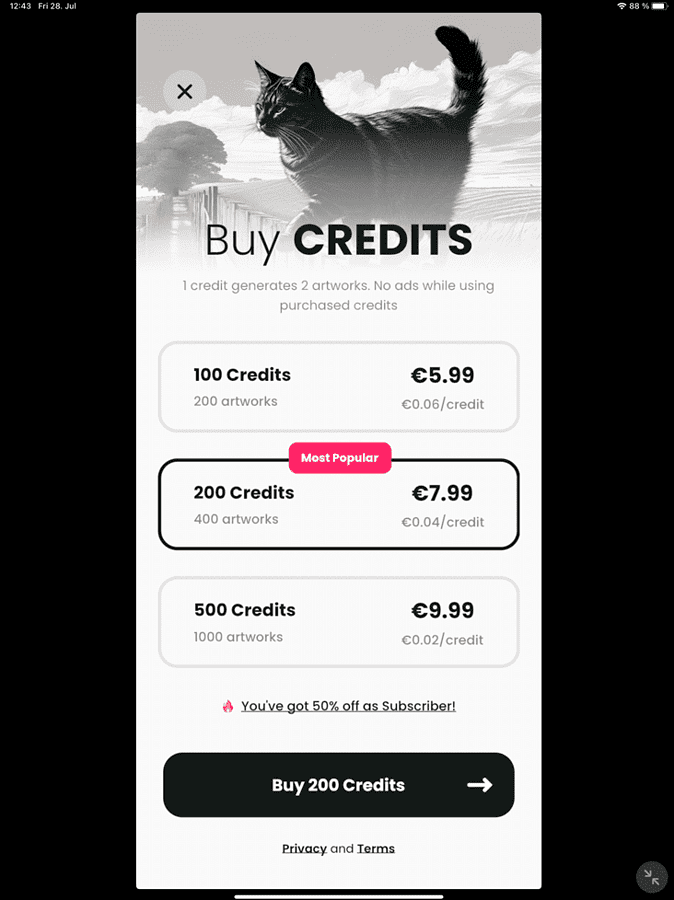 Also, if you want to buy additional credits, you can do so from the app without any issues. This ensures that you can use the app no matter when you need some extra inspiration.
What are the benefits of using the Wonder AI Art Generator?
Can be a creative boost for artists – The Wonder AI Art Generator is an excellent source of ideas for designers and artists. It can quickly produce various artistic works from which artists can take inspiration, igniting new creative paths and dissolving any possible barriers.
Saves time and effort – Artwork created from scratch takes time and work. The AI art generator speeds up the creative process, allowing artists to experiment with various aesthetics and ideas quickly. This enables you to see how a composition would look even before you start putting your thoughts on paper or digital screens, thus allowing you to make informed decisions.
It makes art accessible to everyone – AI-generated art is not just for professional artists. Even amateur artists can produce beautiful pieces of art using the Wonder AI Art Generator.
What are the limitations of the Wonder AI Art Generator?
– Lack of human touch
Even though the Wonder AI Generator produces unique art with minimal input, it still lacks the human touch element. This refers to the emotional depth and the consequent decisions about how to use the respective brush stroke, adding details and features evoking feelings in humans that can not be replicated by artificial intelligence yet.
– Copyright and intellectual property concerns
Art generated by AI systems raises some critical questions regarding copyright for the art. Because AI art generators use a vast array of scanned images, art pieces, designs, etc., the actual inspiration for the result comes from real artists from across the globe.
That being said, Pablo Picasso, one of the most renowned painters that ever lived, had a fascinating quote: "Good artists copy, great artists steal."
Becoming an artist involves learning the skill of using the work of your favorite artists to find inspiration and guidance. For example, imitating some of the greatest painters on the planet enables you to not only appreciate their brush technique but also to understand how it applies and what its limitations are, and only then to start matching it with your style and create new and inspiring art.
– Limited Artistic Expression
Unlike a human artist, an AI may not fully understand the deep meaning or intention behind a piece of art, despite its ability to develop various styles.
How to Use the Wonder AI Art Generator Effectively
Choose the correct input – Giving the AI high-quality, well-detailed inputs is essential to get desired results.
Explore various styles – Experiment with any style you might be interested in. Inspiration could be just around the corner.
Add personal touches – Any AI-generated art can be enhanced by using your artistic touch after the image has been generated.
Other Results
Here is what art I created while testing out the software's capabilities: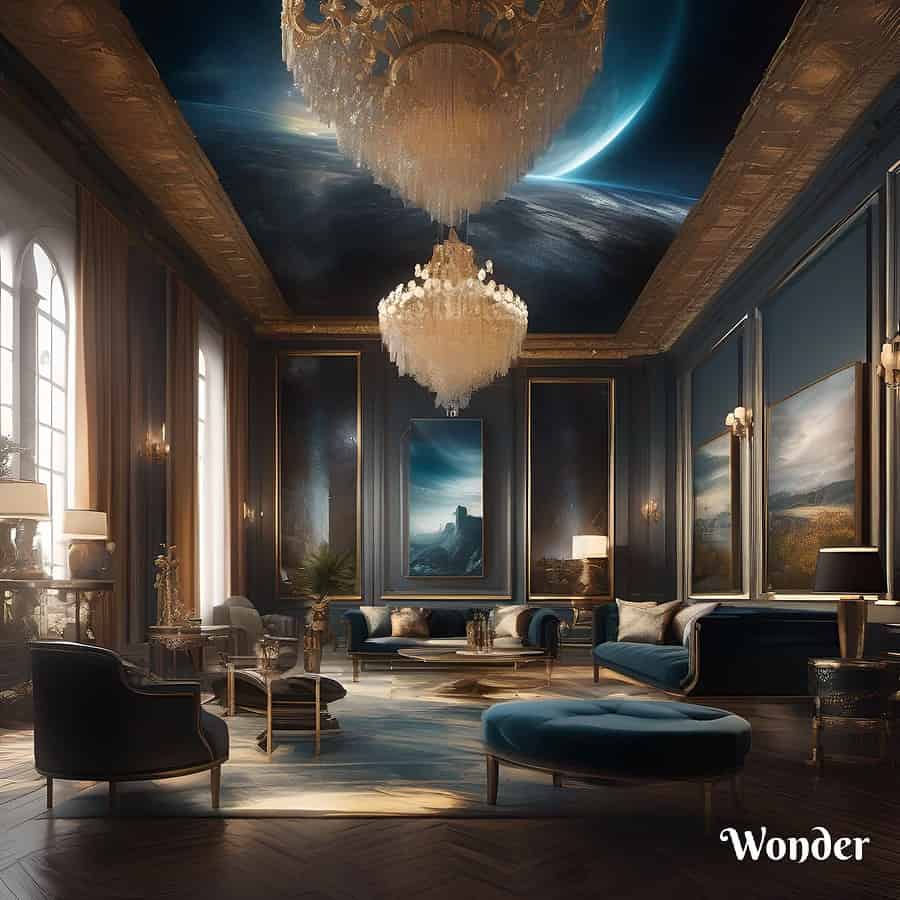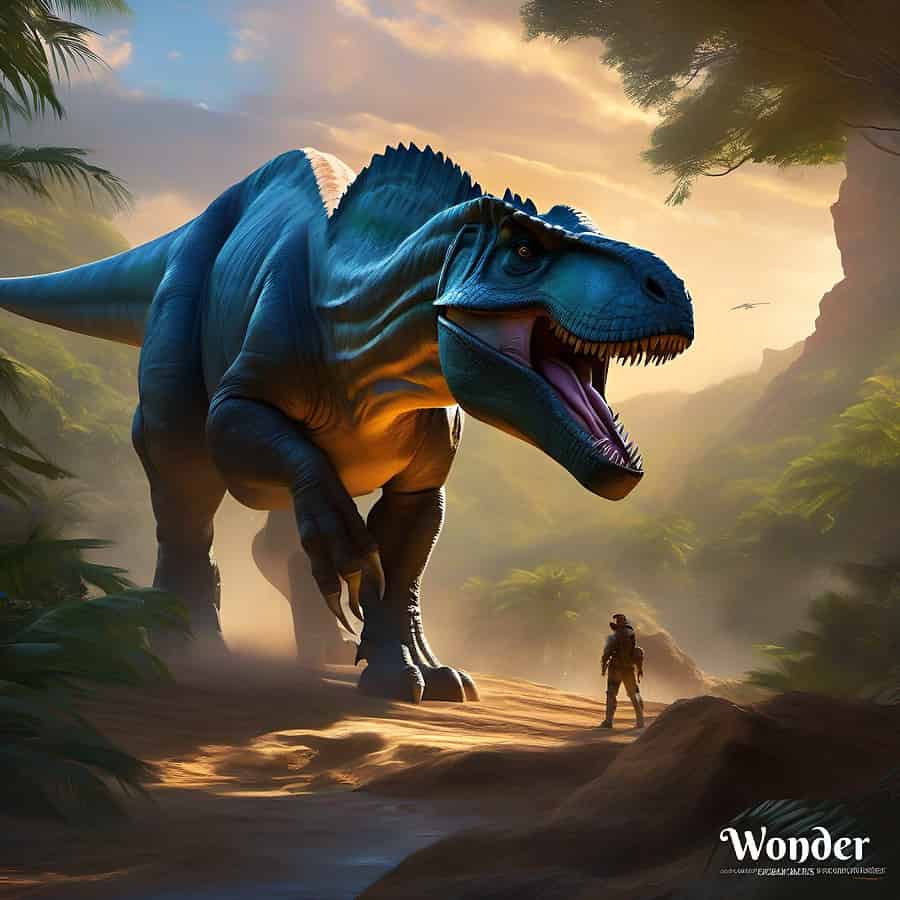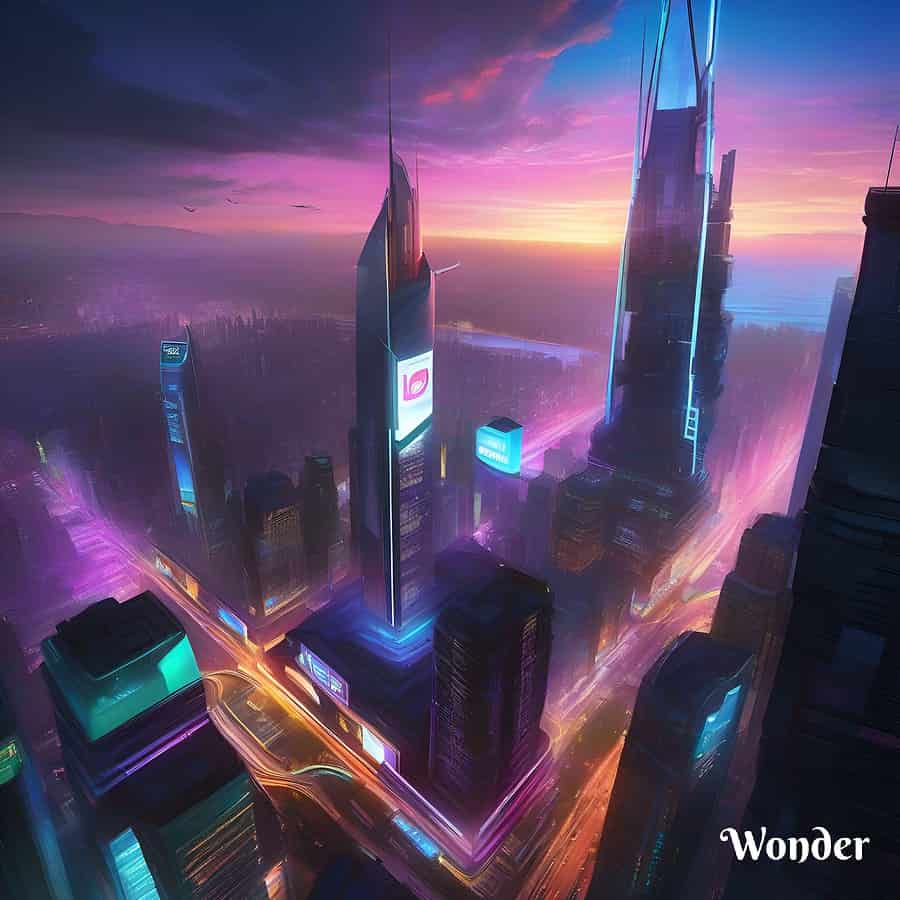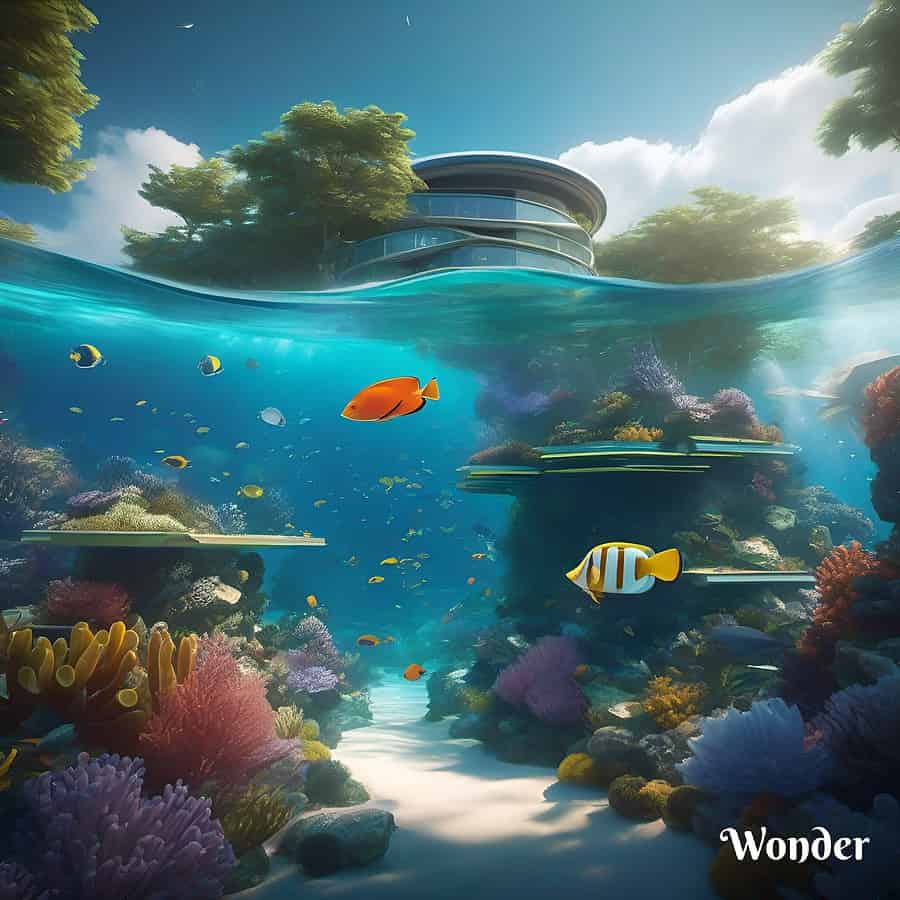 As you can see from the AI-generated art above, The Wonder AI Art Generator represents a revolutionary leap in creating fantastic art with just a prompt and a few minutes of your time.
Pros & Cons
Pros
Unlimited creative inspiration
Combines human creativity and machine intelligence
Efficiently transforms ideas into reality
Great set of art styles to choose from
Perfect for artists of every caliber
Easy-to-use interface
Art is generated in about 1 minute
Cons
Overly relying on the app for creativity could hinder the natural force
Some patterns, or repetitions, are present occasionally
In time it can dilute the individuality of the artwork
Elements like originality, plagiarism, and ethical implications are still to be cleared
Conclusion
After extensively examining it and being immersed in its possibilities, we can confidently conclude that the Wonder AI Art Generator app is a fantastic and awe-inspiring tool for artists and creative enthusiasts.
With a wide range of capabilities that have mesmerized and amazed us, this AI-powered program has proven to be a gold mine of artistic potential.
The app's capacity to produce gorgeous and varied art styles stands out as one of its most vital points.
The AI Art Generator exhibits an astonishing ability to bring fantastical worlds to life, creating everything from ethereal landscapes to future cityscapes. The artwork it makes is astounding in its depth and richness, frequently rivaling that of accomplished human painters.