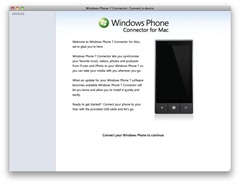 We won't dwell on how Microsoft appears to be reserving their best updates for other platforms.  Maybe their Apple team is just very motivated.
In any case, Microsoft's Windows Phone 7 connector for Mac has received a very full featured update which should reduce the pain of using a Windows Phone 7 handset with an Apple computer significantly. I am sure 3% of the worlds population are cheering as we speak.
The most significant new feature is likely that your MP3's purchased on the device are now no longer stranded there, and that the software now supports applying firmware updates to the Windows Phone.
The full list of updates follow below:
New features:
Purchased audio content is synced from device
New device setup experience
Browse device now supports manual import from device, delete from device and preview.
Improvements and fixes:
Performance improvements in sync process
Photos are now organized by their iPhoto event if present and by album otherwise
Improved video preparation process
Improved support for pin lock and unlock of device
Improved meta data transfer settings (bookmarks, rating and release dates and now transferred)
Fixed issue with remote iTunes installations
Fixed issue with .AAC and certain .MP4 files not playing on device
Apple Lossless encoded files are no longer synced as they are unsupported on device. They will be ignored like protected content. Please convert these files, as necessary.
Improved support for iPhoto 11.
Notes:
Initial device update support is included in beta 2, though it is disabled when there are no available updates.
Via PocketLint.com