In the modern digital era, having the best Windows 10 backup software available can ensure safety and security while protecting against unintentional file deletions, device failures, malware attacks, or even natural disasters that could result in irreversible data loss.
Backup software can be helpful in this situation. You can make copies of your crucial files and folders while offering protection against unanticipated problems.
This tutorial will cover your top 10 backup software solutions, including free and paid options. Let's investigate the top Windows 10 backup programs currently on the market.
Comparison Table
Free backup software
| | | | | | |
| --- | --- | --- | --- | --- | --- |
| Software | Automatic Backup | User Interface | Backup Scheduling | Cross-platform Compatibility | Overall Efficiency |
| Perfect Backup | Yes | ***** | Yes | No | ***** |
| EaseUS Todo Backup Free | Yes | ***** | Yes | No | ***** |
| Tweaking Repair | Yes | **** | Yes | No | ***** |
| Windows File History Backup | Yes | *** | Yes | No | *** |
| FBackup | Yes | **** | Yes | Yes | **** |
| Syncthing | No | ** | No | Yes | ** |
Paid backup software
| | | | | | |
| --- | --- | --- | --- | --- | --- |
| Software | Automatic Backup | User Interface | Backup Scheduling | Cross-platform Compatibility | Overall Efficiency |
| IDrive | Yes | ***** | Yes | Yes | ***** |
| Aomei Backupper Professional | Yes | ***** | Yes | Yes | ***** |
| Backblaze | Yes | **** | Yes | Yes | ***** |
| R-Drive Image 7 | Yes | **** | Yes | No | **** |
1. Perfect Backup – Best free backup software for Windows 10
Perfect Backup is a reliable backup software option for Windows 10 users. It has an intuitive user interface and a wide range of functionality.
With Perfect Backup, you can quickly create backup copies of your files and folders, set up automatic backups, and even back up your entire system. You can easily save your backup files on a local drive,  external HDD, network, FTP servers, and in the Cloud. This software is the best backup software for Windows 10 to an external hard drive.
Pros
Easy backup procedures with a user-friendly UI
Complete collection of features for backups of both files and systems
Options for automatic scheduling to manage backups
Cons
The free version has few storage options
Only the premium edition has advanced features
Response times for customer service can differ
2. IDrive – Best file backup software for Windows 10
IDrive is a thorough cloud backup service that supports Windows 10 and is cross-platform compatible. Several features are available, including scheduled backups, ongoing data protection, file synchronization, and mobile access.
IDrive provides customizable storage solutions for both personal and commercial backup services and has a wide range of prices, depending on your needs:
Free: 10GB
IDrive Mini: $2.95
IDrive Personal: $59.62
Now that you have chosen a suitable license, you can safely back up your data and files and store them on your local drive, the local network, or upload them to the Cloud for improved safety and easy access.
Pros
Cross-platform compatibility for easy backing up
Constant data protection for backup in real-time
Adaptable storage options for customized backup strategies.
Cons
Limited storage space for the free version users
Additional fees for storage above and beyond the allotted amounts
Technical expertise may be needed for advanced features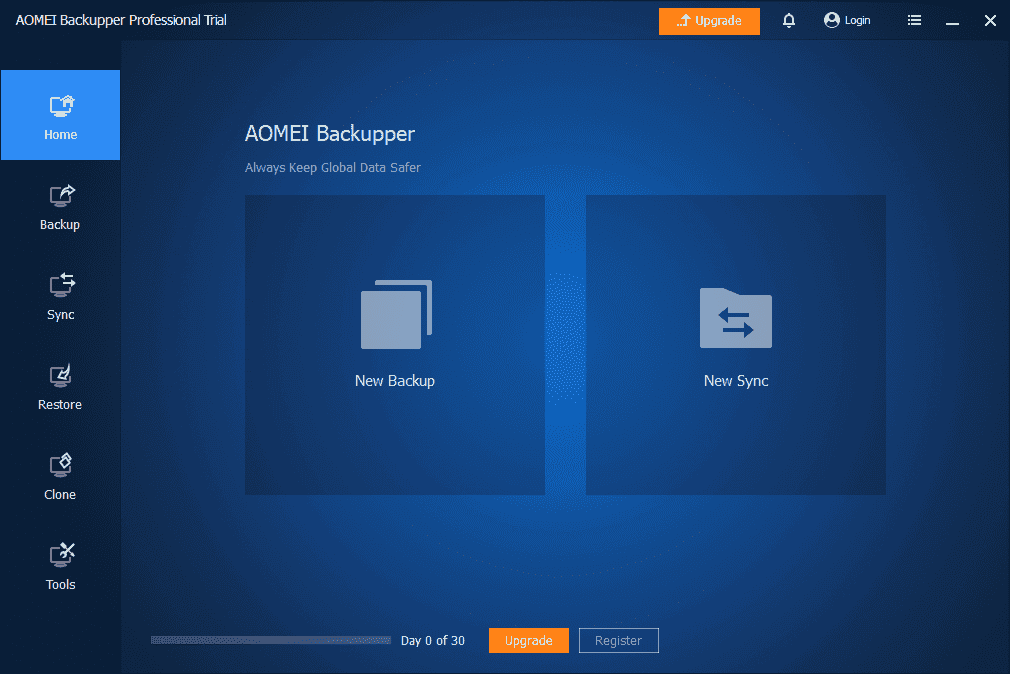 Aomei Backupper Professional is another excellent choice for Windows 10 backup. File backups, disc imaging, and system cloning are just a few of its many services.
You may schedule backups using Aomei Backupper Professional, carry out incremental backups for effective storage utilization, and even produce bootable rescue media for disaster recovery.
Aomei offers its users a good range of prices with some great bonuses:
Yearly: $39.95
Yearly + 1TB Cloud: $49.95
Lifetime + Unlimited Cloud: $69.95
This software enables you to choose your local drive as a storage location for your backup file but also ensures full compatibility with NAS, local network, and cloud storage.
Pros
Flexible backup options for different data types
Capability for incremental backups ensures practical storage usage
Can create bootable rescue media for quick system recovery
Cons
The free version's capabilities and features are constrained
Some advanced features might need technical know-how
The interface can be overwhelming for new users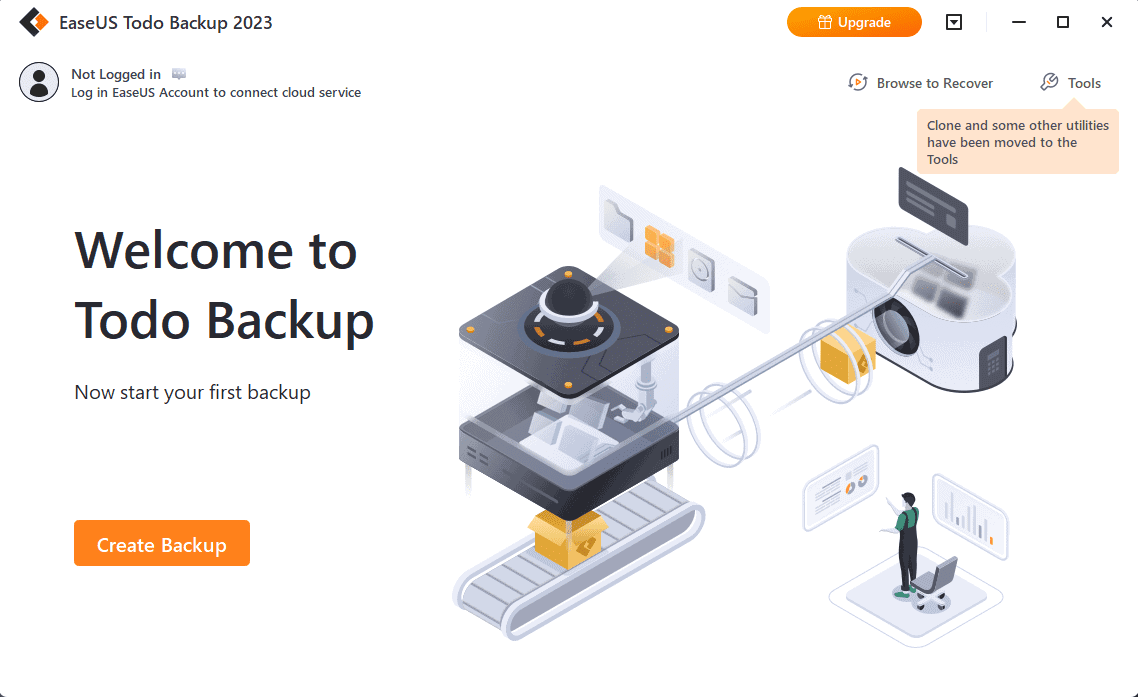 Windows 10 users frequently choose EaseUS Todo Backup Free as their free backup software. It provides basic backup options and an easy-to-use UI.
You may back up files, discs, and partitions and even clone your complete system with EaseUS Todo Backup Free for quick recovery. immediate quick access to your data at all times, you can save it on your local drive, external HDD, NAS, on the network, or in the Cloud. This is the best Windows 11 to an external hard drive backup-er that will give you access to all the tools required.
Pros
Easy-to-use interface for backup operations.
A variety of backup options for various data formats
The free version provides full backup functionality
Cons
Some sophisticated features can only be found in the premium version.
Customer service isn't very good for free users.
Backup and restoration times are a little bit slower compared to premium software
5. Backblaze – Best cloud backup software for Windows 10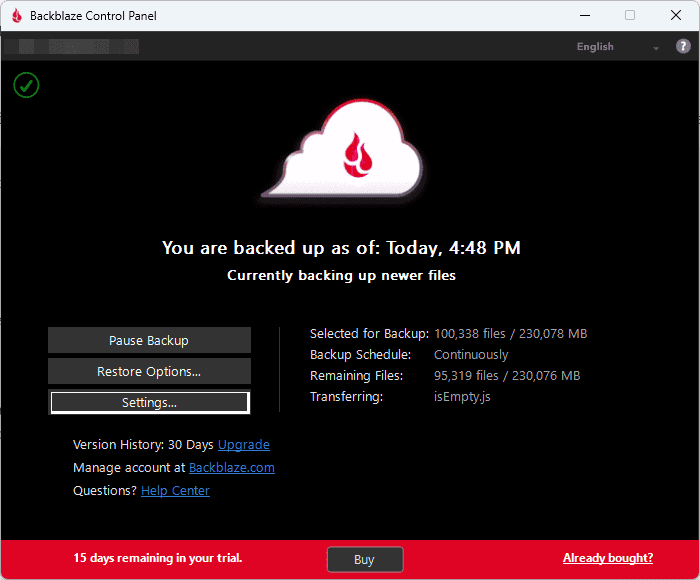 Backblaze allows users to back up their data into the Cloud for increased safety and accessibility. Your data can be automatically backed up to the Cloud using BackBlaze, providing off-site storage and uncomplicated recovery.
You can also use file versioning, unlimited backup storage, and mobile access to your stored data. You can get an unlimited backup offer for just 7$/month.
Pros
Simple and automated cloud backups
It offers an unlimited amount of storage
Includes a file versioning feature to access previous files
Cons
You need internet access to access the data or create backups
Limits on how much data retrieval can be performed for free users
Just a few customization choices available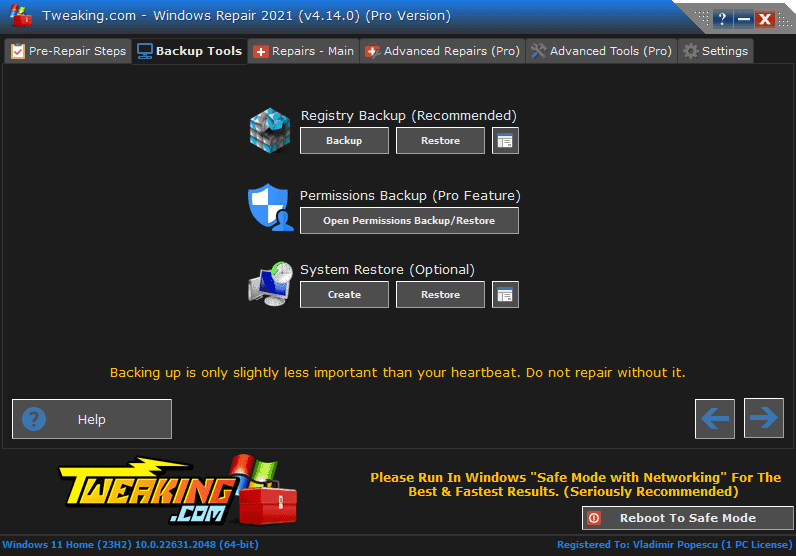 Tweaking.com Windows Repair is a robust and user-friendly software made to fix various Windows problems, create registry and permissions backup, improve system performance, and increase overall PC functionality.
This adaptable tool is designed to restore your Windows operating system to its peak performance, whether you are encountering system crashes, registry issues, or slow performance.
Pros
Versatile for solving a variety of Windows-related issues
Create automatic backups and restore points
Use scheduling to ensure backups are created regularly
Powerful malware removal features
Performance tweaks and Windows optimization
Cons
Exclusive to Windows-based machines
Some more advanced repairs require some technical knowledge
7. Windows File History Backup – Good Windows 10 built-in tool
Windows File History Backup is a dependable choice for Windows 10 users looking for a built-in backup solution. You can use this app to backup your files to a network location or external disc, and it's entirely built into your OS.
Although it might not have sophisticated features like system image backups, Windows File History Backup offers a practical approach to ensure your files are safe and secure. You can save your backups on your local network or the local drive.
Pros
A built-in feature that allows quick access on Windows 10 devices
Simple setup and configuration process
Continuous file backup ensures real-time protection
Cons
Limited to file backups only; system image backups are not included
Storage is only possible with an external disc or network location
Few customization options only
8. FBackup – Best backup software with compression and encryption
FBackup offers its users a good-looking and easy-to-understand interface which ensures quick access to any option.
You can create full mirror backups of your files with just a few mouse clicks. Additionally, you get full support for automatic backups, compressions of data, and even encryption. To ensure seamless access from wherever you are, you can use the local drive, an external HDD, or back up your files to the Cloud.
Pros
Easy to use and understand interface
Backups are automatically made for easy data protection
Options for compression and encryption
Cons
Limited compared to premium software in terms of advanced capabilities
Some users might need backup choices that are more comprehensive
9. R-Drive Image 7 – Great for experienced users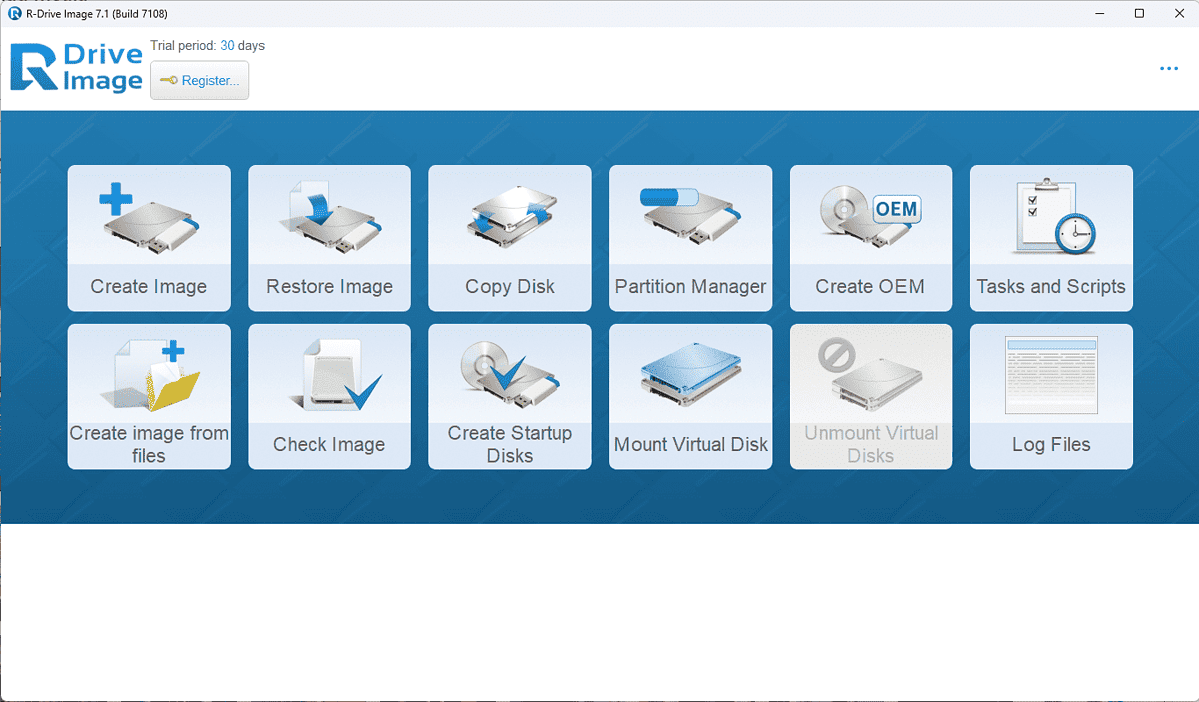 R-Drive Image 7 is another excellent backup and disk imaging software that ensures great data protection on Windows 10.
It lets you make precise copies of your discs or partitions, complete with the installed software and operating system. Besides, incremental backups, encryption, and adjustable scheduling are other valuable features.
This software and all its features cost $44.95, making it medium-range when it comes to price ranges. You can choose to store your backup file on your local drive, on removable media, or external storage options.
Pros
Powerful disc imaging tools for complete system backup.
Can create incremental backups to maximize storage space
Encryption option to ensure data security
Cons
Technical know-how could be needed for advanced functions
The user interface might be challenging for novice users
Limited integration with cloud storage
10. Syncthing – Best open-source backup software for Windows 11
Tweaking Windows Repair is
Pros
Peer-to-peer synchronization offers improved privacy
Cross-platform compatibility
Continuous file synchronization
Decentralized open-source build
Cons
It can be overwhelming to set up for beginners
It doesn't provide selective sync
Collaboration features are not included
Does Windows 10 have a backup program?
Windows 10 has an integrated backup program called Windows Backup and Restore. This tool can make backups of your files, directories, and system image.
Backing up files
Open the Start menu, and choose Settings (cogwheel).
Click on Update and Security, and choose the Backup option.
Add a drive by clicking the + sign, and choose a location for storing the backup.
Restoring files
Open the Search box and type restore file.
Select the Restore your files with File History option.
Find the file you want, and click Restore to start.
Note: Click Restore to save the file in the same location. If you want to use a different location, right-click the Restore button, and choose the Restore to option. This allows you to select a new storage location.
Is the Windows 10 built-in backup any good?
Yes, the built-in Windows 10 backup feature is helpful, but if you want to back up your data and files fully, we recommend trying one of the software options covered in this guide.
What is the best backup strategy for Windows 10?
To keep your Windows 10 data and files safe and private, you will need to use regular file backups, create system image backups, and use secure offline storage like an external SSD or HDD.
To complement and help with the tasks mentioned above, you must choose the best backup software for your circumstances, with which this guide can help.
---
We hope that the information in this guide gives you all the tools you need to make an informed choice of the best backup software for Windows 10. Before deciding, we recommend you explore all the data in this article and make a truly informed decision.