A few weeks ago, Meta made it quite clear that the Electron-based WhatsApp desktop application on Windows has its days numbered. The day has finally arrived when the social media giant has started the process of depreciating the Electron-based WhatsApp desktop app on Windows. After opening the app, users are now getting an error message that says, "App expired."
However, this is not the end of WhatsApp on Windows. What Meta is doing is replacing the Electron-based WhatsApp with a native app. You can no longer chat with WhatsApp contacts using the WhatsApp desktop app. The WhatsApp native Windows app will be required in order to continue seamless communications over the service. Switching from Electron-based WhatsApp to the native one is not that hard.
What to Do When WhatsApp Desktop Is Expired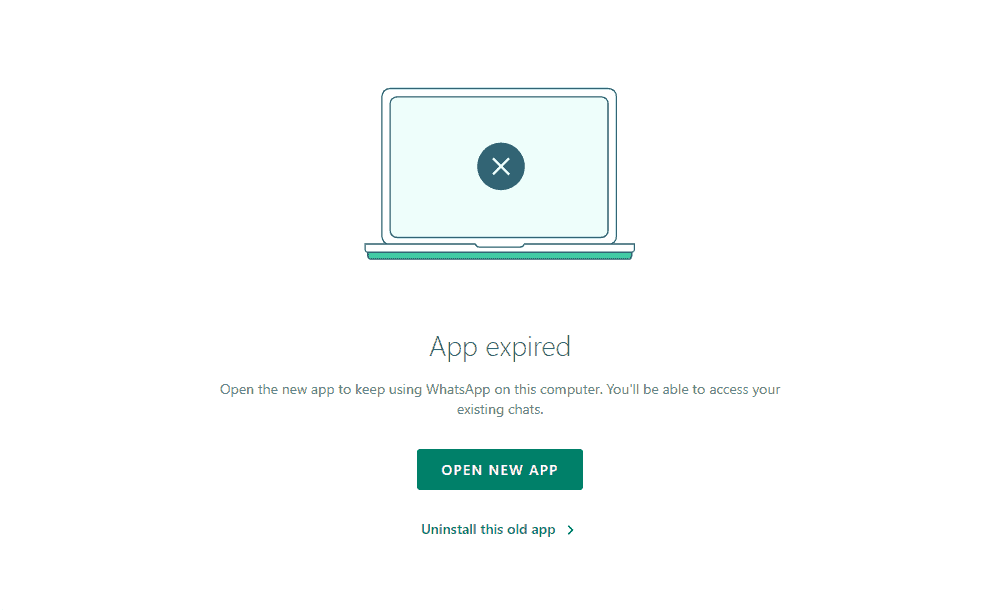 If you see the "App Expired" error, there is also a button on the same screen that says "OPEN NEW APP." Click on it and it to resume your conversations with the contacts. If you don't want to proceed and install the native app, you can also uninstall the old WhatsApp, and there is a button for that on the error screen. Of course, you will be able to install the native WhatsApp application from the Microsoft Store later.
Is Native WhatsApp Any Good?
The simple answer is no. The native WhatsApp application is not as good as the Electron-based app in terms of the number of features you get. The native application currently does not support important business features, including catalog management, quick replies, and more. If you want those business tools, you need to temporarily go back to using WhatsApp for the web.
With all its missing features, WhatsApp native solution for Windows shines with improved UI and a better overall experience. And since Meta has shifted its focus to developing a native WhatsApp for Windows, you can expect the app to get better with time. Hopefully, it will soon bring all those missing business features very soon. As always, all your messages on the native WhatsApp application are end-to-end encrypted as on other platforms.
Did you get the error message if you used the Electron-based WhatsApp on your Windows PC? Let us know in the comments if you have installed the native WhatsApp on your PC.