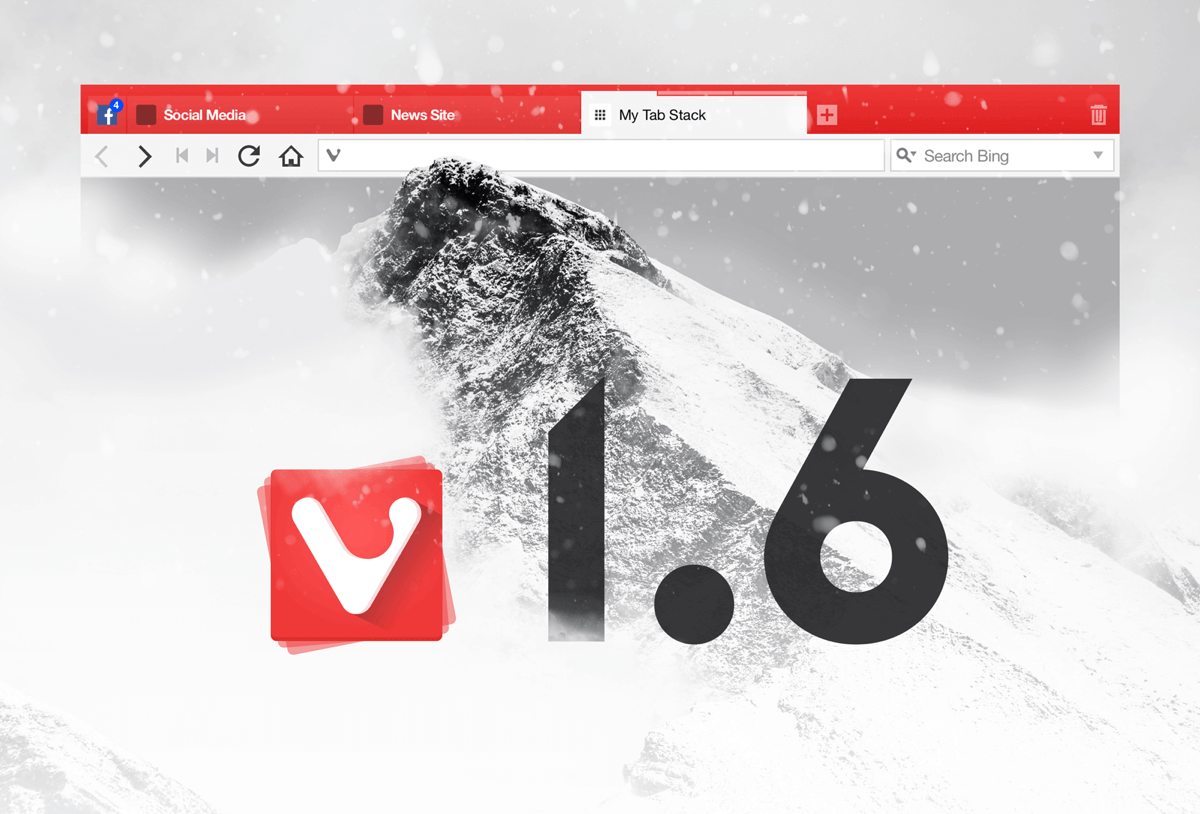 Today Vivaldi releases a new version of their web browser, version 1.6, which introduced Tab Notifications – a first for browsers – along with more Tab enhancements which gives users more control over their browsing experience.
Tab Notifications let users know which of their tabs have new content in them. Tab notifications notify you about changes happening in both pinned or regular tabs. This works particularly well on messaging and social media websites where Vivaldi counts the numbers disclosed in the page title and highlights them as an overlay icon on the tab.
The Tab settings now also have the option for assigning a name to any given tab stacks. Renaming a tab stack is now as easy as right-clicking on it and choosing "Rename Tab Stack". The chosen name will display for all tabs in the stack. It's just as easy to remove the name by deleting it – the tabs will return to their default names. This comes in handy when browsing websites with similar content, be it travel, shopping or even social media.
With the latest release, the tab selection has also gotten easier. The Vivaldi browser now allows selecting multiple tabs by their domain by simply holding down Ctrl (or ? on macOS) and double-clicking on one of the tabs. This helps make the tab bar look neat and organized.
This useful feature makes tiling of the selected tabs practically effortless through right-clicking the menu. The Tab Selection feature also helps gather selected tabs as a stack, bookmark it or even move it into a separate window. Closing all the tabs is simple with the Ctrl+W keyboard shortcut.
The Vivaldi web browser also features:
Save open tabs as a session to easily remember and organize multiple sessions.
Nickname each bookmark for faster access.
View two or more webpages through tab stack tiling.
Search for Details with quick commands. Activate it with F2 key or ? + E on macOS and stay close to the keyboard.
Navigate in faster strides with Forward or Rewind buttons.
Be in control – enable or disable just about any feature.
Add almost any search engine to the search box with a right click.
Customize the appearance and change the color of the interface as you browse.
The browser even integrates with the Philips Hue smart lighting system to brighten up the holidays.
"We set out on a mission this year to make web browsers powerful again," says Jon von Tetzchner, CEO, Vivaldi Technologies. "Everything we build is in service of the user and we will continue to pursue our mission, because browsing is only getting better with Vivaldi. This is a great opportunity to thank everyone – especially our users – for their support and feedback. Happy holidays and season's greetings!"
Download Vivaldi today and give it a try.