Is Copilot the best AI companion out there? Help us find out by answering a couple of quick questions!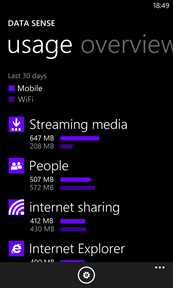 The Verge reports that a server migration currently ongoing at Twitter is causing excessive data usage for Windows Phone users, with the People Hub using up up to half a gigabyte of mobile data per month.
Due to the ongoing changes at Twitter's end the People Hub is regularly refreshing the profile picture of contacts in the People Hub. The issue, which is about a week old, is difficult to address until the migration is completely, but in the mean time Microsoft has slowed down the profile synching to once per day.
If you think you may be affected by this issue the only other mitigation would be removing the twitter account from your Windows Phone.
With my own data usage by the People Hub exceeding a gigabyte in the last 30 days, I am once again just glad for my unlimited data plan.
Are our readers affected by this issue? Let us know below.