A listing for Tom Clancy's Splinter Cell 2018 has been spotted on Amazon by a Redditor. The listing on its Canadian website, which is still up at the time of writing, gives no other information away, unfortunately (via IGN).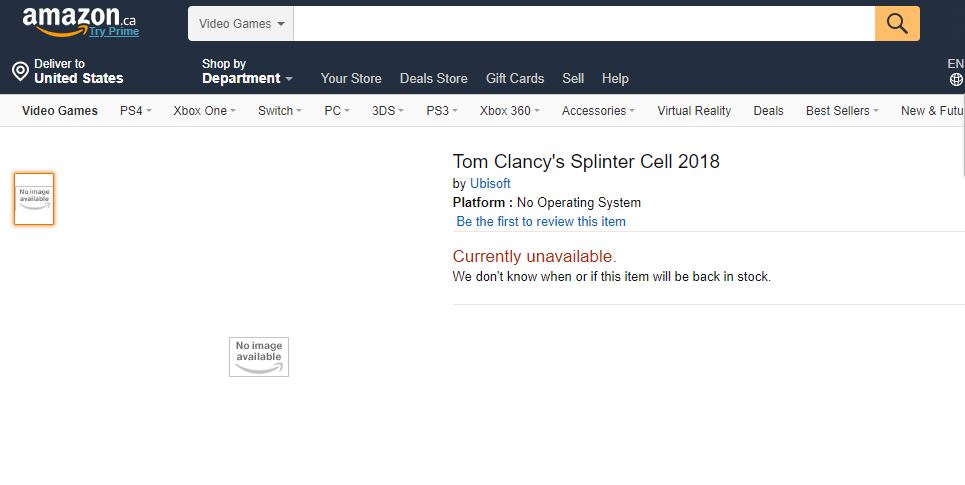 Given the amount of details available and since no official announcement was made from Ubisoft, everything on the page appears to be a placeholder listing. No box art is shown, a release date wasn't included. Even the name is subject to change. Still, Amazon has leaked a lot of games and console bundles in the past, most recently an Xbox One S Sea of Thieves bundle, so this points to a reveal by Ubisoft down the line at some point in the future.
The last Splinter Cell game under the Tom Clancy's franchise was Splinter Cell: Blacklist, which released in 2013. When talking about revisiting older franchises at last year's E3, Ubisoft Montreal CEO Yannis Mallat said that the company was "not forgetting Splinter Cell" but that Ubisoft "has quite a lot on our plate at the moment."
Aside from Splinter Cell, Ubisoft recently revealed another sequel in its Tom Clancy's franchise, this time being The Division 2. More information about that title will be revealed at E3 2018. If a new Splinter Cell game is indeed in the works and set for a release this year, there's a possibility we could see it from Ubisoft at E3 alongside The Division 2.