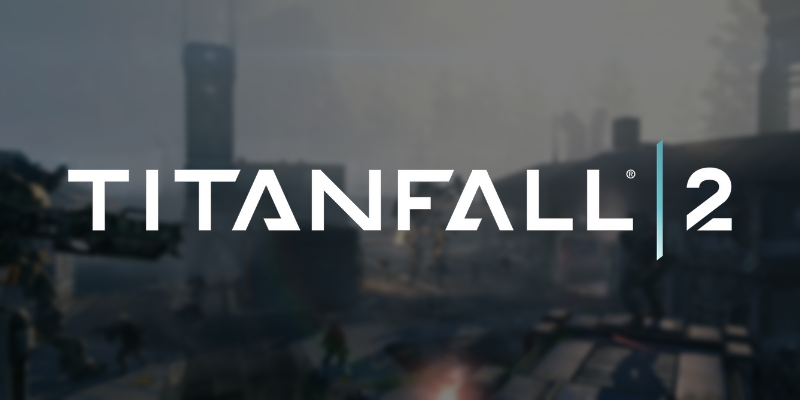 The Titanfall 2 Tech Test began last Friday, and its first weekend has just finished up. Now that it's not possible to play the game until next Friday, what did we think of it? To start this off with a few disclaimers, I didn't play the original Titanfall, and this build of the game is pretty old. According to Jon Shirling, one of the game's lead engineers, it was branched in late June.
The Titanfall 2 Tech Test build was branched in late June – changed since then. We love feedback – keep it coming. Respawn is listening. ??

— Jon Shiring (@jonshiring) August 20, 2016
Respawn has done their best to make it clear that this build of the game is all about stress testing their servers, but that doesn't make (constructive) criticism of the game any less important – it just means that some of your issues with the game might be fixed already in a private build.
Some of the common complaints about the Tech Test are ones that I really can't comment on too much, as they're all about the changes from Titanfall 1. These include things like how titans are called in (in the first game they were on a set timer, in the second game you need to kill other players and do damage to enemy titans) and the removal of burn cards. For the most part, these are all valid complaints that I would like to see addressed.
Moving on to my own thoughts on the game, there's a couple different segments to go over.
Titanfall 2's campaign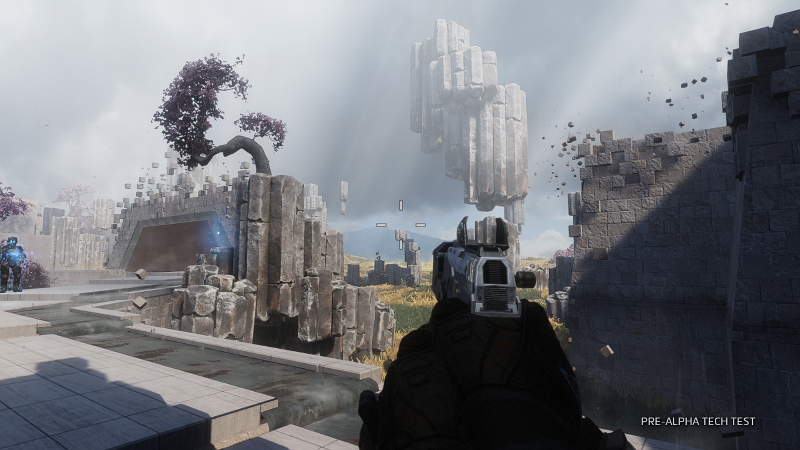 While it isn't officially stated, it's pretty obvious that the Tech Test's training mode is a level from the campaign mode. It's got some slight story in it, and aligns with what's been said about the campaign previously. It's a quick level where the game's protagonist, Jack Cooper, is trained by Captain Lastimosa, someone who sees potential in Jack. While most of it is simply learning the controls, there are two segments that stand out – a shooting range and a time trial.
The shooting range is fairly basic, but gives you a chance to try out some of the game's guns and get a feel for them. Most of them feel fairly standard, and the differences are really, really subtle. Even the game's pistol feels like an assault rifle with a different shape, and while it is kinda fun to use at first, odds are you'll find yourself longing for some diversity with the weapons.
The time trial is where things get interesting, because if the final campaign has areas like it, it's potentially going to be the game of the year. The time trial takes full advantage of the game's incredibly fast movement, and has you running on walls, sliding, and taking leaps of faith to take out your enemies in time. It's honestly unlike anything I've ever seen in a campaign for a first person shooter before, and I really hope the full game has more sections like that.
As mentioned in the post that's linked above about the campaign mode, Jack's wall running techniques and rocket boots will help out in "mobility focused sequences", so I have pretty high hopes for the campaign mode.
Titanfall 2's Multiplayer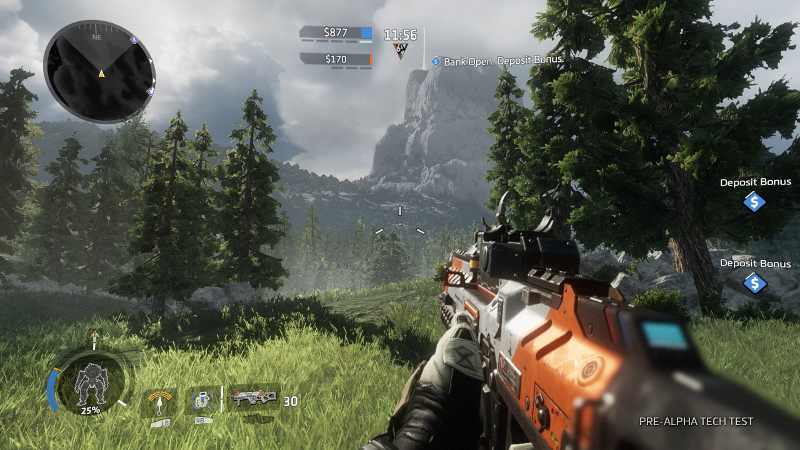 The game's multiplayer is something that definitely needs more available modes to shine. The Tech Test only contains three of them – Pilots VS Pilots, Bounty Hunt, and Amped Hardpoint. Amped Hardpoint is a new version of the Hardpoint mode from the original game, Pilots VS Pilots is the same mode from the original game, and Bounty Hunt is completely new. Bounty Hunt is the only mode out of the three that I really found myself enjoying, however.
Bounty Hunt is fairly unique. It's comparable to Halo 5's Warzone modes, but not enough that I would call it a knockoff or clone. Each team has the same goal in mind: money. To get money, they have to either kill members of the other team, or collect bounties by killing targets that spawn around the map. These bounties range from regular AI grunts to AI titans, and it's a lot of fun. After the end of each wave, the teams have to return to banks on the map to deposit their money and save it. If they're killed before depositing, they'll lose half of their money. It's a pretty tense rush to get back to the bank after doing a good job during the wave, and sometimes you'll even have to try and stealthily sneak to the bank.
That doesn't mean Bounty Hunt is without its issues, though. It always follows the same format – run to the drop zones, run to the banks, fight (mostly) the same enemies in the same pattern. Halo 5's Warzone Firefight avoided this by having some variety in its goals, and I think Bounty Hunt could fix this by making it feel like an actual hunt. The drop zones are always marked, and are often the exact same locations. If some higher paying drop zones were unmarked and in randomized locations, it would definitely change up the matches some more. Regardless, I still have a lot of fun with it.
Pilots VS Pilots is incredibly weak. It's your standard team deathmatch mode, where your goal is to simply kill off members of the enemy team. There's no titans here (as the name implies), and the only thing that makes it any different from any other first person shooter on the planet is how fast you move. There's no variety at all, and it's dull because of that. As mentioned in the section about the campaign, the differences between the (primary) guns are usually very, very subtle. It feels like no matter what you change in your loadout it's simply the same shootouts again and again, where the first person to see the other person wins.
Amped Hardpoint is your standard capture the points game mode, but with a twist: you're able to "amp" points, which allows your team to get double the points than usual while you hold them. It's an alright mode, but I don't really have much to say about it – unlike Pilots VS Pilots, it's a mostly standard mode that still manages to feel fun. It doesn't necessarily feel fresh, although actually having titans in this mode makes it feel way better than it would without them.
Moving on to what feels fresh about Titanfall 2's multiplayer in general, the game's mobility has gotten a serious boost. One of the new tactical abilities is a grappling hook, and it opens up a world of possibilities. Feel like being a sniper? Congratulations, you've now got access to plenty of new vantage points. Just feel like running on rooftops, or going even faster than you usually would? No issues there, go crazy. It does feel at times like not having the grappling hook puts you at a disadvantage, but you're able to switch your loadout between respawns, so you can go take out another grappler with their own medicine if you feel like it.
One other addition to the game's multiplayer side is a networks system. These are groups of other players to play with, and they can define various preferences for the players within them (like preferring if people have mics or not). I didn't do anything with it, however, and stuck with the default network. It seems to be geared more towards people who are in/own a clan, and I don't fit into either group.
Despite the poor selection of multiplayer modes in the Tech Test, I really am looking forward to seeing more of Titanfall 2's multiplayer. There should definitely be some more interesting game modes available when the game launches, and I can't wait to see what Respawn's kept under wraps.
Titanfall 2's titans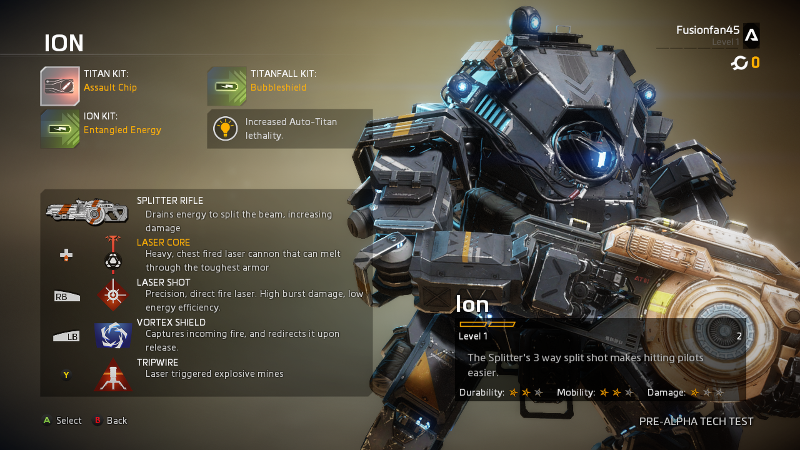 The Tech Test has only two titans available – Ion, a mech with a super robot-esque chest laser, and Scorch, which mostly uses fire based attacks. I mostly played as Ion, but Scorch isn't bad by any means. What is bad, though, is that titans definitely feel like they aren't worth the work used to get them. You get titans by taking out other players (and bots in Bounty Hunt), and that would be a good thing if their strength matched the work required to get them.
It's possible to quickly take down titans in multiple ways, ranging from simply grouping up with another person who has an anti-titan weapon equipped to jumping on the back and ripping out the battery. If titans were called in with just a time limit between spawns, this would kinda make sense. Instead, it almost feels like it's hurting players who are good at the game by giving them the option to turn into a bigger target.
When you aren't dying, though, the titans are really fun to play as. You are, well, a titan. You're huge, your guns are powerful, and you have crazy abilities that a normal soldier couldn't ever dream of having. Being able to hop out of the titan and have it guard an area while you go deposit money in the bank in Bounty Hunt is pretty cool, too.
To sum it up: Titanfall 2's titans are glass cannons, which would make sense if you didn't have to work to get them. Solving that's as easy as making titans easier to get, or just making them tougher.
In conclusion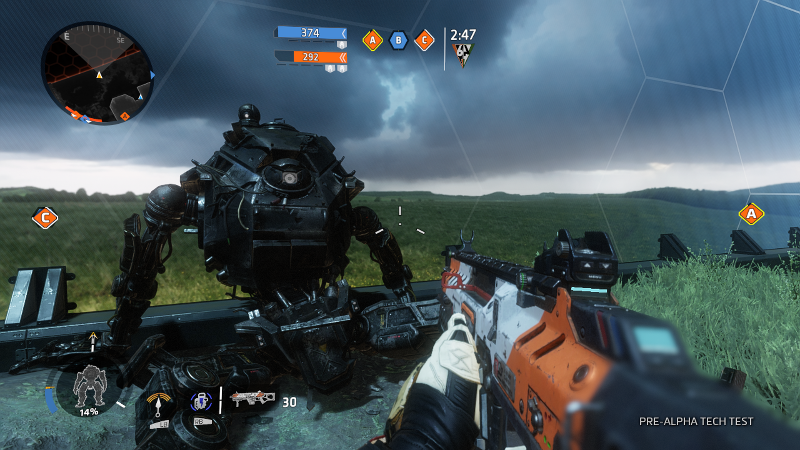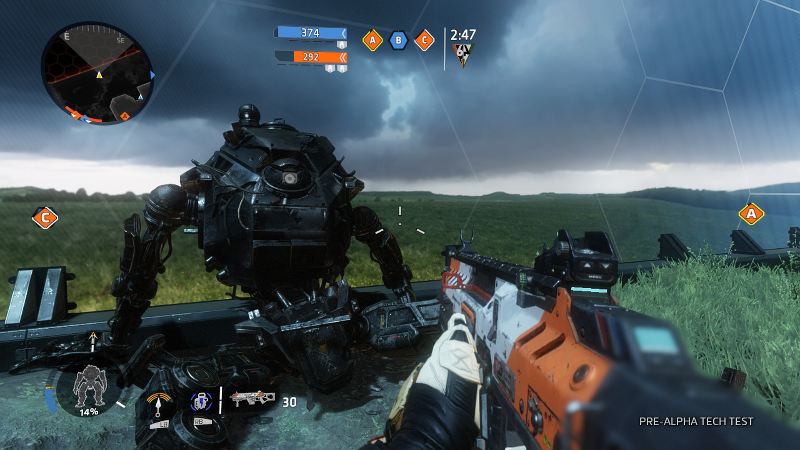 Titanfall 2's first Tech Test seems like a success. There's still plenty of room for improvement with the game, but it's a lot of fun. Even with my gripes about the game modes available and the titans, I still found myself enjoying the game. Traversing the maps with new additions like the grappling hook was even better than I thought it would be in the first place, and added a whole new level of vertical exploration.
The Tech Test did a good job selling me on the game, too, and makes me feel like a pre-order will actually be worth it. Respawn seems to actually be listening to feedback, and while it's unknown if any changes will make it into next week's test, some changes did get pushed during this week's. The next Titanfall 2 Tech Test will run from Friday the 26th till midnight on the following Sunday.
Tech Test Update: Amped Hardpoint has been hotfixed so players earn Titans Faster. We also fixed a few rare server bugs to improve stability

— Titanfall (@Titanfallgame) August 21, 2016
Titanfall 2 will release on October 28th of this year for both PC and Xbox One. If you'd like to pre-order the Xbox One version of the game, you can find it on Amazon here, and the Xbox Store here.
Did you play the Titanfall 2 Tech Test? What did you think of it? Let us know in the comments below!