While the Nokia Lumia 630 is launching at a pretty good price of $159, we have seen some concern that even that price is too high, given the lack of Windows Phone staples such as navigation and camera buttons.
WindowsMania.pl who as usual have early access to the manual and service documentation of the handset, has however noticed that the cost cutting goes a lot further.
Ignoring the microphone, camera and touch screen, the handset has effectively only one sensor – an Accelerometer.
Compare this with the Nokia Lumia 620 or even the 520 below.
That handset has an Ambient Light Sensor, Accelerometer , Proximity Sensor and Magnetometer, and the 520 had all that except for the Magnetometer.
The lack of a Proximity sensor has caused Nokia to find a creative solution to the issue of accidental button presses while on a call.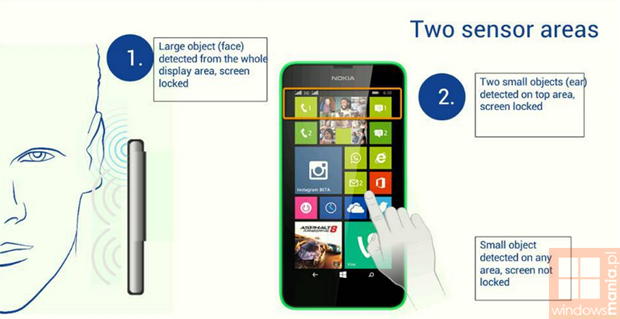 It appears Nokia is using the actual touch screen (or possibly its capacitive field) to detect objects while on a call. When it detects a large object like your face or a smaller object in the same area as your ear would be it rejects touch and presumably blanks the screen.
Of course it is unclear how the device will respond to actions in the same area such as pulling down the notification shade.
Given the number of compromises made with the Nokia Lumia 630 (no flash, no front-facing camera, no camera button, no navigation buttons, only one sensor, no supersensitive touch), it seems clear to me the handset should really be the Nokia Lumia 430, and be priced accordingly.
Do our readers agree?