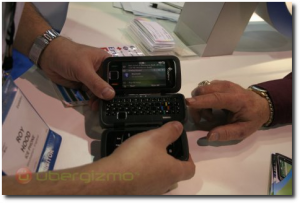 It has been called the swiss knife of mobiles and a micro-notebook. To be honest, this is exactly what the icePhone is. IcePhone (aka: In Case of Emergency Phone) is more specifically, a Windows Mobile phone sporting three three independent panels, a 3-inch QVGA touchscreen, a full qwerty keyboard and a mouse / tracker pad.
Other features include, dual SIM card slots, HSDPA support, quad-band GSM connectivity, GPS, a 3.1-megapixel camera, WiFi and a 532MHz Freescale iMX31 CPU.
The guys at Ubergizmo stumbled upon the icePhone at CES and  they 've thankfully written their initial impressions.
It looks every bit as sexy as when we first caught whiff of it last November, and we like the way it opens up and closes seamlessly despite being a three-tiered hardware. Unfortunately, there is still no pricing attached to the IcePhone nor availability Stateside. What is your psychological limit when it comes to forking out the cash for a phone like this? Bear in mind this handset is meant to be used during emergencies only, although it would function as a pretty decent everyday phone.
Although nothing is for sure, several sources suggest a March/April release and a price tag not over $1000. The price is high, but keep in mind that is a Medical Phone and is meant for use by soldiers in the battle field. More information can be found on the official site.
Via: Engadget