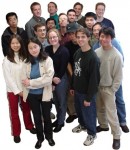 I have been a proud Windows Mobile phone owner for a long time now and there is one thing I see that is more special about WM than other phone OS, a big community. Windows mobile has by far from what I see the largest community out there. If you need anything, windows mobile has it or you can find someone to make it for free or low cost. Xda-developers is one of the more larger communities, but it is centered on HTC devices.
There also smaller sites that are phone specific for an example Lg incite has Lg-incite.com and the Samsung omnia has samsung-omnia.org . There many more sites that are similar to those, and they are all there as a community to help anyone that has a problem. If you have a windows mobile that is not an HTC phone, or even if it is and you want to go to a more settled and a calmer place, I would give these site's a try at least once.
Mr. J
Toshiba TG01- http://www.tg01.org/Â  HTC Snap- http://www.htc-snap.org/Â  HTC Diamond- http://www.alltouchdiamond.com
HTC Diamond2- http://www.alltouchdiamond2.com/Â HTC HD2- http://www.htchd2forum.com/Â 
HTC Pure- http://www.htc-pure.com/ Touch Pro- http://www.alltouchpro.com/
HTC Touch Pro2- http://www.alltouchpro2.com/ HTC Tilt2- http://www.htc-tilt2.com/
HTC Fuze- http://www.htcfuze.org/ HTC Pro2- http://www.htctouchpro2.org/Â  Imagio- http://www.htc-imagio.com/Â 
Treo Pro- http://www.treo-pro.net/ Xperia X1- http://www.xperia-x1.org/ Xperia X2- http://www.xperia-x2.org/Â 
For Everything against the Iphone- http://www.iphone-rivals.com/
If you know of something i haven't included, please let us know in the comments.