(Yes, really.)
Have you got nothing fun to play this Christmas? Or maybe you want to enjoy some snowy weather from the comfort and warmth of your home? Or maybe you're just here because of the excellent title?
Regardless of your motivation for reading this article, here are ten games that have snow in them, meaning that technically, they're Christmas games, as long as you're residing in the northern hemisphere and associate Christmas with snow or something to that effect. Remember: there's no business like snow business.
How The Saints Save Christmas (Saints Row IV DLC)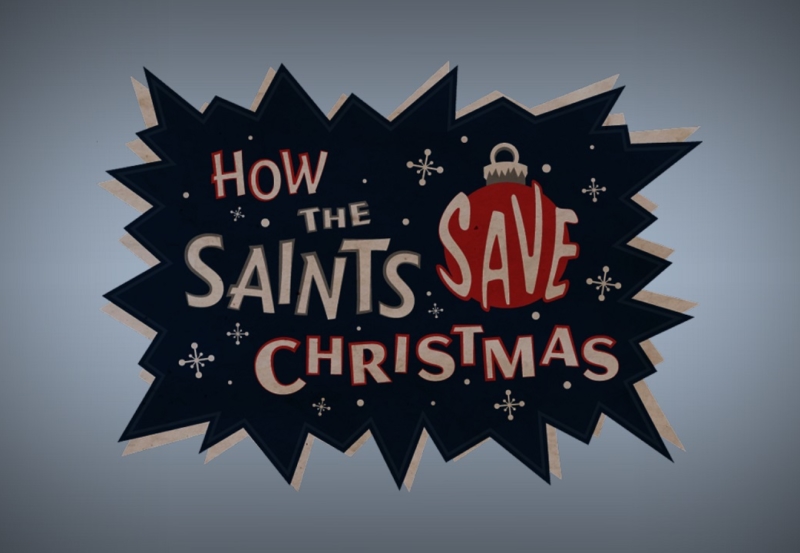 Released: 2013
Available on: Windows, PlayStation 3, PlayStation 4, Xbox 360, Xbox One, Linux
The first entry in this list is actually about Christmas in its own unusual way. However, you do need the Saints Row IV base game to play it, so bear that in mind and maybe add it to your Christmas list (alternatively ask for Saints Row IV: Re-Elected for Christmas, as that contains the base game and all the DLC for dirt cheap).
How The Saints Save Christmas adds three new missions to the main game that see our favorite Third Street Saints try to muster enough Christmas spirit to save Santa, who's trapped in a simulation, while also showing their Scrooge-esque Boss the true meaning of Christmas. Turns out you can't murder your way onto the nice list.
It's like the Matrix but with tinsel, holiday sweaters, and festive dubstep. It's also probably the only vaguely festive thing on this list.
Snow rating: 10/10. The perfect amount of snow for a game.
If you're planning on getting Saints Row IV: Re-Elected digitally, it's currently available for £15.99/$19.99 on Xbox One, but it frequently goes on sale for much lower than this.
Until Dawn
Released: 2015
Available on: PlayStation 4
Right on the other end of the feel-good scale is Until Dawn, a horror adventure game where a bunch of teenagers decide to go stay in a lone cabin on a snowy mountain on the one-year anniversary of when two of their friends disappeared. Until Dawn has it all: murder, the supernatural, a really cool wolf, a dude with a flamethrower…
You, the player, have to make key choices and complete quick-time events to try and get the least amount of teens murdered during the course of the story.
Is it festive? No. But does it have snow and Rami Malek? Yes, and that's more than can be said for most games.
Snow rating: 11/10. There's even snow when you're deep underground in the mines.
Animal Crossing: New Leaf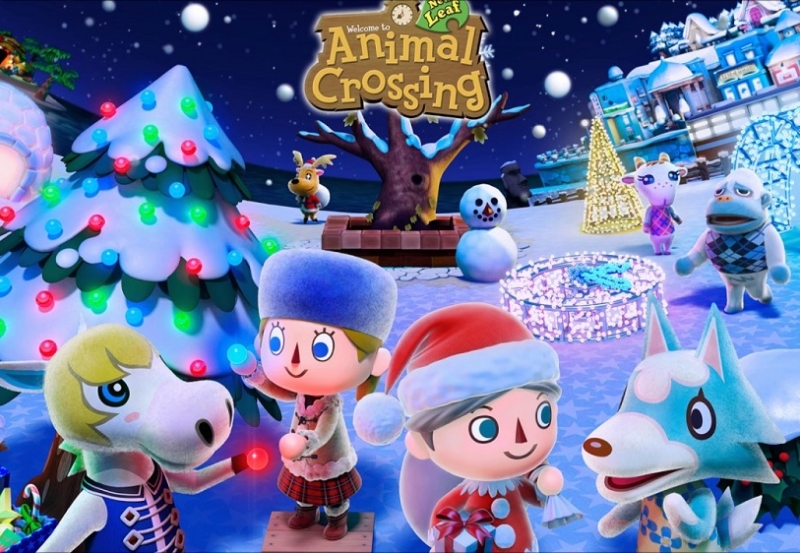 Released: 2012/2013, re-released as New Leaf – Welcome amiibo in 2016
Available on: Nintendo 3DS
Animal Crossing: New Leaf is a game about capitalism, animal friends, and being forced into a government job against your will. You arrive in a town and are immediately appointed as mayor by your new secretary, who is a dog, and who also happens to be in Super Smash Bros Ultimate. You have no option to reject this job. You also don't get a paycheck.
On the bright side, the game is extremely cute and calming and makes perfect use of almost all of the Nintendo 3DS' features. The Welcome amiibo update added even more awesome features to the game and you can now use amiibo figures or cards to bring your favorite characters to your village('s campsite).
In winter, your town will be covered in snow and you get to experience fun events such as Naughty or Nice Day (not sexual) and Toy Day (also not sexual), both of which are packed with festive spirit. New Leaf will make you feel warmer on the inside than a hot cup of cocoa.
Snow rating: 4/10. The other three in-game seasons don't have snow, meaning we had to drop the rating a bit.
The Elder Scrolls V: Skyrim
Released: 2011, re-released as Skyrim – Special Edition in 2016 and 2017
Available on: Windows (also available in VR for the HTC Vive, Oculus Rift, and Windows Mixed Reality headsets), PlayStation 3, PlayStation 4, PlayStation VR, Xbox 360, Xbox One, Nintendo Switch, Amazon Alexa. (Disclaimer: Alexa snow may differ drastically in quality)
Do we really need to tell you what Skyrim is about? If yes, then Skyrim is a game where you play as the Dragonborn, a person who was caught trying to cross the border and is doomed to spend over 100 hours on side quests before remembering that Skyrim's main quest exists. It's kind of like The Elder Scrolls IV: Oblivion's goth younger brother.
If no, then keep reading, and remember to leave cookies and milk out for Todd Howard on Christmas Eve.
Snow rating: 8/10. Only a few parts of Skyrim aren't knee-deep in frozen slush and even then, they still feel cold.
The Elder Scrolls V: Skyrim Special Edition can be picked up on Xbox One for £29.99/$39.99. You probably already own at least three copies though.
The Sims: Vacation (The Sims DLC)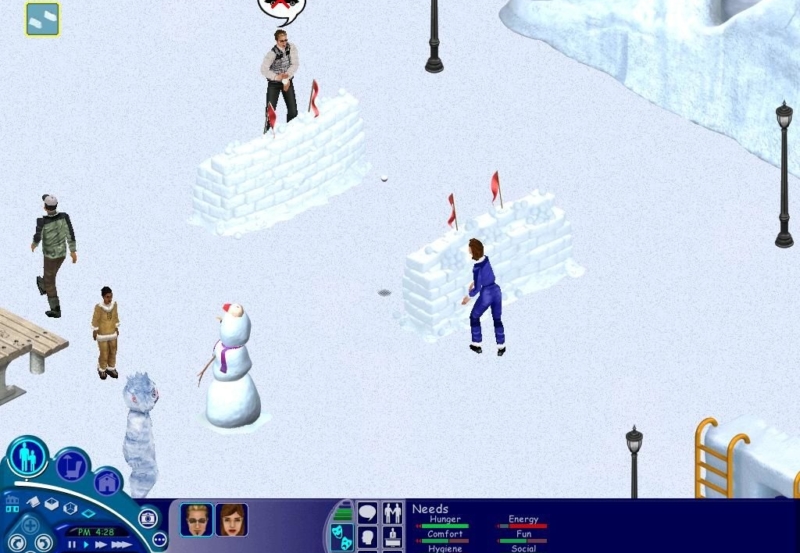 Released: 2002
Available on: Windows, Mac OS X
The Sims: Vacation (or The Sims: On Holiday if you're in the UK, Ireland, China, or Scandinavia) is the fourth expansion pack for The Sims and allows you to take your sims on a well-earned vacation to the aptly named Vacation Island. The aforementioned island is split into three areas: Beach, Forest, and Winter. Those are probably self-explanatory.
The best part of the expansion pack is probably the winter-themed holidays. You get winter wear! Igloos! A Yeti! Snowmen! Snow slides! You name it, it's packed with wintery goodness and, most importantly, sweet sweet snow.
Snow rating: 3.333333333…/10. Points were once again deducted because not everywhere has that sweet sweet snow theme.
Journey
Released: 2012/2015, coming to Windows in 2019
Available on: PlayStation 3, PlayStation 4, coming to Windows in 2019
Journey is a game where you play as a person with a cute little robe and it's up to you to go on a journey. It's cute, it's sweet, you'll cry a lot, and you'll get weirdly protective of your little figure's magical scarf.
"Hang on," you say, "isn't Journey that game with all the sand?"
Yes. Yes, it is. However, sand is technically just hot snow when you think about it (please don't think about it). Also, a large section of Journey is based in a snowy area, thus making it eligible for the list.
Snow rating: 5/10. 50/50 mix of sand and snow. Also, the snowy levels made me cry.
Telltale's Game of Thrones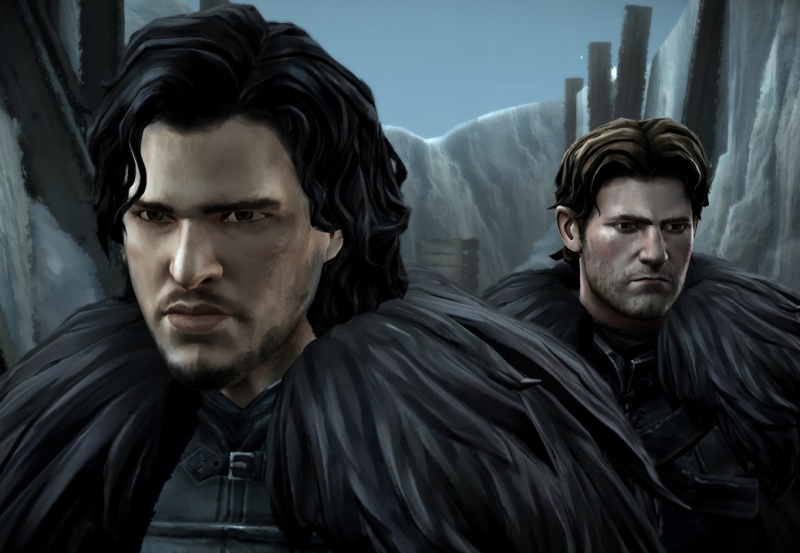 Released: 2014
Available on: Android, iOS, Microsoft Windows, OS X, PlayStation 3, PlayStation 4, Xbox 360, Xbox One
While you're here, remember to pour one out for Telltale Games who, much like most of the characters in actual Game of Thrones, went before their time. Commemorate their memory this winter season by playing one of their classics: Game of Thrones.
Telltale GoT has six episodes that follow the lives of several individuals from House Forrester. Don't get too attached to them, though. Most of them die. (Spoiler!) They always do. However, there's lots of in-game snow abound and Jon Snow himself even makes an appearance. I guess there's also like, dragons and Iwan Rheon and stuff, but mostly: snow!
Snow rating: 17/10. Jon Snow is there, making this arguably the snowiest entry on the list.
Game of Thrones – The Complete First Season is available on Xbox One for the low, low price of £11.99/$14.99. You could also get the free first episode here!
SSX (2012 reboot) and SSX 3
Released: 2012 for SSX, 2003/2005/2018 for SSX 3
Available on: Listen, they're both backward compatible on Xbox One, you aren't playing these on original hardware.
Both SSX and SSX 3 are snowboarding games about – you guessed it – boarding on snow. Snowboarding is probably the snowiest sport there is ('snow' is right there in the name!) and you can visit the Himalayas and Antarctica in SSX, too! Global snow!
Full disclosure: My editor made me put these in, thus meaning that this list is actually 11 games. Please direct all complaints about inaccuracy towards him.
(SSX is great and you don't deserve me! – Ed)
Snow rating: 10/10. 50% snow, 50% board, 100% wintery goodness.
SSX 3 is just £9.99/$9.99 on Xbox One, and is native 4K on Xbox One X! SSX 2012 asks for a bit more of that cheddar cheese at £19.99/$14.99.
Dragon Age: Origins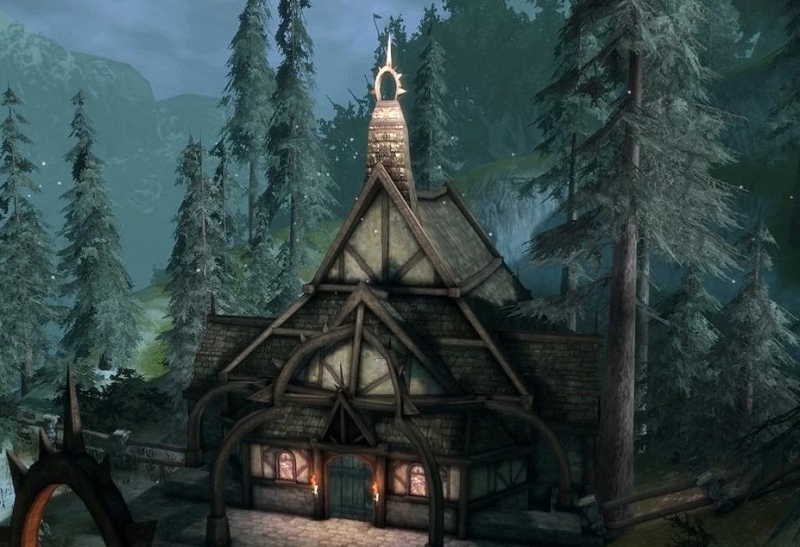 Released: 2009
Available on: Windows, Xbox 360, PlayStation 3, Mac OS X, backward compatible on Xbox One
Dragon Age: Origins is a game where you play as a human, elf, or dwarf and find yourself recruited into the Grey Wardens after a series of mishaps which can range from your entire family being brutally murdered to your childhood best friend being corrupted by a deadly illness and you being permanently exiled from your clan. Cheery!
During one bit of Dragon Age: Origins, you're made to visit a small town in the Frostback Mountains. As the name suggests, the area is covered in frost and snow. There's also a violent cult in the mountains who spend their time killing anyone unfortunate enough to stumble across them. Cheery!
As well as environmental snow, Dragon Age: Origins also has cold spells that mages can utilize. Being able to shoot snow out of your fingertips seems like a pretty big plus in our book.
(P.S. The small town in the mountains makes a comeback in Dragon Age: Inquisition, but without the murderous cult this time around.)
Snow rating: 4/10. The whole murderous cult thing puts a bit of a damper on the snow.
No matter how many murderous cults there are, it doesn't stop Dragon Age Origins from being a hell of a deal. £14.99/$14.99 on Xbox One.
The Legend of Zelda: Breath of the Wild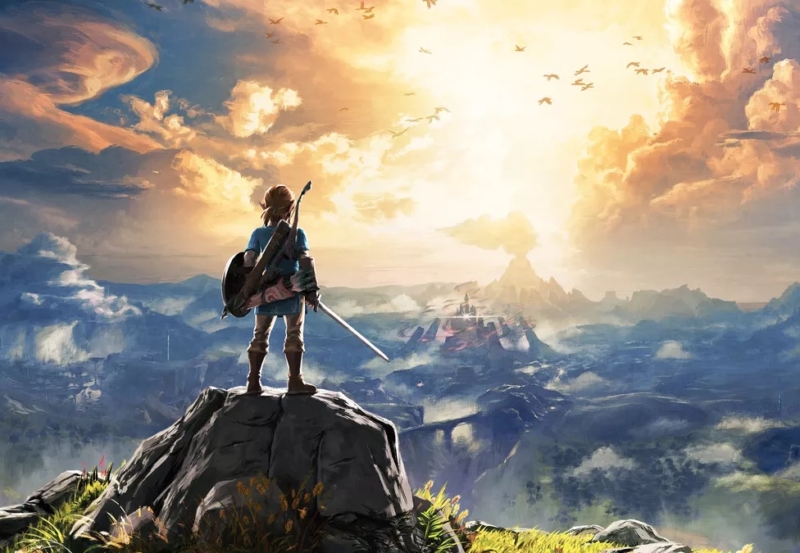 Released: 2017
Available on: Nintendo Switch, Wii U
The last entry on the list is the critically acclaimed game Breath of the Wild. Breath of the Wild is a wonderful game for many many reasons. One of those reasons is that you can complete the game in under 30 minutes and beat the final boss while wearing just your underwear (as in both you, the player, and Link himself can strip down to just your undies. Solidarity!). Another one of those reasons is that it has a LOT of snow.
Breath of the Wild has an in-game temperature gauge, meaning that you need to wrap Link up nice and warm and cook him some special meals and elixirs before sending him off to perish in the frozen wastelands. This mechanic adds a lovely layer of realism to the game that we hope to see more of in the future.
The snow also makes a wonderful 'schlomp' sound underfoot. That alone should convince you to buy the game.
Snow rating: 7/10. Points were deducted because not all of Hyrule is under a blanket of frozen goodness, but points were then added back on for the realism and for the 'schlomp' sound.