Is Copilot the best AI companion out there? Help us find out by answering a couple of quick questions!
Looking for T-shirt design software for PC to spruce up your style?
If you're a complete novice or want to switch to a better tool to make awesome designs for T-shirts, this post will help you. I've tried out several popular options to see how well they perform. Finally, I've singled out 7 tools that fulfilled my testing criteria. Find out more below!
Testing Parameters
| | | | | |
| --- | --- | --- | --- | --- |
| Software | Key Features | User-friendliness | Community | Pricing |
| Adobe Illustrator | Generative AI, Layers, Shaper Tools, Vector Image Creation, Plugin Support | Good | 5/5 | 3/5 |
| Adobe Photoshop | Generative AI, Layers, History Panel, Various Brushes, Plugin Support | Steep Learning Curve | 5/5 | 4/5 |
| Canva | Brand Kit, Magic Resize, Background Remover, Team Collaboration | Excellent | 4/5 | 4/5 |
| CorelDraw | Vector Drawing Tools, Various Brushes, Layers, Plugin Support | Good | 4/5 | 4/5 |
| Affinity Designer | Robust Pen Tool, Various Brushes, Layers, Plugins | Great | 4/5 | 5/5 |
| GIMP | Layers, Brushes, Plugins | Great | 4/5 | 5/5 |
| InkScape | Various Shaping Tools, Plugins, Layers | Good | 4/5 | 5/5 |
I've used the latest version of Windows 11 (23H2), a PC with 32 GB RAM, a Ryzen 7 5800X, and an RTX 3060 Ti to review these programs.
I've prioritized the following criteria:
Features:

I've focused on essential tools like Layers, Brushes, Shapes, Generative AI, and more.


User-friendliness:

Ease of use is an important factor, especially for users who are new to design software.


Community:

Without a large and helpful community, it's hard for new users to get started.

Pricing:

The pricing has to be balanced and fair. I've considered both premium and free options.

Best T-Shirt Design Software for PC
Based on the parameters I've mentioned, I've singled out the best T-shirt design software you can use on your PC. These are:
Adobe Illustrator has been a popular and reliable choice for years in the T-shirt design industry. You can create unique logos and designs or generate art for any T-shirt using this software.
If you're already using Photoshop or any other Adobe app, Illustrator is a great choice. I've been using it for years and have created many logos and drawings.

Illustrator's main advantage is its huge set of tools and plugins to create, manipulate, and make vector designs. Moreover, Adobe has a huge community. So, there are plenty of online resources for you to get started.
Besides, Adobe introduced Generative AI in one of the more recent versions of Illustrator. Now, you can create designs just by typing. The AI will do the rest.

The only downside is you may need to invest a few hours to learn how to use this software effectively.
Price:
Free Trial

$23/Month with annual commitment

$34.49/Month without commitment

$263.88/Year annual prepaid

Free with Adobe Creative Cloud All Apps membership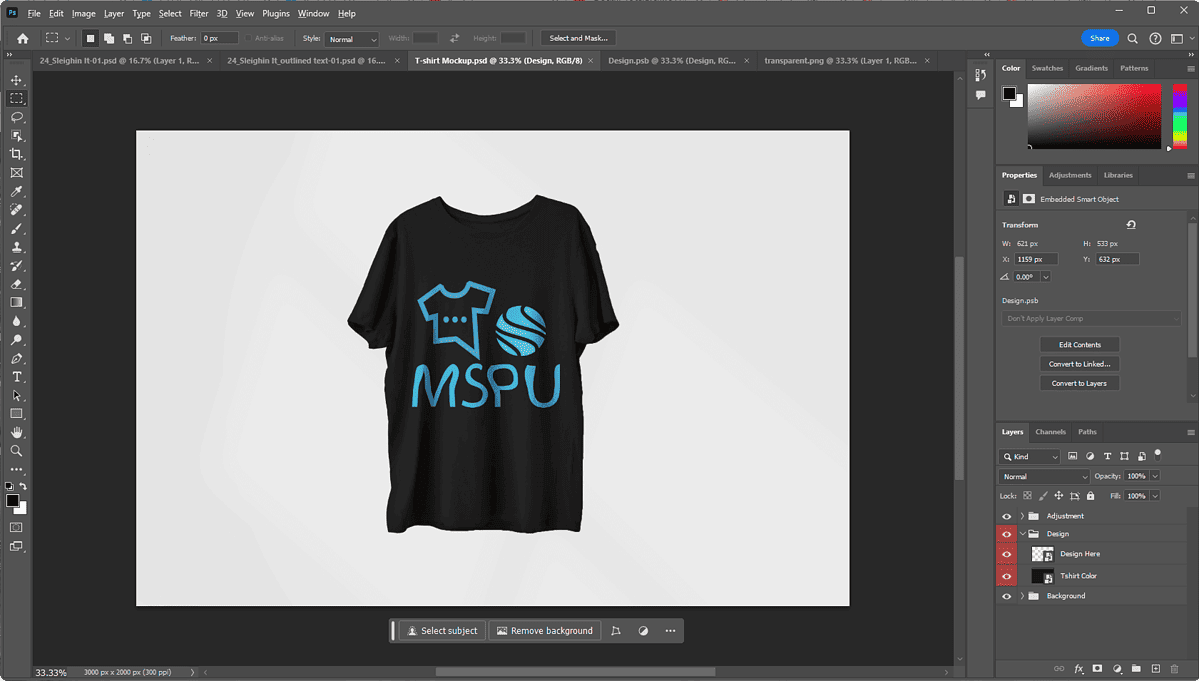 Photoshop is another excellent T-shirt design software from Adobe. You can consider Photoshop as an all-in-one solution for any type of design.
Even though its main purpose is photo editing, you can still create awesome drawings and graphical elements. In addition, Photoshop offers a vast list of tools and plugins to create professional-looking creations.
Furthermore, it's perfect if you want to create a T-shirt design with excellent-looking mockups.

I've been using Photoshop for various purposes for 10 years. In my experience, I haven't seen any significant downsides. Still, the learning curve and pricing can be an issue for absolute beginners.
However, like Illustrator, Photoshop also has Generative AI which greatly simplifies things.

Price:
Free Trial

$10/Month (Photography Plan)

Free with Adobe Creative Cloud All Apps membership
Canva is one of the easiest and most reliable T-shirt design-making software available. With its excellent user-friendly UI and simple features, you can quickly create stunning T-shirt designs from your browser or its app.
I've been using Canva for more than three years to create quick designs for different things. In my opinion, Canva's main strength is its simplicity.

Besides, it has thousands of pre-made templates for T-shirts you can use and modify.
The latest version of Canva introduced Layers, which makes it an appealing choice for professionals as well.
The only downside I'd point out is the limitation of features. For very advanced users, this app may not cover everything. But, for most of you, Canva is sufficient.
Price:
Free

$6.49/Month

$55/Year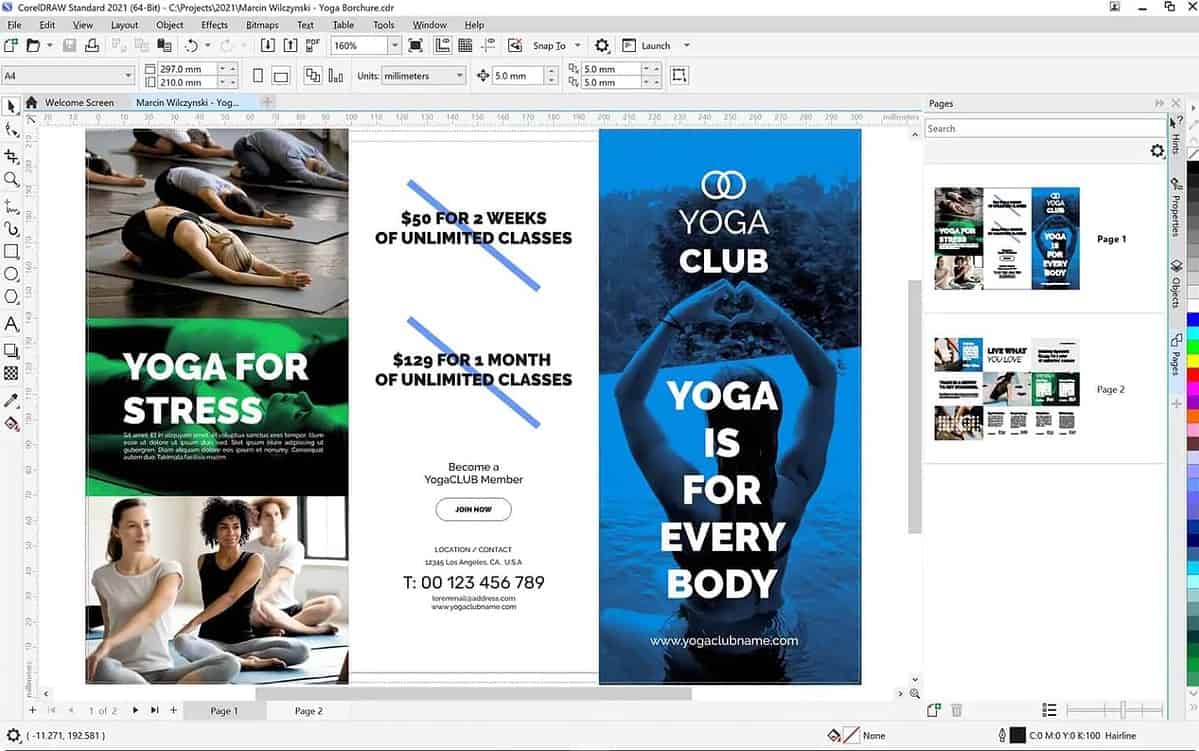 CorelDRAW has been in the industry for years.

With various features, tools, fonts, and color choices, it can give you amazing flexibility to bring your designs into reality. This software isn't only suitable for T-shirt designs but also an ideal choice for most graphics-related works.
Like Photoshop and other software, it offers Layers, custom brushes, and other helpful tools.
This software can also create professional-looking T-shirt mockups. CorelDraw is an excellent alternative for people who prefer doing their designs in Photoshop.
If you have a CorelDRAW Graphics Suite subscription, you can get even more from it. It's an alternative to Adobe Creative Cloud.
Price:
$419 (Onetime for CorelDRAW Standard)

Free with Corel Graphics Suite Plan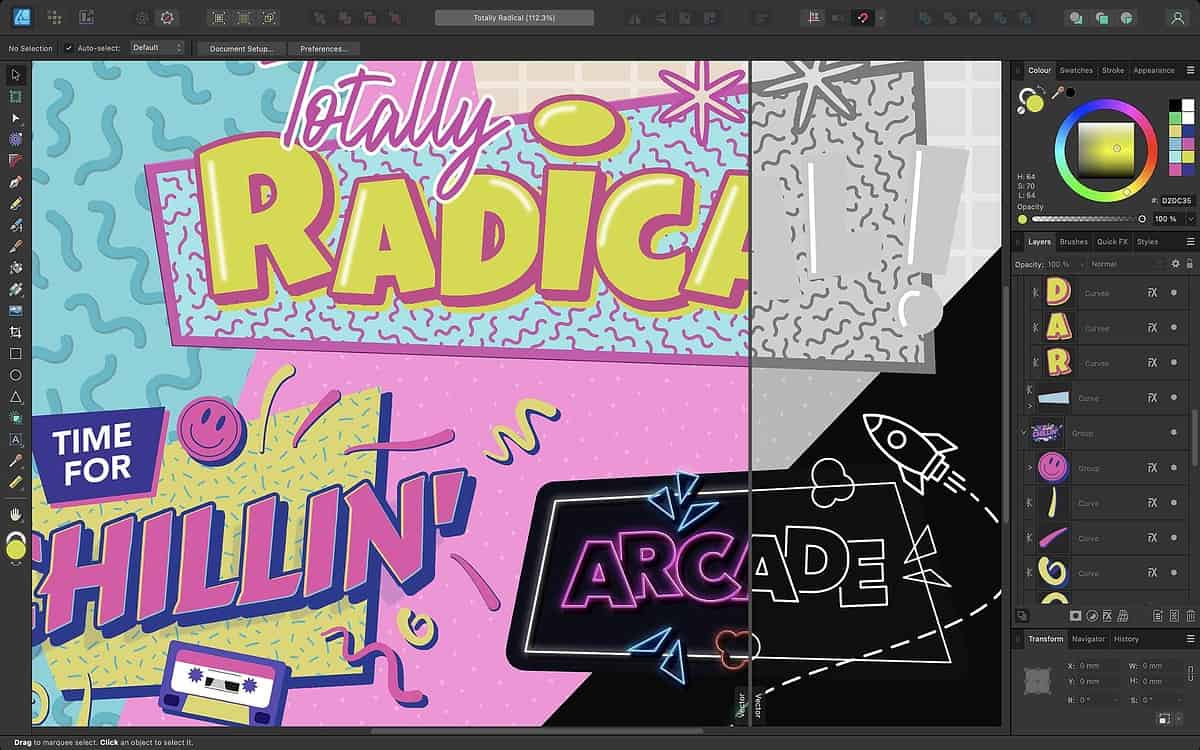 Affinity Designer is a direct alternative to Adobe Illustrator and one of the best T-shirt design software. It has many fantastic tools and options to make your dream design come alive.
It can help you to create logos, typography, and any type of illustration for T-shirts.
Like Adobe Illustrator, Affinity is also a professional software. As a result, you may need to spend some time to learn it. But trust me, the output will be amazing.
Despite having so many features, it has a significant community and online resources to get you started. It's one of the most convenient T-shirt design software you can use on a PC as well as a Mac.
Price:
Free Trial

$69.99 (Onetime)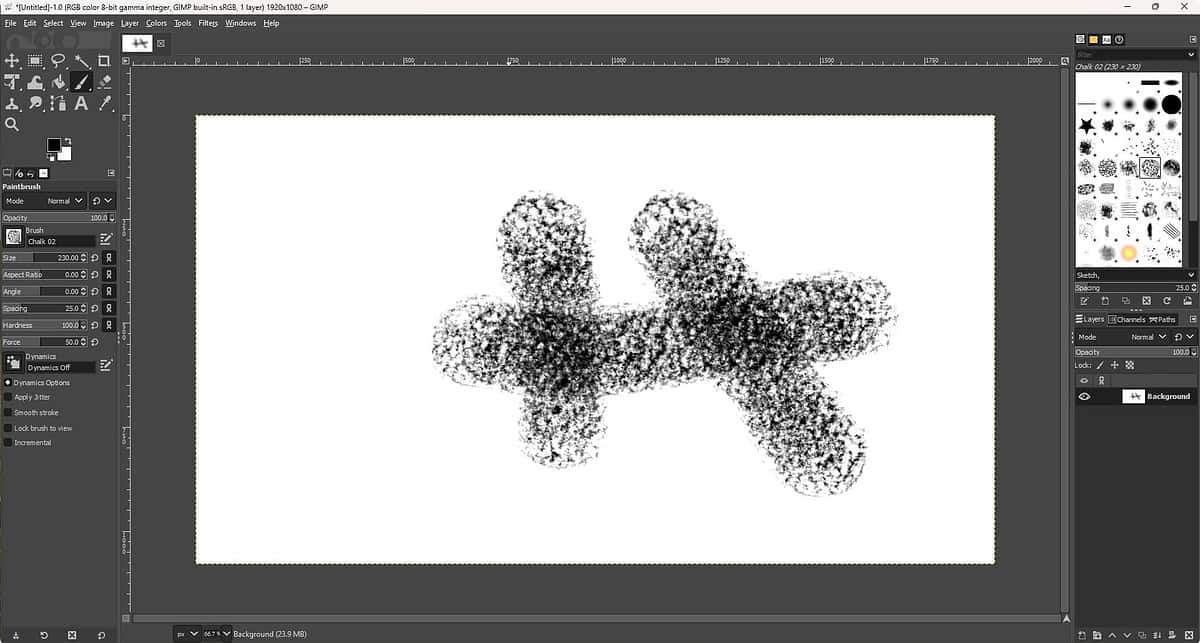 The best open-source and free T-shirt design software is indeed GIMP. It's also known as the GNU Image Manipulation Program. It comes with many advanced drawing and editing toolsets.
Like Photoshop, you can use GIMP for any type of graphics-related purposes. As it's free, it has a huge community and online resources. I've used this software on both a Windows PC and Linux. In both cases, it gave me fantastic results.
Overall, to create stunning designs for T-shirts and also professional mockups, you can consider GIMP. You might have to spend a bit of time learning the ropes, but it's far from complicated.

Price: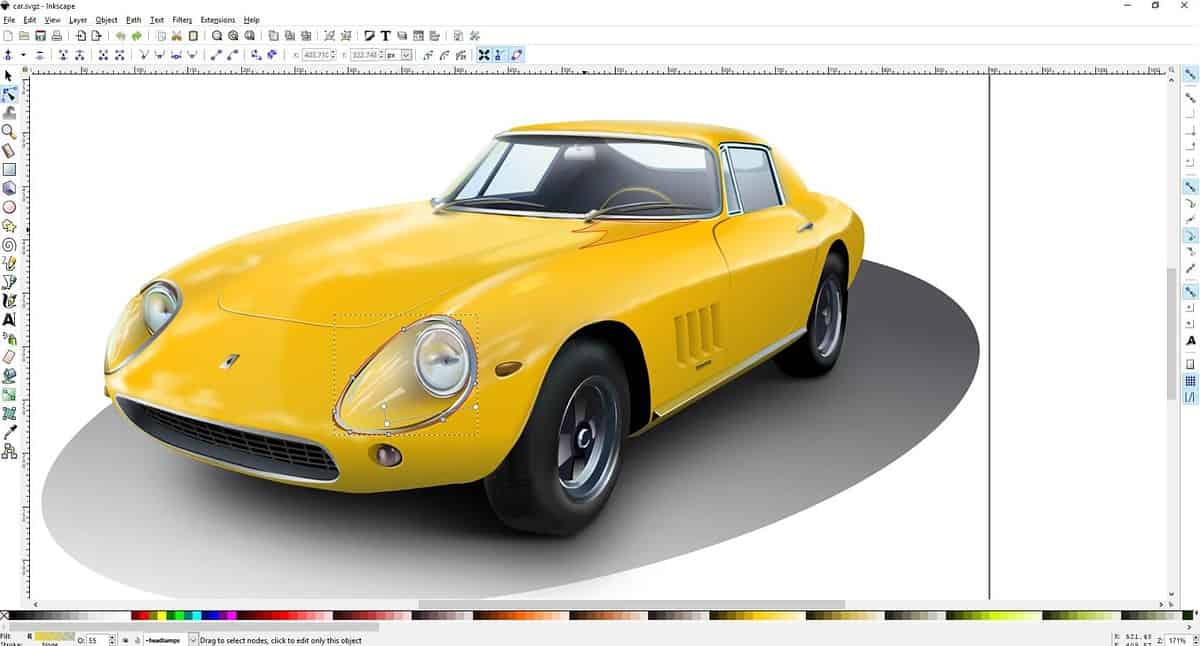 InkScape is another excellent T-shirt design software for PCs. Like GIMP, InkScape is also a free software. It's a cost-free alternative to Adobe Illustrator.
Like other similar tools, this software has a slight learning curve. Still, you can create any type of vector design, illustration, or logo for your T-shirt with it.

To get started, it has a vast community and online resources. However, you won't find that much helpful content to create T-shirt designs using this tool. But, once you learn how to use it, you can easily design any piece of clothing.
During testing, I found InkScape pretty similar to Adobe Illustrator and Affinity Designer.

Overall, if you need a free alternative to professional T-shirt designing tools, Inkscape is indeed a perfect choice.
Price:
How To Create a T-Shirt Design?
After choosing your desired software, you can start creating your T-shirt design by following a few steps. In my case, I've used Adobe Illustrator. Here's how:

Open Adobe Illustrator.
Click on File and then on New.
Choose a page size or define your preferred one and click on Create.
Now, create a new layer in the bottom right corner.


By using the Rectangle tool, create a colored background.
Add Text or other elements you wish.
Modify the design with the Warp tool or any other option you prefer.
Add new elements. You can try an AI art generator for T-shirts.

Work further until you get your expected output.

Save the design.

Optionally, you can create a mockup.
---
Making awesome T-shirt designs can be very easy or complex, depending on your approach. In this article, I've featured the most powerful and easy-to-use T-shirt design software for PC. In most cases, it's better to go with Adobe Illustrator. For amateur users or quick designs, Canva is the perfect choice.
Moreover, it's always best to visualize your design in a mockup. If you've used any of these tools, feel free to share your thoughts in the comments below!