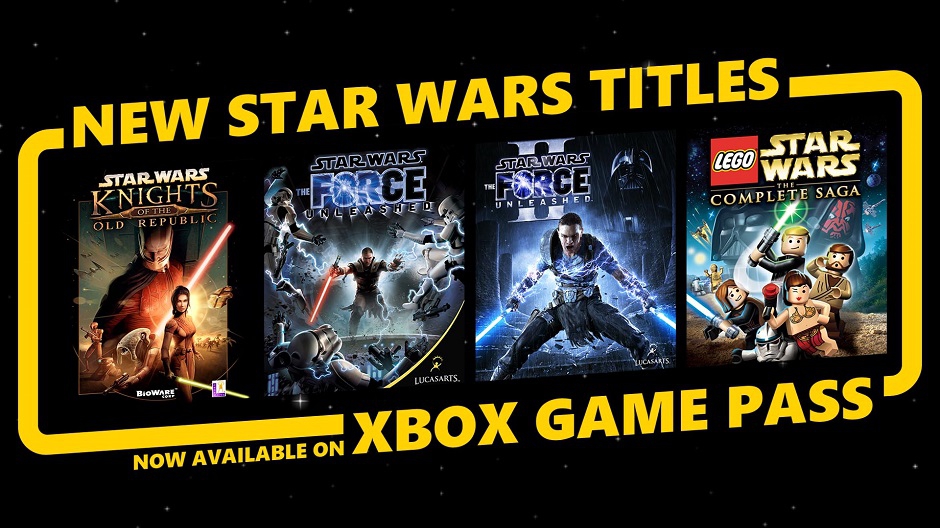 Last week when six games were confirmed to come to Xbox Game Pass in June, I noted that it may not be the final list. As it turns out, it wasn't. Xbox has just announced four more games joining the catalogue as of today, and they'll all take you to a galaxy far, far away.
You can read a brief description of each as per the announcement on Xbox Wire below.
Star Wars: Knights of the Old Republic
A classic Star Wars role-playing game, Star Wars: Knights of the old Republic puts the player in the midst of the battle to save the Republic. As the last hope for the Jedi Order, your every move — from dialog choices to big plot decisions — puts you on a path that leads to the light or dark side of the Force. Combat is turn-based, and the story is epic.
Lego Star Wars: The Complete Saga  
A light-hearted Lego romp through the first six Star Wars "original" episodes, Lego Star Wars: The Complete Saga is a fun-filled adventure for the whole family. With 36 levels and challenge modes, it's sure to keep you entertained for a parsec or two.
Star Wars: The Force Unleashed 
The action in Star Wars: The Force Unleashed takes place between "Star Wars: Episode III Revenge of the Sith" and "Star Wars: Episode IV A New Hope." You play as Starkiller, a secret apprentice to none other than Darth Vader. This is your shot to be the villain you've always dreamed of, kicking sanctimonious Jedi butt all over the galaxy.
Star Wars: The Force Unleashed 2 
In this action-adventure game sequel, you play as (spoiler) Starkiller's clone. For real. And you need to find your girlfriend before Boba Fett does. This time around you can fight for the light side or be as bad as you wanna be — the choice is yours.
---
Xbox Game Pass is a monthly subscription service that gives players access to a rotating catalogue of over 100 digital games, including titles on Xbox One and Xbox 360. In addition to downloading the games directly to your console for the best experience, you will also receive discounts on certain games and related add-ons. Xbox Game Pass costs $9.99 a month, but you can start a 14-day free trial today.