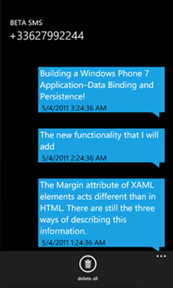 Beta SMS 2.0 is now available on the Windows Phone 7 Market place with a lot of enhancements and new features.
Beta SMS lets you send very cheap and even free short text messages internationally by using your favourite web SMS or VoIP provider.
Beta SMS offers a very intuitive way to send SMS directly from your Windows Phone, without having to log into your provider's website each time you want to send an SMS.
New Features
– SMS History
– Contacts support
– Balance check on all the supported services
– Managing and sending SMS from multiple providers at the same time
– Switch between multiple account in one tap
Beta SMS is available for $1.29 and can be  downloaded from here.