Samsung will be unveiling the Samsung Galaxy Note 9  in around 6 hours, leaving just enough time to squeeze in one more leak.
The titbit is courtesy of a Samsung presentation wall being set up in Indonesia, posted on Twitter by Ahau.
#Samsunggalaxynote9 #booth #BRIbuilding pic.twitter.com/H6YxDkDZqA

— Ahau (@Gherrykwok) August 9, 2018
The wall shows some features of the handset, including some detail of the S-Pen.  We already pretty much know how it works, but we now know how the pen is powered.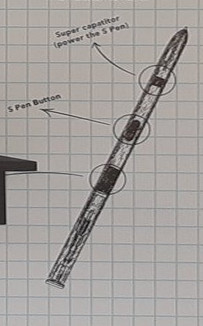 The detail shows the S-Pen is powered by a supercapacitor rather than a battery. A supercapacitor stores energy as electrons on a large surface area substrate, rather than chemical changes such as in a normal Lithium-Ion battery.  This means it charges very fast and does not wear out, but tends to have a smaller capacity as it less energy dense than a chemical battery.
Reportedly the S-Pen will be able to charge in its silo in 40 seconds long enough to be used for 30 minutes, suggesting Samsung's solution should work more than well enough.
The presentation also shows Bixby 2. will offer image search, location-based search and voice translator.
Samsung will be launching the Note 9 at 4 PM BST – keep an eye on the site for all the details.