Recently, Razer released the Razer Core X, a Thunderbolt 3 external graphics card enclosure to increase a device's gaming prowess. What was most surprising was the $299 price tag. Razer's previous offering was the expensive Razer Core V2 which came in at $499. However, is the Razer Core X worth it and what compromises has the company made in order to offer it at such a low price? This review will help you determine that.
Before we begin, it must be noted that the Razer Core series of external graphics enclosures including the Razer Core X and Razer Core V2 are now compatible with Apple devices with Thunderbolt 3 ports. This is a welcome change and should increase their appeal to even more gamers.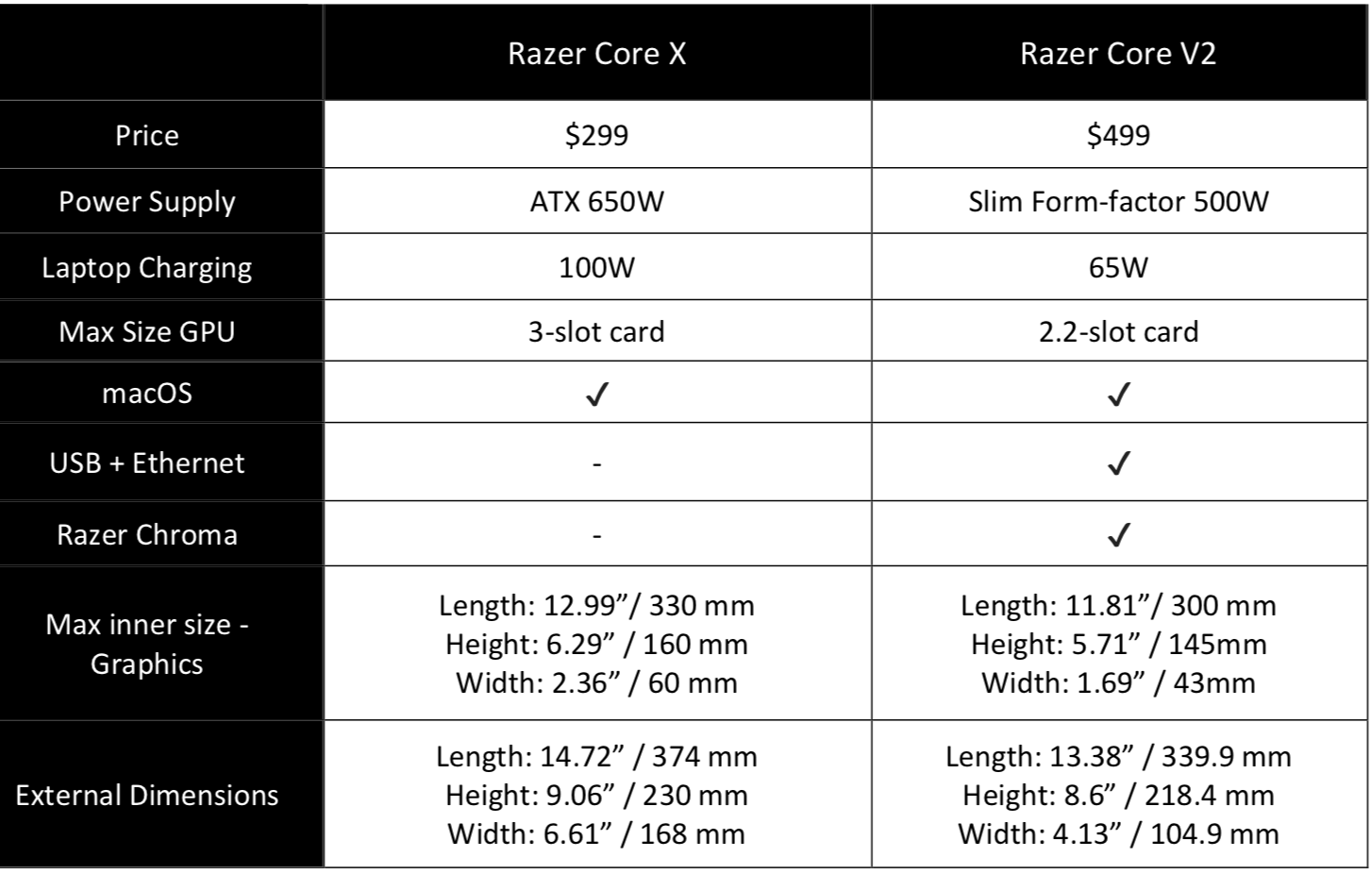 Another aspect to consider is that external graphics card enclosures don't come with a graphics card so you have to purchase one separately. When making a purchasing decision you have to take that into account because that can increase the cost rather dramatically. We tested the Razer Core X with an NVIDIA GeForce GTX 1080. It contains 8 GB of GDDR5X RAM and can run most games at 1800p 60 FPS. You can currently purchase one for roughly $500. If you want to get the top-of-the-line GeForce GTX 1080 Ti, then you should add another $1,000 to the cost of the enclosure.
The laptop we used to test the Razer Core X was the Razer Blade Stealth which is more along the lines of an Ultrabook than a powerful machine. Aside from running smaller titles like Fez without any assistance, you can't even play Divinity: Original Sin II or Pillars of Eternity II: Deadfire at an acceptable frame rate or resolution. It's reasonable to say that the laptop is by no means a powerhouse. Luckily, the Razer Core X is able to help the device out by delivering silky-smooth 60 FPS visuals – at high settings – on the laptop's 1800p display. Games have never looked better on the machine and if you own a similar non-gaming laptop, the Razer Core X might be the cheapest way because it delivers the most bang for your buck and is future-proof. You can always sell your old card and buy the latest ones from AMD or NVIDIA.
It would've been nice to see Razer partner with AMD or NVIDIA to offer discounts on cards if you purchase a Razer Core X.  Unfortunately, that doesn't appear to be the case. Unless you find a great used deal of eBay, you'll have to pay full price.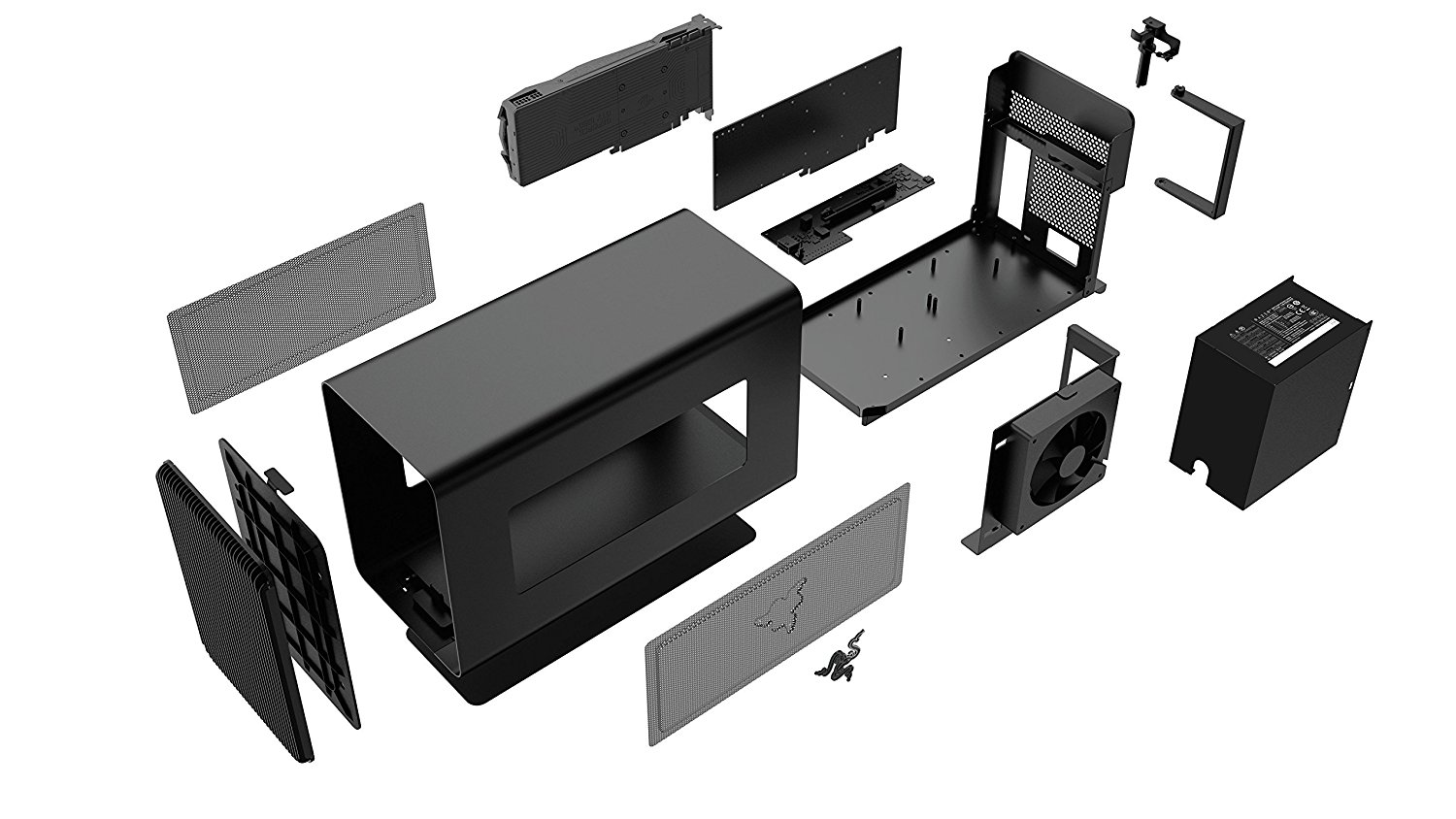 The Razer Core X is larger than the Razer Core V2 but also allows you to house bigger cards. While it lacks features like extra USB and Ethernet – as well as the gorgeous Razer Chroma lighting – it features a larger power supply and supports three-slot graphics cards. The device also outputs a hundred watts so you can charge your laptop faster when the Razer Core X is plugged in.
We tested the Razer Core X for a few weeks and found that when paired with the GeForce GTX 1080 it could handle any game thrown at it. We played Diablo III, Divinity: Original Sin II, Kingdom Come: Deliverance, and Pillars of Eternity II: Deadfire on the machine and managed to run it at the highest settings without any problems. The performance was stable and in many ways remarkable. The fact that you can turn any laptop into a gaming powerhouse is somewhat magical. Simply plug in the USB-C port from the back of the Razer Core X into a corresponding USB-C port on your laptop and you're done. Your computer will automatically detect the card and start using it after installing the necessary drivers. We would recommend that you make sure that you have all of the additional NVIDIA software too because it keeps the drivers up to date. When various games release, drivers have to be tweaked a little. NVIDIA does a great job of letting you know when it's time to download a patch so that your graphics card is always working optimally.
During the past few weeks, we've noticed that the Razer Core X operates quietly and even after hours of heavy use, the fan wasn't intrusive. The overall temperature of the enclosure wasn't too hot either and it was never a cause for concern. The only annoyance we encountered was the length of the cable that connects the Razer Core X to your laptop. The USB-C to USB-C cord is very tiny and seems like a strange oversight from the company.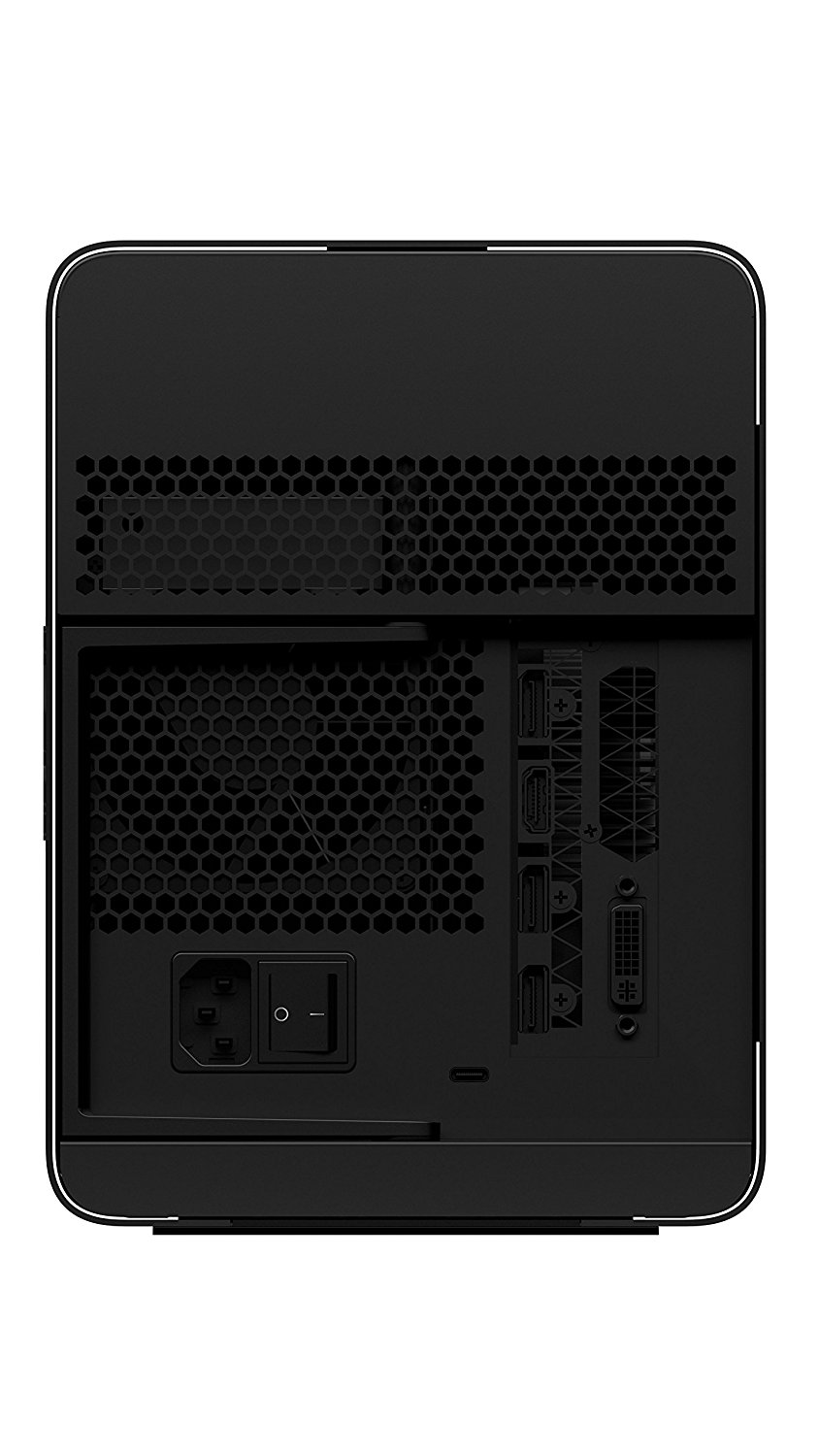 Those worried about whether it's difficult to install a graphics card into Razer's external enclosure shouldn't fret. It's easy and takes a few moments. You simply have to release the giant lever and slide the tray out. Then, plug the enclosure's cables into any of the graphics card's power ports. After that, slide the bottom connectors into the corresponding slots on the tray like a cartridge goes into a gaming console. It sits comfortably and we didn't notice any instability. Lastly, secure it with the screw provided and you're done. It's ready to use. The instructions provided are easy to follow. It took us maybe thirty seconds to set it up. However, keep in mind that the enclosure and graphics cards are quite heavy so you need to handle them with care. Dropping a graphics card can have devastating consequences.
Overall, the Razer Core X is a welcome addition from the company. The Razer Core V2 was unnecessarily expensive but this latest model gets the job done, supports three-slot graphics cards, and provides more power. It feels like an upgrade over the Razer Core V2. You won't have to upgrade the enclosure for years to come in our opinion because Razer made is quite future-proof given the power requirements. As stated earlier, just sell your old graphics card and buy a new one when the technology changes. You don't have to constantly worry about getting a new laptop if you also want to game on it. This seems like the future because any modern laptop can become a gaming powerhouse as a result of this affordable technology. Keep in mind that you don't have to get an expensive graphics card to improve your gaming experience, even purchasing a used GeForce GTX 1060 for $75 on eBay will be a huge boost.
9/10
Razer Core X