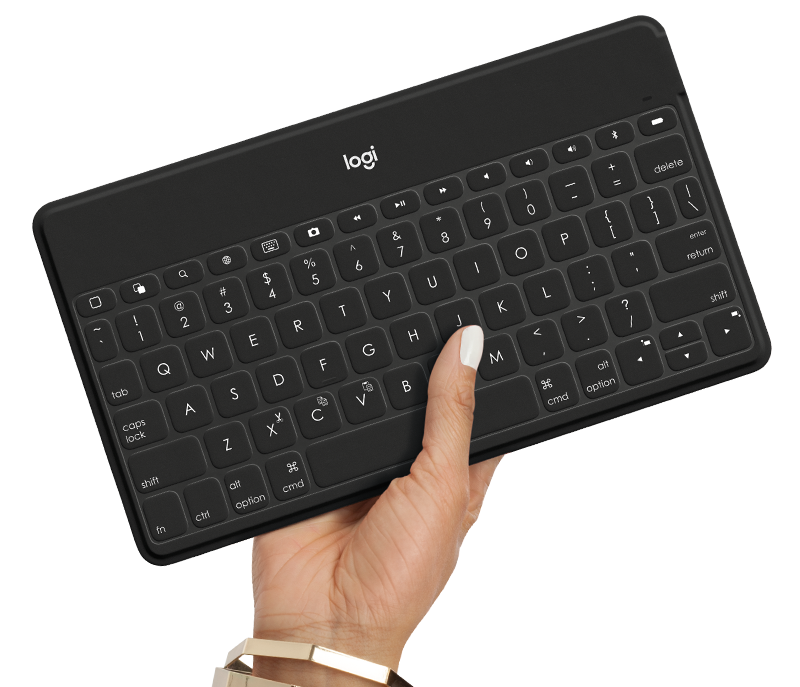 Nowadays, many mobile professionals are forgoing purchasing traditional laptops in favor of tablets like the iPad Pro and Surface Pro. These new devices offer tremendous power, but they don't come with traditional keyboards. While you can always opt to purchase the expensive keyboard covers Apple and Microsoft manufacture, there are a slew of alternatives out there for a fraction of the cost.
Over the past few weeks, I've been testing out the Logitech Key-To-Go rechargeable mobile keyboard. The device is available for roughly $45 on Amazon and supports Android, iOS, and Windows through Bluetooth. Other retailers like Dell are selling it for $30. It's a very thin keyboard, which is covered with smooth plastic, but still has very "clicky" keys. The typing experience is similar to what you see with Apple's Smart Keyboard Folio, but it's not on the level of what Microsoft offers with the Surface Pro's keyboard case.
However, what the device lacks in key-travel distance, it makes up for with portability and stupendous battery life. During my time with the Keys-To-Go, I haven't had to charge it once. And I've been using it for weeks as my main keyboard. The company says that it can last up to three months on a single charge. Even if the battery life lasted a week, I would've been overjoyed, but this is genuinely brilliant. Plus, it charges with a standard Micro-USB cable, so you don't have to worry about carrying a proprietary lead.
The fact that the Logitech keyboard works with so many devices over Bluetooth means that it can be used with everything from your tablet to your phone. Sometimes when I'm traveling, I'm sitting on cramped seats where it's impossible to take out a laptop because the person in front has pulled their chair all the way back. The only way to work is on a smartphone. Unfortunately, typing extensive reports on a phone is cumbersome to say the least, so the Keys-To-Go has come in handy in those situations. Oddly enough, that happens to me every time I'm traveling.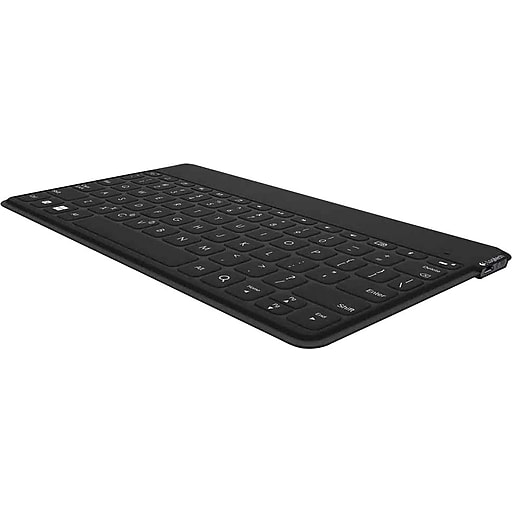 I paired the Keys-To-Go with my smartphone and put the smartphone securely on the side. Then I put this little keyboard on my lap and started typing. It was not only efficient, but very comfortable. I managed to get all of my work done while avoiding tremendous strain on my thumbs. If you're a mobile professional, you probably need a keyboard like this.
The keyboard is 9.5 inches long, 5.4 inches high, and only 0.2 inches thick. These dimensions are compact, but the Keys-To-Go weighs a little over 6 ounces. You can carry it with you wherever you go because it fits into any bag that can hold an iPad Pro or Surface Pro. Unfortunately, using it at night requires some adjustment because it's not backlit. Maybe the next model can feature glow-in-the-dark letters on the front to help with that.
I've tested out other keyboards, and while they may be larger and have more travel, they aren't as portable or their batteries don't last as long. The only downside to using the Keys-To-Go is that you have to carry is separately, as it doesn't attach to your device, and the plastic cover protecting the keys requires firmer presses to register. For the next iteration, Logitech should also focus on making the plastic used at the top a little thinner and a little more elastic so that this doesn't happen. It should require slightly less force to type.
Overall, the Keys-To-Go is a great accessory for any mobile professional. It's so good that I actually wrote this entire review on it while traveling. There are numerous, great options out there, but if you have a similar work style like I do, then you should definitely give this one some consideration. For the portability alone, it's worth it in my opinion.
8.5/10
Logitech Keys-To-Go Keyboard