Reviewed on Xbox One
Traveller's Tales' LEGO games may never end. At least once a year we get to see a well-known IP lovingly recreated in virtual Danish plastic and take part in the revelry of jovial high-grade property damage. Usually, you're playing as the heroes, so the colossal damage to public places doesn't particularly make sense apart from the fact that it's LEGO and no one really cares. This time around, the destruction every LEGO game commands of you finally makes sense as you take on the role of your very own D.C Super-Villain! *Maniacal laughter*
The main hook of LEGO D.C Super-Villains is the introduction of your own playable character. At the start of the game, you're tasked with creating your very own big bad from a series of preset pieces: face, torso, arms, skin color, weapon, et cetera. I called mine Fisher-Man. He was blue, with a white moustache, a monocle, butterfly wings and wielded a sausage – I'm not sure if it was cooked. If it sounds stupid, that's because it is. D.C Super-Villains really does give you the tools to make the stupidest characters you could ever dream of… just not as stupid as Condiment King.
At the start, you might find yourself incredibly limited. Many pieces are locked behind progression or side content and there's an unhealthy amount of parts that take other parts away from you. For example, Fisher-Man couldn't don both a cape and his glorious white moustache – an obvious oversight. It doesn't take long to unlock new pieces, however, so you can always replace or add different accessories later on.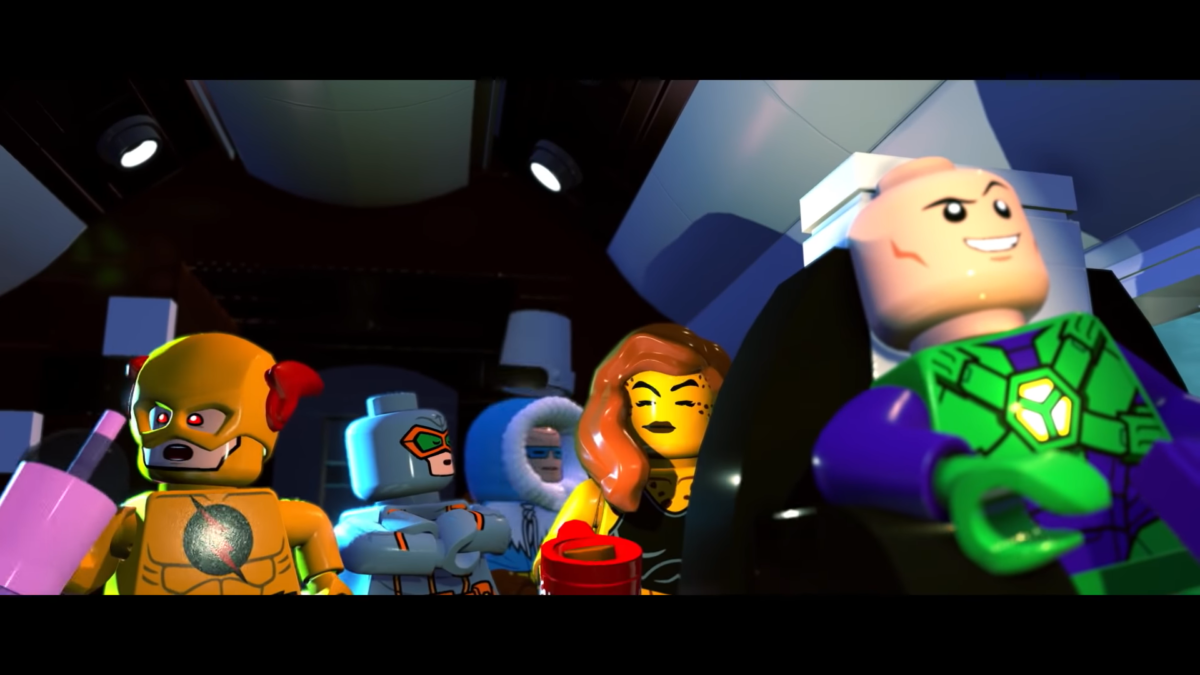 Your custom character doesn't talk but you are incredibly important to the events of the game, even if you don't personally take part in a lot of it. As Lex Luthor and co break out of prison, the Justice League get zapped into a parallel Earth by the Justice Syndicate. As it turns out, the Earth-3 versions of D.C's heroes aren't very good – they're actually stealthier and superior villains compared to you and your team. Now, no villain likes to be the second-worst! So it's up to you to defeat the Justice Syndicate and take your rightful places as Gotham's best evildoers.
The story here doesn't do much to stand out in terms of its actual written complexity—after all, it is written for kids—but it does stand out with its flawless presentation. It's a testament to how far LEGO games have come since the Star Wars games on PS2. On Xbox One X, Super-Villains looks fantastic: motion blur, lighting, environmental effects, and texture quality are all flawless. You can even see specks of paint on the "skin" of characters!
There's a large number of side activities here, including some fun but mindless side quests
These presentation enhancements also make their way over the game's movement and combat systems which have seen a decent overhaul in recent years. While the fighting still isn't complex in any way whatsoever, crisp sound effects and visual flair make every hit satisfying. Super-Villains also tries to make every character feel more personalized. While none will feel as powerful as your own character in the late game – who due to an energy-absorbing base power will absorb and manipulate a whole host of interesting abilities – they all have a unique sensation that makes them great to play as. (Reverse Flash is still the coolest though)
Outside of main story missions, players can wander around an impressively rendered open world. You can traverse the areas of Gotham and Metropolis on foot or a variety of land, air and sea vehicles, although many of these do not control well at all. There's a large number of side activities here, including some fun but mindless side quests. One early mission to recruit another villain to your cause takes you all the way to Poison Ivy's place to destroy her favorite flower. It's entertaining but without much substance and it feels like padding to a game that has an already exhausting amount of content.
The open world may feature the most of Super-Villains' glaringly obvious problem – bugs. From team members not being bothered to complete puzzles or get in vehicles, side missions not activating or progressing and controls being taken away making the entire mission non-completable – D.C Super-Villains has a problem. The egregious amount of bugs seen here are recurring characters for the ever-expanding universe of LEGO games. Some of these bugs harken back to the days of Lego Star Wars. It's not too obtrusive for most of your play time… until it happens during a main story mission, that is.
At the end of the game, you're playing another LEGO game. Players who know they're going to buy D.C Super-Villains already know the type of experience that's waiting for them. Whether it's the flashy combat or the myriad of bugs, it's the same game right at its core with the mainstay mechanic being its new focus on a player-created character. You'll mash buttons to fight and destroy things, build overly-designed objects and generally just have a laugh. It's hilarious, entertaining and off-the-walls mental, just like its case. It's a refinement of what came before, but damn is it entertaining.