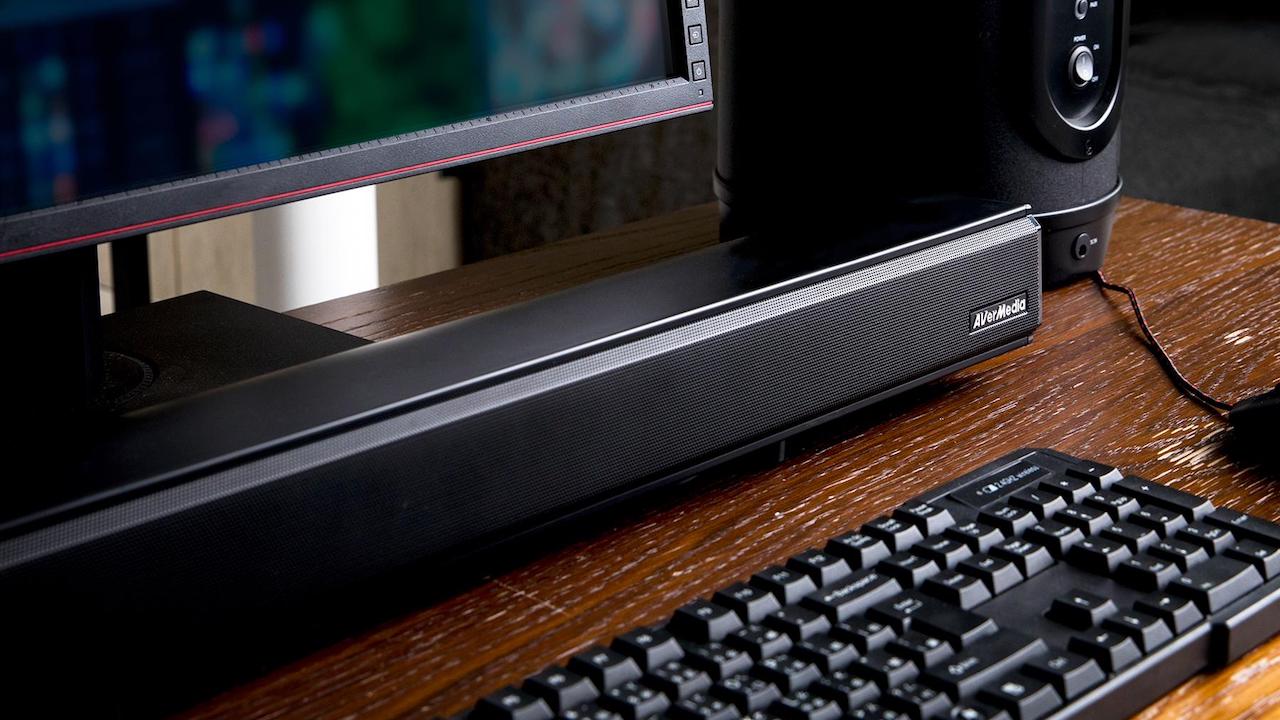 Gaming is an immersive experience to say the least. Not only are high-fidelity visuals important, but so is the sound quality. Many individuals out there believe that only using the built-in speakers of your television is enough. However, that couldn't be further from the truth. Adding even a reasonably-priced soundbar can dramatically enhance anyone's gaming experience because it offers unparalleled clarity.
I used to be one of the people who believed that soundbars only resulted in unnecessary clutter, and that if I bought an expensive display, it would ship with expensive built-in speakers. Over the past few weeks, I've had the opportunity to test out the AVerMedia GS333 SonicBlast Gaming Soundbar, and have to say that I am definitely a believer. I am noticing certain effects that I have never heard before.
For example, did you know that the Xbox One menu featured spatial sound? For example, if you scroll over to the left, the "box-select sound" will intensify in your left ear, and vice versa. Even games like Destiny 2 feature a lot of rich effects that are lost if you're only using what your television comes with.
I can go on and on about the power of the sound and just how amazing every bullet feels, but for me the biggest difference was the clarity. Sound design is often overlooked by gamers unless it's an orchestral score. Purchasing a soundbar will make you realize just how amazing even the menus are in games.
The AVerMedia GS333 features a lot of different technologies to provide a much better listening experience. Unlike the base model, it has subwoofers at the bottom which make you shutter with ever explosion. It also contains 60 watt speakers which fill the room with the sound of gunfire and explosions.
You can even take advantage of the soundbar if you want to simply watch a film or listen to music. The remote control allows you to change the settings so that the sound is tuned for a movie or some other experience. While the differences between the three modes seemed subtle to me, they do give a discerning crowd more options.
The GS333 features Bluetooth technology so you can use the soundbar as a wireless speaker. However, the device really shines when it's connected to an Xbox One X. You can easily hook it up to the console's "Optical Out" port and change the settings so that it only relays sound through that channel.
Setting up the soundbar was easy and the sleek black design rests comfortably below any television. However, due to the fact that there are subwoofers at the bottom of the GS333, it's a little taller than the other AVerMedia models. You'll want to put it either directly at the bottom of a wall-mounted display, or on another shelf in your stand that's perpendicular to your display.
One of the other great aspects about the GS333 is that it comes with a two-year warranty instead of the standard one year other manufacturers offer. This gives you more peace of mind while buying this product because you know that it's built to last and won't simply stop working when the warranty runs out.
You might be wondering that that probably never happens. Do electronics really stop working after the first year and people are stuck with them? Well, you'd be surprised as to how many customer complaints I've heard over the years which say directly that. Either ways, a longer warranty demonstrates confidence in the product and that's always great to see.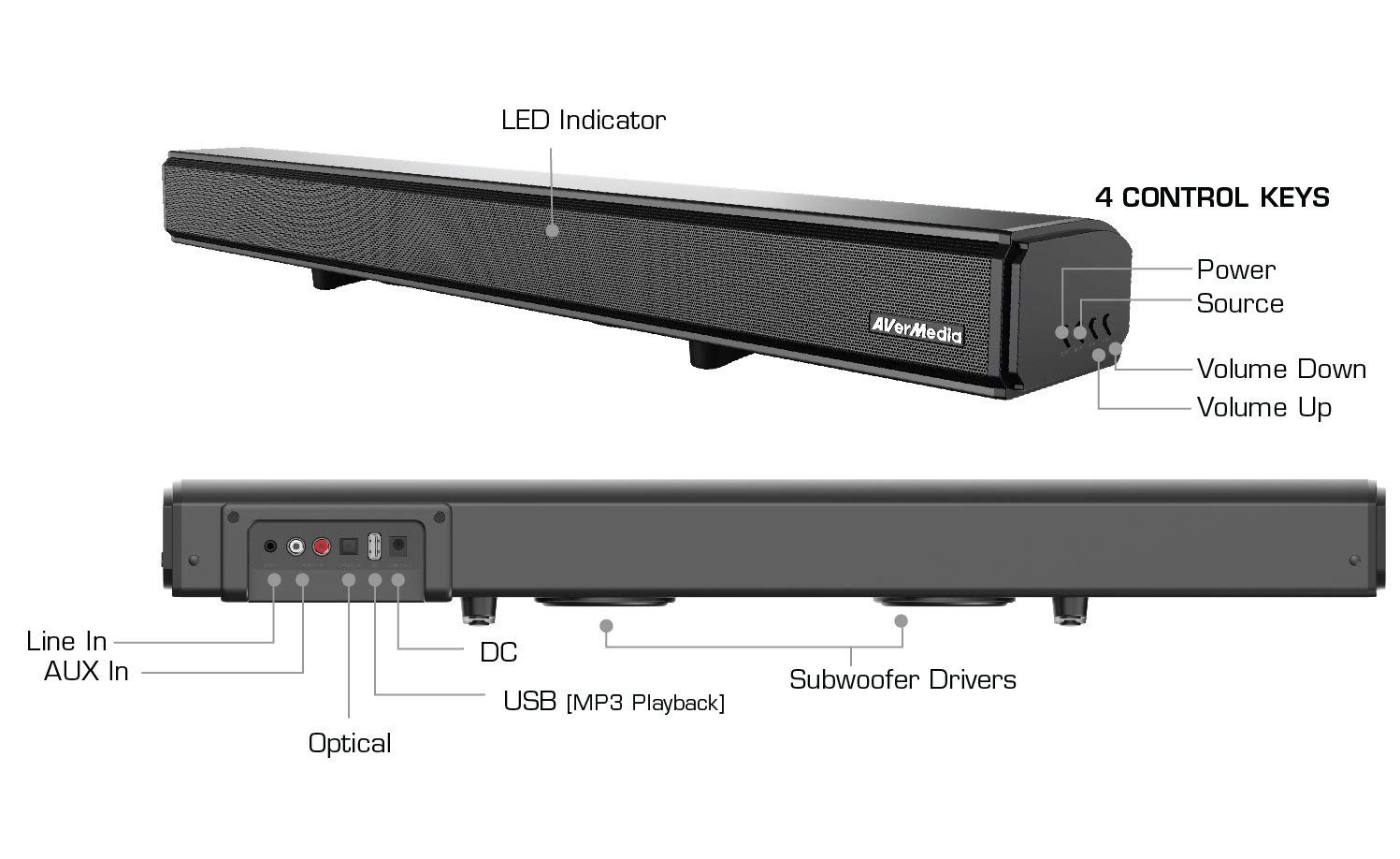 Overall, the GS333 is an excellent soundbar because it elevates sound quality. You will immediately notice the difference and will hear sound effects in games you didn't even knew existed. It's currently available for $129.99 on Amazon and I believe that's a reasonable cost for the upgrade you're getting in the sound department. While it lacks advanced Dolby features, it's still going to offer you a lot.
Lastly, you might be wondering why you can't simply buy a pair of headphones for over $100 and use them. Well, for me the issue is comfort. My friends, colleagues, and I have always struggled to wear headphones for prolonged periods of time due to the ear discomfort. Even if it's an expensive pair, your ears still produce heat and humidity. Getting a soundbar is just better. I only use headphones when I don't want to disturb others, but when I have the television and Xbox One X to myself, then I always go with the soundbar. It's the ultimate experience. It's one thing to hear the sound just on your ears, it's another sensation to feel it fill the room and make you feel completely immersed without the distraction of something heavy sitting on your head and ears.
At the end of the day, it's your preference, but even if you have a pair of headphones you like, investing in a soundbar the right decision in my opinion. Plus, at that price, it's hard not to recommend it for everyone. I strongly believe now that every gamer should have a soundbar because if you only rely on speakers, you're missing out on so much.
9/10
AVerMedia GS333 Gaming Soundbar