Outlook is a popular email client that offers an efficient method to handle contacts, calendars, and emails.
That being said, if Outlook won't open, you can not take advantage of all its capabilities, which might stop you from doing meaningful work.
No matter if you find that Outlook won't open on Windows 11, or Windows 10, we've got you covered with this guide.
The most concerning thing for users regarding this problem is that Outlook won't open, and no error message is shown, thus confusing users.
We will look at some of the common causes behind this issue and provide clear step-by-step instructions to fix it.
1. Check for system updates
Install any updates that are found.
Open Microsoft Office and check if Outlook can be opened now. If not, please follow the next methods.
2. Restart your PC
Close all open programs and apps, and ensure your work is saved.
Try opening Outlook again after the restart process is completed.
3. Use a specialized PST recovery software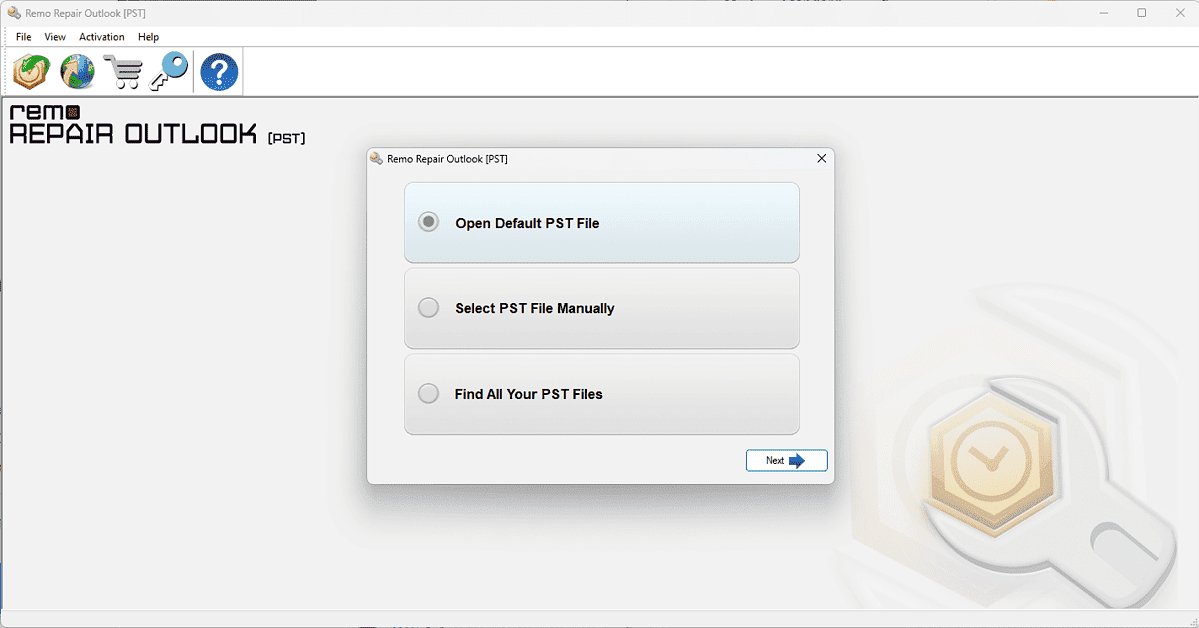 Remo Repair Outlook PST is a reliable and efficient solution for fixing the Outlook won't open issue since it was created exclusively for repairing and recovering Outlook data files.
The software is highly versatile, and can also fix the issue if Outlook won't open on Windows 10 or other OSs.
Let's examine the Remo Repair Outlook PST features and see how they can help restore Outlook to normal condition:
Can effectively repair corrupt or damaged Outlook data files (.pst) and resolve issues that prevent Outlook from opening
Guarantees the recovery of every mailbox item, including emails, contacts, calendar entries, tasks, notes, etc.
Offers full support for large PST files
Selective item recovery
Encrypted PST file repair features
User-friendly interface
Follow these steps to resolve the Outlook successfully won't open issue:
Click the Select PST File Manually button, navigate to the location where your PST file is stored, select it, and click Open (use the Find All PST files option if you're unsure where it is).
After selecting the PST file, click Next.
Set the destination folder and click Repair to initiate the process.
Launch Outlook again and check for issues.
If Outlook won't open when you click on the icon, using this software, you can successfully fix it and get access to your crucial emails and other mailbox data.
4. Open Outlook in Safe Mode
4.1. Use the keyboard shortcut
Press and hold the Ctrl key on your keyboard.
Double-click the Outlook icon.
Check if Outlook is opening successfully in Safe Mode.
If it does, the issue is most likely caused by corrupted add-ins. You can disable add-ins from the Outlook app or follow method #5, presented below.
4.2. Use the Run dialog box
Right-click the Start button and choose Run.
Type the following command and click OK or Enter to run it:
Outlook.exe /safe

Tip: If the above command doesn't work, try using the full path to Outlook (e.g. C:\Program Files\Microsoft Office\OfficeXX), where the XX is the version number.
If the app runs normally in Safe Mode, the issue might be caused by corrupted add-ins. Follow method #5 for step-by-step instructions.
Note: If Outlook won't open in Safe Mode, please try the other methods described in this guide.
5. Temporarily disable antivirus software
Open the antivirus software and navigate to its protection settings.
Disable real-time protection and choose a time frame to revert the change.
Confirm the action, and then try opening Outlook once again.
Re-enable your antivirus software so your system is protected.
6. Disable add-ins using Command Prompt
Press the Win key, and search for cmd. Choose the Run as Administrator option for the Command Prompt result.
Type the following command and press Enter to run it:
cd "C:\Program Files\Microsoft Office\OfficeXX"
Replace XX with the version number of the Microsoft Office you have installed. For example, if you have Office 2019, the command will be cd "C:\Program Files\Microsoft Office\Office16"
Next, type the following command and press Enter to run it and disable add-ins:
outlook.exe /disableaddin:ADDIN_NAME
Replace ADDIN_NAME with the name of the add-in you wish to disable. Ensure that the name is exactly how it appears in Outlook's add-ins list.
Now, Outlook will open without the chosen add-in turned on. Test to see whether the Outlook won't open problem still exists. If not, it means that the issue was caused by the add-in that was disabled.
Note: Repeat steps 3 and 4 for any add-ins you want to remove. Remember to restart Outlook after disabling each add-in to check if the issue is resolved.
7. Create a new Outlook profile
Even if you are having trouble opening Outlook, by using these instructions, you can create a new profile and get back into the program:
Click on the Show Profiles button.
Choose the Add button to create a new profile.
Enter a name and click OK.
Follow the on-screen information to set up the profile, and click Finish.
Launch Outlook using the newly created profile by typing the following command and pressing Enter:
outlook.exe /profile "PROFILE_NAME"
Replace PROFILE_NAME with the name of the newly-created Outlook profile.
Now Outlook should open normally; if it doesn't, check the other methods.
8. Repair the Outlook data files
Locate the Microsoft Office entry and select it.
Follow the on-screen instructions to repair the data files.
Try opening Outlook again.
9. Reinstall Microsoft Office
Restart your PC after the uninstallation process.
Visit the official Microsoft website, download Microsoft Office, install it, and rerun Outlook to check if the issue is resolved.
Why is Outlook not opening in Windows?
Outlook not opening may be caused by several issues. Some of the most common reasons include the following:
Corrupted Outlook data files – If the data connected to Outlook becomes corrupted, it can stop the software from running normally
Conflicts between add-ins – Third-party add-ins installed in Outlook can sometimes conflict with the app causing it to fail during the startup process.
Outdated software – If using an older version of Outlook, compatibility issues may arise, stopping the app from running.
Conflicts between the system and software – Conflicts with the operating system, other programs, or security settings may restrict Outlook's functionality.
Even more, some users complain that Outlook won't open offline. To resolve this issue, follow these steps:
Remove favorites in Mail Navigation – Navigate to the View menu, and uncheck the Favorites option.
Re-make the OST file by using the Remo OST to PST Converter.
Prevent OST file corruption by adequately closing the app and avoiding syncing files with the server if the internet connection is slow.
Your productivity may be affected if Outlook won't open, but most problems can be fixed by following the detailed troubleshooting methods in this article.