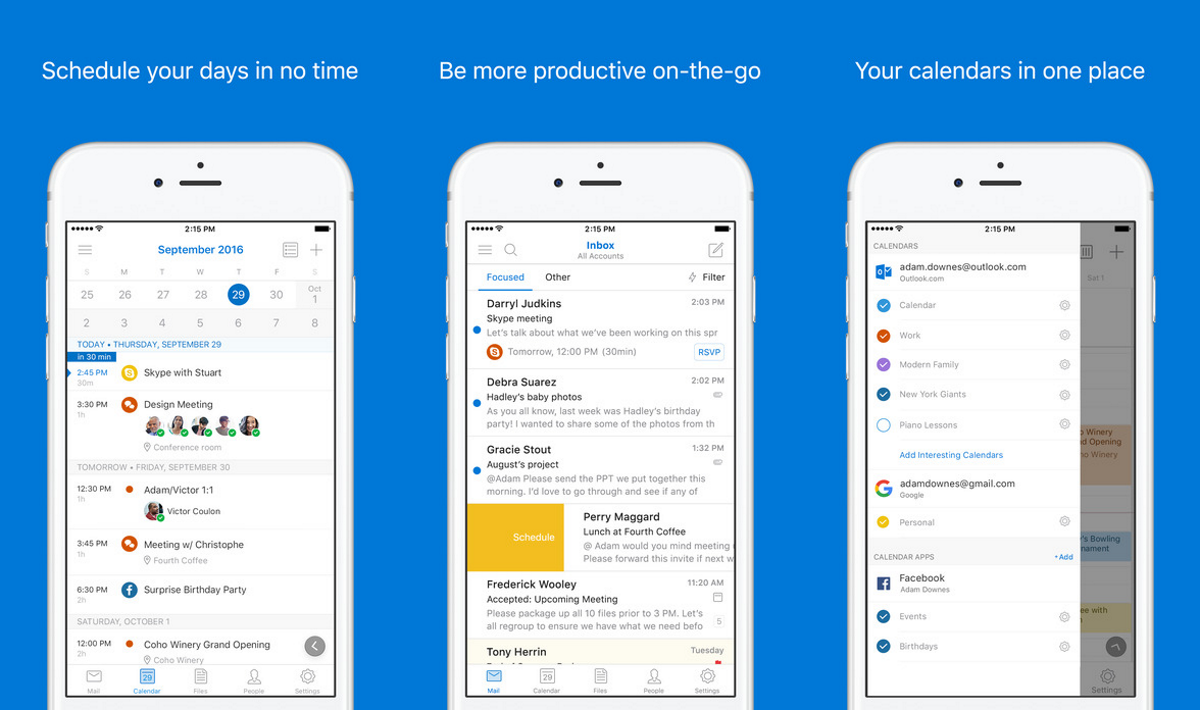 Along with several new enterprise capabilities, Microsoft today also announced some new consumer facing features that will be coming soon to Outlook Mobile. Microsoft Teams integration, Office Lens integration, Favorite Notifications, and improved calendar experiences are the new features that were announced today. Read about them below.
Create and join a Teams meeting in Outlook mobile:  As customers continue to embrace Teams for collaboration, we are excited to integrate Teams meetings in Outlook. You will soon be able to add an online Teams Meeting option to your calendar events and join a Teams Meeting right from Outlook. Our goal is to introduce this capability to Outlook mobile early in 2019.
More Office Lens technology coming to Outlook mobile: In addition to using Office Lens intelligent technology for photos, documents, and whiteboard images in Outlook mobile, you will be able to simply snap a picture of the card, and the contact details will be automatically saved in Outlook. Customers also have the confidence that the images will be used in compliance with their company's app protection policies and device camera settings will be respected. This feature will start rolling out to Outlook for Android customers in the coming months.
Favorite Notifications: There are some people in our lives whose communication should take priority, such as your boss, your significant other, or your kid, and you may want to respond to them in a timely manner. You will soon have the option set your notifications to "Favorites," so you're only notified when they send you an email or calendar event. Favorite Notifications are expected to start rolling out to Outlook mobile customers in the coming months.
Improved calendar sharing: Today, we are making it easier to share schedules with coworkers and manage room reservations and delegated calendars. It's as easy as adding a new calendar from the menu option in Outlook Calendar. Simply select Add Shared Calendars: and search for people, rooms, or mailboxes. You will be able to add or view a coworker's shared calendar or even a conference room that has a reservation calendar. We are rolling out this new Outlook mobile shared calendar experience to commercial customers now.
Search in calendar: And if you need to find a specific calendar event, we're extending search in Outlook mobile beyond contacts, special reservations, deliveries, and files and will soon be adding search to calendar events. The Outlook mobile search experience is designed to help you find what you need even faster. This feature will start rolling out to Outlook mobile customers in the coming months.
Source: Microsoft