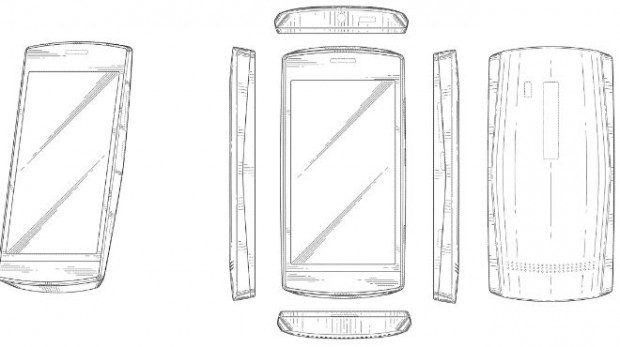 Liveside.net has discovered a newly published device design patent from Nokia that might turn out to be a Windows Phone device. What makes it interesting is that the device design on the patent matches with the earlier leaked Nokia Windows Phone device mockups. As you can see from the above two images, they are very similar.
At MWC later this month, Nokia is expected to reveal at least three Windows Phone devices with some speculating as many as 5.
The devices rumoured so far are the:
Nokia EOS
This handset is expected to have similar specs to the Nokia Lumia 920, but with a 42 megapixel Pureview camera
Nokia Catwalk
This device will again have similar specs to the Nokia Lumia 920, but with a much sleeker, aluminium-clad design.
Nokia Laser
Again a NL 920-like device specifically for Verizon
Nokia Lumia 720
WP8 successor to the Nokia Lumia 710 with a 4.3 inch CBD, 8 Gb storage with  microSD support and a 6 Megapixel camera
Nokia Lumia 520
WP8 successor to the Nokia Lumia 510, with a 4 inch display, 8 GB storage with microSD card support and a 5 megapixel camera.
Read more about those two devices here and the Catwalk, Laser and EOS here.
Source: Liveside.net