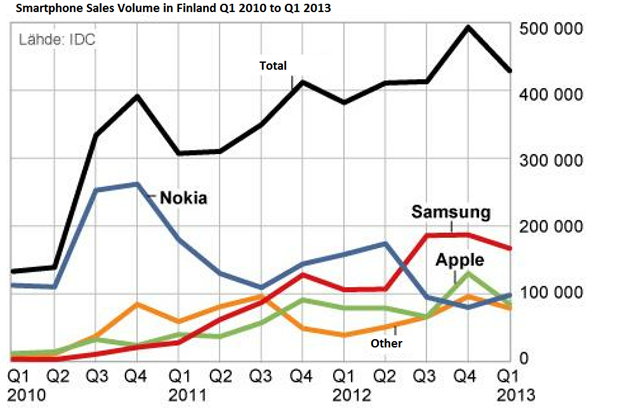 The IDC has released some data regarding the sales performance of Nokia's smartphones in Finland.
The market is relatively small there, totalling only around 430,000 smartphones in Q1 2013,  but as in most places in the world is currently dominated by Samsung, who sold 43% of the smartphones then, at 186,000.
In Q1 2013 Nokia sold around 100,000 smartphones, presumably mostly Lumia handsets. In Q1 2013 Nokia returned to second spot after losing it to Apple following the seasonal spike related to the iPhone 5.
With Finland at only maximum of 23% Lumia market share the country may be the strongest Windows Phone market, but not by an overwhelming percentage, showing both Nokia and Microsoft needs to work harder to win over buyers, even in Nokia's home ground. 
Source: Digitoday.fi, via Androidbeat.com