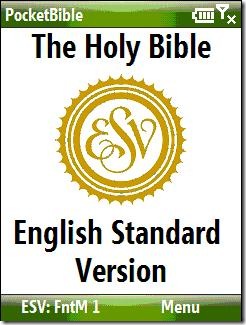 The venerable Pocket Bible software by Laridian has seen an update to version 4, and while nothing much has been done to improve the cosmetics of the software, many changes and improvements have taken place under the hood. 
Available in both touch screen and non-touch screen versions, the software now features:
Maximize Windows – Open multiple windows/books. Maximize any window for full screen reading.
Flick Gestures while Maximized – Swipe across the screen to switch to another open book (commentaries will stay synchronized with the Bible text). Swipe up or down in a book to go to the previous or next page.
Auto-Scroll – Set a book to auto-scroll for easier reading. Increase or decrease the speed of scrolling to match your reading speed. Great for public or devotional reading.
View in All – View a verse in all Bibles. View a reference in all commentaries. View a word in all dictionaries. Parallel study has never been easier!
Enhanced Searching – Keep your last 20 searches and easily perform the search again. Find looks first for the exact word and then for words staring with your search entry. Search for words "near" other words.
Customizable Toolbars – Sixty different functions available to be included on your toolbar. Put the features you use most, literally, at your fingertip. Choose "Large icons" never use the stylus again!
Save/Restore Layouts – Keep different layouts always ready to go. One layout for your devotional reading, one for performing word studies, another for a study Bible. Any number of layouts customized for the ways that work best for you!
Synchronize Notes, Bookmarks and Highlights with PocketBible for Windows (sold separately) – Make a note on the go. Flesh it out on your PC when you're back home or in the office. Highlights and bookmarks keep track of themselves.
Read more and download the software in the WMPoweruser software store here