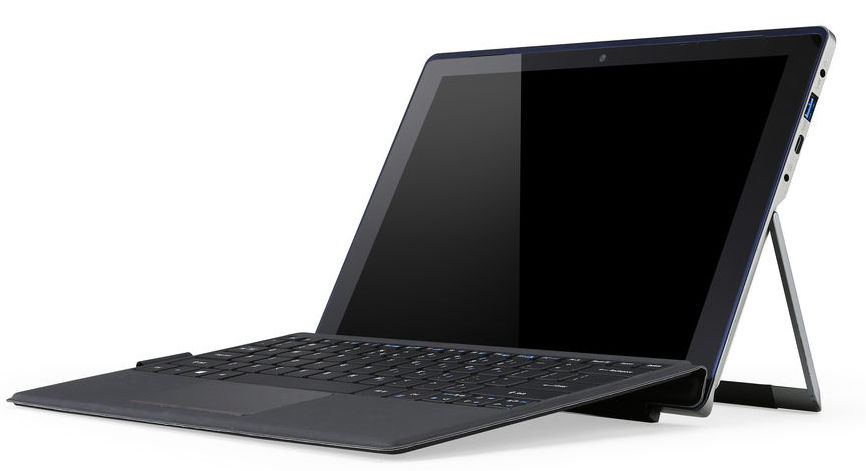 Acer is working on a follow-up to the Acer Switch 12 S, with details of the device being leaked by the RedDot design contest's website.
The Acer Aspire Alpha 12 S is even more Surface-like than the Acer Switch 12 S, which featured a hard keyboard and hinge. The Acer Aspire Alpha 12 S has a type-cover-like keyboard and appears to even include a pen loop on the side. Unlike that device is appears to not only include a full-sized USB 3 port but also the new USB-C standard as well.
Talking about the device the RedDot contest writes:
Amazingly slim and slight. With super thin keyboard, the Aspire Alpha 12 S features a thin and light body to create a great mobile experience while on the go. The U frame Kick-stand, and small chamfer are nicely-crafted for creating a nimble and elegant image. The top cover is made by aluminum and finished in elegant anodized hairline brush for giving eyes a great concerto, and silky tactile feedback. It is graceful, irreplaceable, and unforgettable. The U frame Kick-stand has great rigidity to support the machine, though it is thin. With anodized and sandblasting finish, it?s not only visually delicate, but reduces wobble issue from a general touch force due to its sturdy hinge system. The highly adjustable keyboard can be adjusted to various degrees, runs the entire width of the system, and is stiff enough that it will stay where you put it and hardly moves at all. The fanless design with hidden antenna is immersed into the A cover for a fluent visual perception that brings a great visual harmony. Also, the Cardiac thermal liquid cooling system is a no pump liquid cooling system which presents a remarkable cooling performance under an absolutely quiet status.
The website also revealed a new Lenovo Yoga Book, which is an Android-powered 2:1 with the following description:
YOGA Book is a creative device that belongs to YOGA family. It can be used as a tablet and notebook, which will be adaptable to different scenarios. Thanks to its innovative 3 axis hinge, YOGA Book allows the user to flip around 360 degrees and features a total thickness of 9.6 mm. It results in a very slim, flexible and portable device that will fit the needs of demanding users. The smart floating keyboard appears when needed, and disappears when the user wants to write , sketch with the intellipen, mixing traditional ink with digital technology. To support heavy journey, long load of work without any plug, the device can stand on its battery for more than 15 hours and be charged in a very short time, allowing the user to focus on its work and mind not on his remaining time.
The award would normally only have been announced in July this year, giving us an early sneak peek at what's coming soon. Does the Acer tickle the fancy of any of our readers? Let us know below.