Is Copilot the best AI companion out there? Help us find out by answering a couple of quick questions!
Microsoft is now introducing the "Paste Text Only" option as a keyboard shortcut to Word for Windows and Mac, making it easier to paste texts without needing to manually remove unwanted formatting.
According to Microsoft, the function will apply the conventional Ctrl + Shift + V (Cmd + Shift + V on Mac) shortcut. However, it is important to note that the capability is still limited to M365 Home and M365 Business Standard Beta Channel users using Windows Version 16.0.15831.20174 or later and Mac Version 16.67.1113.0 or later.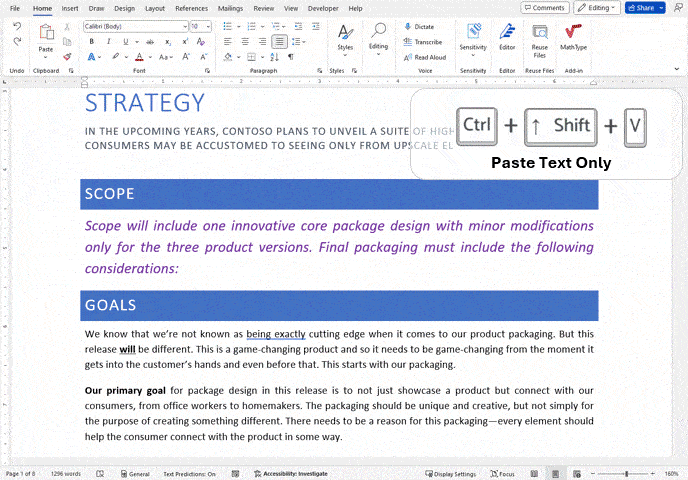 To those with access to the capability, it can be executed using the familiar Ctrl + Shift + V shortcut, which is also used in other apps, such as Google Docs, Microsoft Teams, Word for the web, Gmail, Slack, and more. This fact that the function is available in other apps makes the capability a long time coming for Word for Windows and Mac. And given that Word has been around for almost four decades, it makes anyone question why the Redmond company is only introducing it now. Microsoft Word Product Manager Ali Forelli, nonetheless, explained the situation.
"While the engineering team continues to work on new features for improved user experiences with refreshed and more advanced technology, we don't always have the opportunity to revise pre-existing behavior," said Forelli. "In the case of keyboard shortcuts, the industry standard has diverged from Word's initial implementation of these features. Indeed, users expect that Ctrl + Shift + V will paste plain text, so when this doesn't work, the experience can be frustrating. The Word team heard about this problem from users, so we're updating keyboard shortcuts as a direct response to your feedback. Accessibility is a priority for Word, and we want to make the cut, copy, paste experience as seamless as possible."
Though the news about the Paste Text Only keyboard shortcut sounds nothing groundbreaking, it is a welcome change for many, especially for those that greatly rely on the program. To note, current users would have to use the Paste Special dialog box or the Keep Text Only from the Paste Options button to access this, which is truly inconvenient every time texts have to be copied and pasted on their documents. 
Microsoft said Paste as Plain Text capability can also be activated using PowerToys. Users could access this function instantly by using a certain macro or the Pure Paste app for Mac. Nonetheless, making it a ready-to-use functionality will make things easier for many, especially those with less technological literacy.
On the other hand, alongside this announcement about Paste Text Only, Microsoft said changes to five other existing keyboard shortcuts would also be introduced in Windows and Mac. Here is a table for those changes.