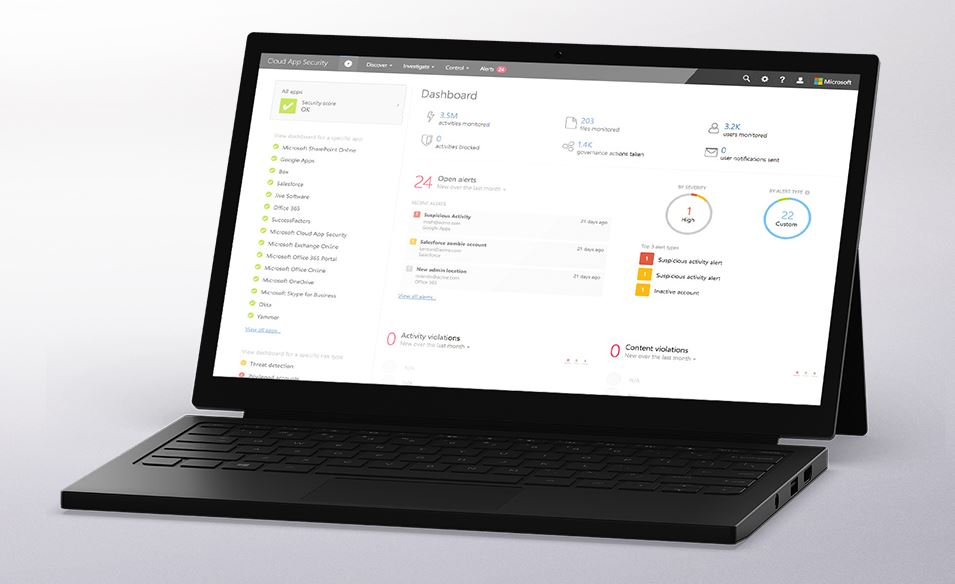 At Ignite yesterday, Microsoft announced several new updates to its security tools to protect its customers. They announced new integrations, expanded capabilities, and partnerships toward addressing issues in cybersecurity for organizations around the world. Conditional access feature allows organizations to control who has access to their resources based on a combination of risk factors, such as user account activity, physical location, and the trustworthiness of the device. They are now improving Conditional access by integrating it with Microsoft Cloud App Security, Azure Information Protection, and Microsoft's partners in the ecosystem. Read about the updates below.
Microsoft Cloud App Security performs real-time monitoring and helps IT gain control over cloud apps and how employees use these apps. Now with Cloud App Security, users' actions taken in cloud applications can be managed and controlled based on conditional access policies and proxy-enforced session restrictions. For example, you can allow users to access cloud apps from an unfamiliar location or unmanaged device, but prevent them from downloading documents.
To further enhance security at the file level, we're introducing conditional access for sensitive files. With the integration of Azure Information Protection and Azure Active Directory, conditional access can be set up to allow or block access to documents protected with Azure Information Protection. You can also enforce additional security requirements such as multi-factor authentication or device enrollment.
Not only are we providing better integration within our own solutions to deliver holistic and identity-driven security, we also are working with our partners to extend conditional access in the ecosystem. In addition to Azure multi-factor authentication (MFA), you can now use RSA, Duo or Trusona for two-step authentication as part of your conditional access policy.
Learn more about these updates here. In addition to these security related announcements, Microsoft yesterday also announced new features in Microsoft 365 that will help customers in their GDPR compliance. They are introducing Compliance Manager that will help customers manage their compliance posture from single location. Organizations can conduct real-time risk assessment that reflects their compliance performance against data protection regulatory requirements when using Microsoft's cloud services. Learn more about these updates here.