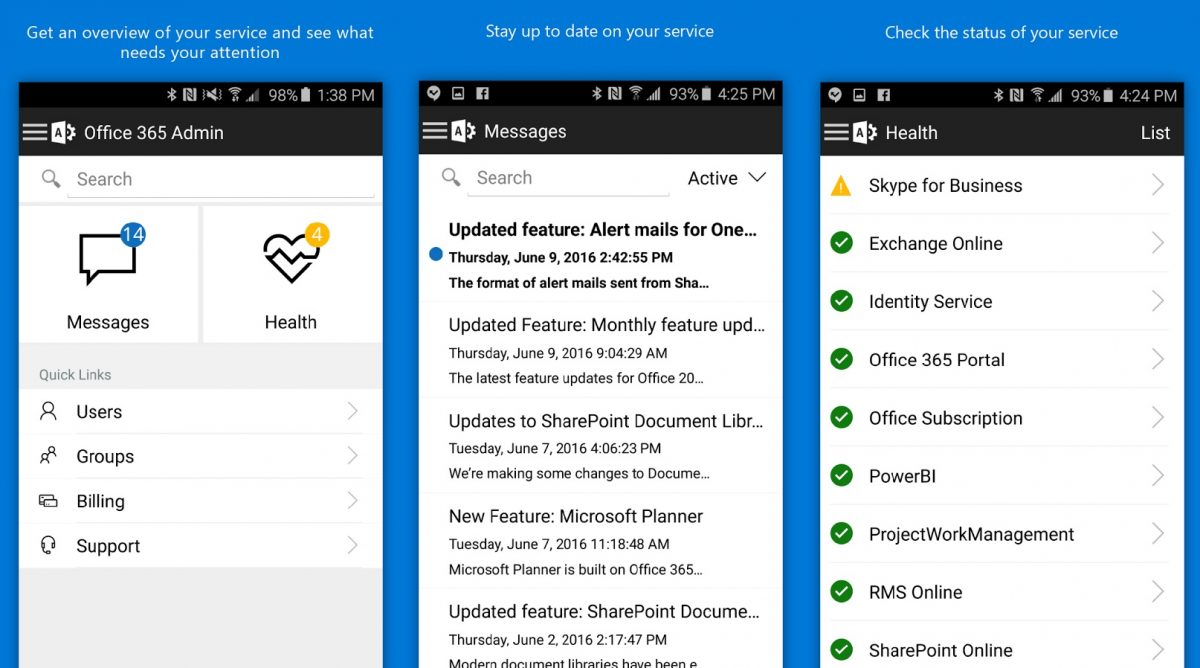 Microsoft today announced a major design update for the Office 365 admin app that will make it easier and more efficient for Office 365 admins to manage their service using the app. With this v3 update, Office team has further improved the design and UX of the app.
New features:
Quickly find what you're looking for—With all the new functionality that has been added, we want to make sure that you're still able to quickly find the feature you're looking for. With the update, we are introducing feature grouping to the app. Similar features, such as quick actions on the user card, are now categorized and displayed together in one card.  In addition, new quick links on the dashboard give you direct access to settings that you use on a regular basis, such as users, groups and billing.
Spot important information right away—The update also makes it easier for you to identify areas that need your attention. Information that is important to you and that you might want to take action on, such as blocked users, is now highlighted in the app.
One management experience across admin app and admin center—We also worked on aligning the design of the app with the design of the new Office 365 admin center. The app now uses the same color and icons, making it easier for you to move from one tool to the other.
App features:
• Connect to the Office 365 admin center from anywhere
• Add, edit, block, and delete users
• Reset passwords
• Assign product licenses
• Turn on notifications to get service alerts and new messages
• Contact Microsoft support
• Sign in to manage multiple Office 365 organizations
• Read the latest messages from the Message center
• If you're a Microsoft Partner, manage your Office 365 customers
This new updated app is now available for Windows Phone and Android. iOS version will be coming in 1–2 weeks. Download the latest app here: Office 365 admin app.