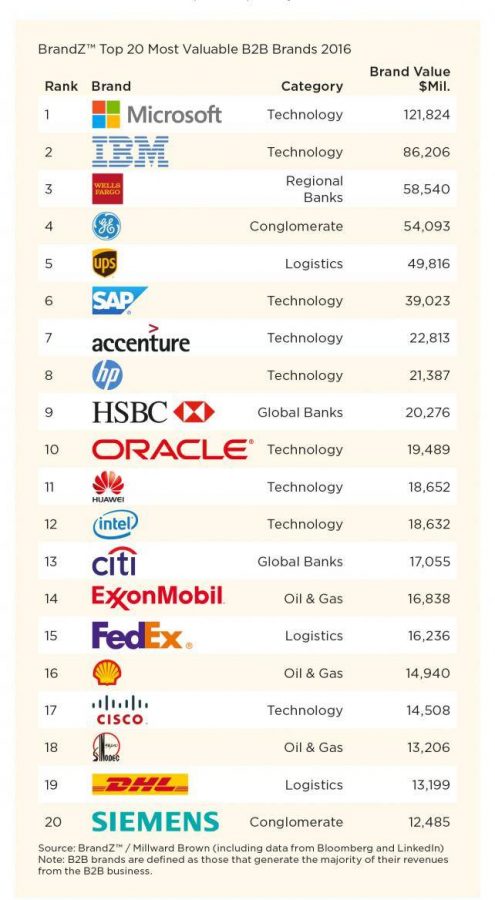 Microsoft is the world's most valuable business-to-business (B2B) brand, according to the first annual BrandZ ranking of the Top 20 Most Valuable B2B Brands, launched today by WPP and Millward Brown. IBM, Wells Fargo and GE followed Microsoft in this list. Microsoft grew its value 5% in the last year to $122bn, thanks to a strong performance, particularly across its cloud services and operating systems divisions. "Microsoft operates in so many different categories that it is almost impossible for businesses not to use some product from the company," said Nigel Hollis, executive VP-chief global analyst at Millward Brown.
Ben Lloyd, Head of Millward Brown Corporate, said: "B2B businesses are starting to pay real attention to their brands now, recognising that this has helped their B2C counterparts achieve significant value increases. If they can strengthen their brands by thinking in new ways they'll be in a better position to withstand the macro factors affecting the categories they operate in, connect with their target audience, and attract talent. Developing strong and meaningful brand communications and focusing on the customer experience have a vital role to play here – many B2B brands that are highly innovative are not perceived as such by the audience."
Microsoft was ranked no.3 in the 2016 global Top 100 list from Brandz.