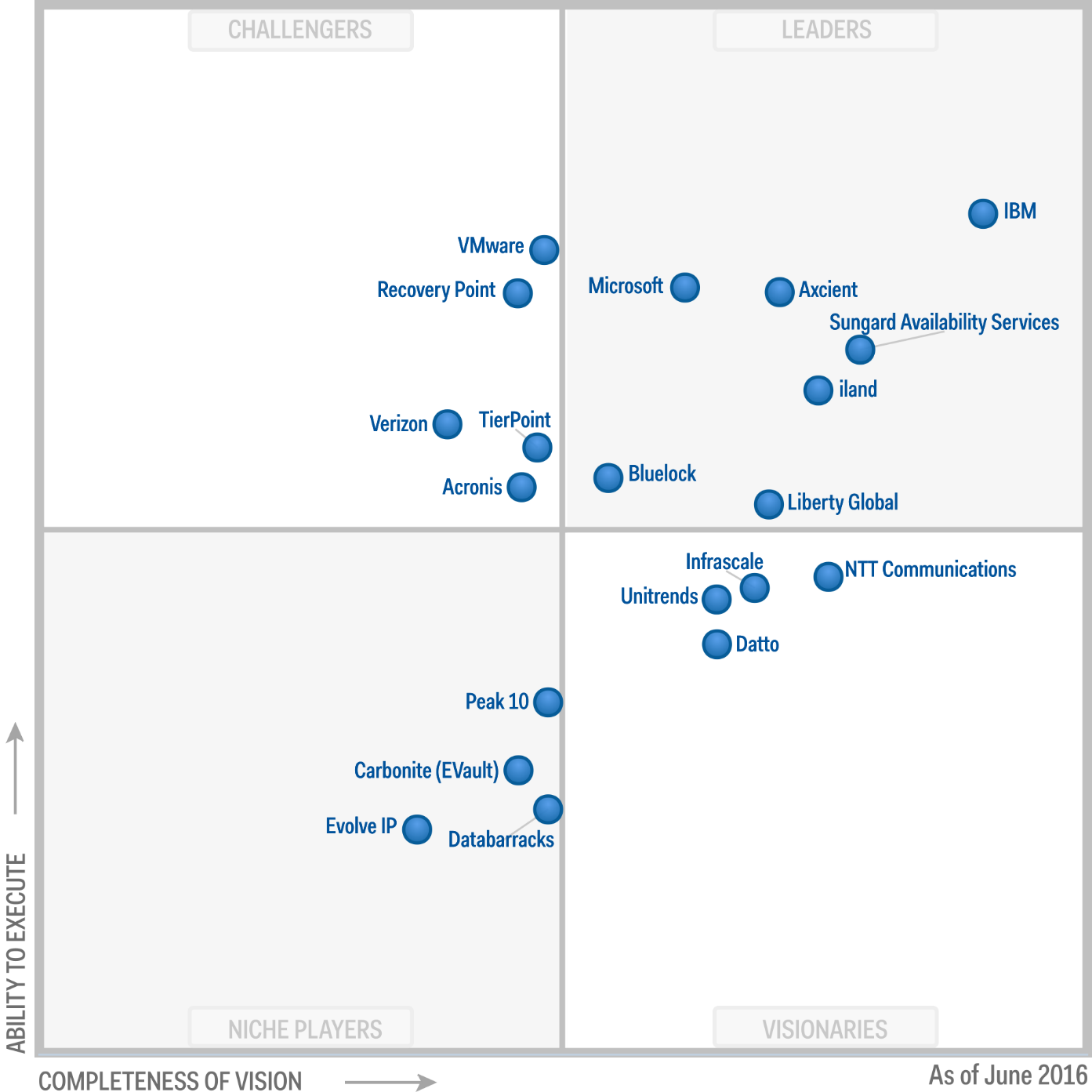 Microsoft was named as a leader in the Gartner's DRaaS (Disaster Recovery as a Service) Magic Quadrant for 2016. Microsoft Operations Management Suite and Azure Site Recovery  can help organizations achieve low recovery point objective (RPO) and recovery time objective (RTO) targets for every major IT system, without the hassle or the cost of a secondary data center.
Microsoft is committed to providing the flexibility our customers need in protecting data throughout the entire lifecycle. We have designed Operations Management Suite with centralized management, integrated data protection and application availability to support business continuity and compliance goals throughout the lifecycle of your apps.
Find Gartner's comments on Microsoft's DRaaS solution below,
Microsoft is a new entrant to Gartner's DRaaS Magic Quadrant for 2016. Microsoft provides both the cloud service (Microsoft Azure) and cloud migration and DR utility (Azure Site Recovery [ASR]). Azure Site Recovery is natively integrated into Azure, enabling customers to manage both their DR solution and other Azure services, as well as providing hybrid disaster recovery capabilities across multiple platforms. It is also an integral part of Microsoft's multicloud management offering, Operations Management Suite (OMS).

Microsoft's DRaaS solution, ASR, is one of the cornerstones of a broader management-as-a-service offering within Microsoft's OMS. ASR is sold by partners and also directly to SMB and enterprise clients. It is available in all regions where Azure is deployed. Microsoft has a global presence, with offices in more than 120 countries and Azure data centers in 28 regions, as well as customer call centers in each of these regions. In 2014, Microsoft acquired InMage Systems, and in 2015, it integrated the InMage technology with ASR to provide DR to Azure for VMware and physical workloads, in addition to Hyper-V workloads. In January 2016, Microsoft released enhancements to ASR that included recovery support for VMware's vSphere.

Strengths

Microsoft is uniquely positioned to provide customers converged data and availability solutions within a hyperscale cloud (that is, Azure). Growth of production quality workloads in the public cloud is just starting to accelerate, and Microsoft believes it is well-positioned to take advantage of this phenomenon.

The Azure portal that is used to back DRaaS supports more than 50 languages.

ASR pricing is simple: It is priced on the number of instances protected, or through the OMS add-on.

Microsoft received high customer reference scores for service feature innovation, service cost-effectiveness and simplicity of the provider portal GUI.

Cautions

Although its installed base is growing rapidly, Microsoft currently does not have the same level of service delivery experience as some of its larger competitors (for example, IBM, Sungard Availability Services [AS] and Verizon).

Currently, Microsoft supports only self-service delivery and lacks the hybrid configuration management capabilities of some of its competitors.

Microsoft received low customer reference scores for the quality of technical support and contract flexibility. It also received a low customer reference score for account management. Microsoft now has a dedicated technical support team for its data and availability solutions.

Microsoft's recovery management experience with data configurations that contain a wide variety of system platform types (for example, IBM System i, IBM System p, Oracle Solaris and HP-UX) is limited.