Microsoft has been showing ads and trying to get Google Chrome and Mozilla Firefox users to use its Edge browser on Windows 10. The company's Edge browser is lighter, faster, and consumes less battery than the other browsers on Windows 10. And Microsoft made sure to advertise these features on Windows 10 with popup notifications on the taskbar which it likes to call "tips". The software giant also started notifying users about Edge's new extensions on Windows 10.
Recently, Microsoft rolled out a new wave of these tips — this time, it's notifying users about Edge's security features. The tip, which you can see in the screenshot below states that "Edge is safer than Firefox" when users start up Firefox (not on every startup). Microsoft has also confirmed that it's also showing a similar tip to Google Chrome users on Windows 10. In addition to this, the tip also states Microsoft Edge blocks 21% more socially engineered malware according to a study from NSS Labs.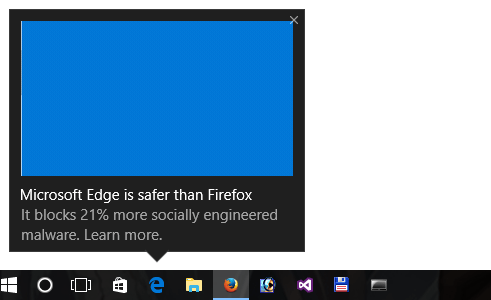 A Microsoft spokesperson told VentureBeat:
"This wave of Windows Tips for Windows 10 users began in early November. These Windows Tips notifications were created to provide people with quick, easy information that can help them enhance their Windows 10 experience."
The spokesperson also noted that Windows 10 users can disable these tips if they don't want to see them by heading over to the Settings app (Settings > System > Notifications) where they can disable these tips by unticking "Get tips, tricks, and suggestions as you use Windows".
Microsoft isn't the only company using the Tips feature on Windows 10 — some of its important partners such as Facebook recently used this feature to promote its Live Video feature to Windows 10 users.