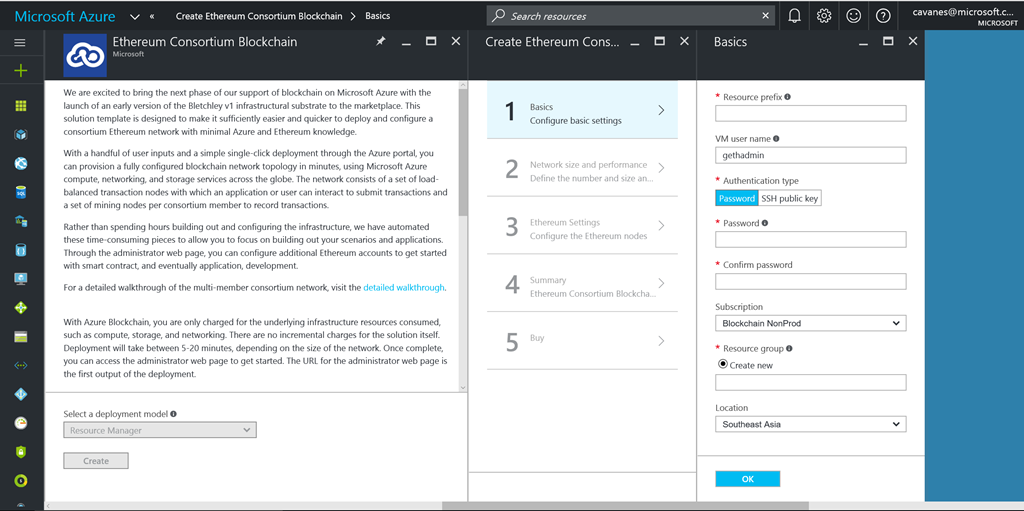 A few months back, Microsoft announced Project Bletchley which outlines Microsoft's vision for an open, modular blockchain fabric powered by Azure. Back in September, they announced the launch of an early version of the Bletchley v1 infrastructural substrate. By leveraging the capabilities of Microsoft Azure Resource Manager (ARM), they have shipped an Azure Quickstart Template to make it sufficiently easier and quicker to deploy and configure a consortium Ethereum network with minimal Azure and Ethereum knowledge.
Microsoft today announced the support of Bletchley v1 into the Azure Marketplace. With this, you can quickly and easily deploy a many-node consortium blockchain network. With this release, you have all the same functionality as with the original release in the Azure Quickstart templates, but with a better user experience directly integrated into the Azure portal. Along with the availability in Azure Marketplace, they have added support for the following,
Dozen Consortium Members: You can now deploy a blockchain network that has a dozen consortium members.
Premium storage: To support low latency and high throughput applications, you can configure the nodes within the consortium network to leverage premium storage backed virtual machines.
Password or SSH key: To secure the nodes within your network, you can now specify an SSH key instead of a password.
Read more about it here.