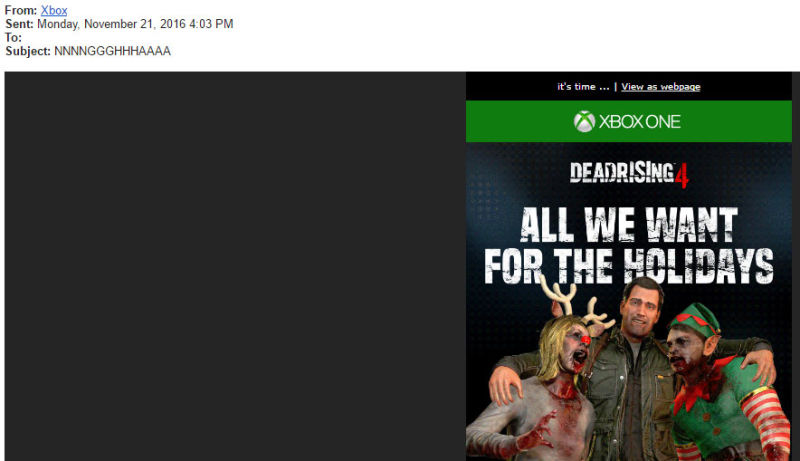 We'll forgive you if you had to give that subject line in the above image a second look, but what you're actually reading is a Zombie's growl, "NNNNGGGHHHAAAA" (get it?). Well its pretty easy to misinterpret that, even when giving it your best shot at pronouncing it correctly, something that Microsoft PR rep Larry Hryb recognized, as he was quick to issue an apology before the message has insulted someone.
Today we sent a DR4 email where a zombie roar was interpreted by many as a racial slur. We apologize and promise to do better next time.

— / Larry Hryb / + 1m (@majornelson) November 22, 2016
Though no one has yet to officially complain about the dubious subject line meant to advertise the upcoming fourth installment of open-world zombie apocalypse game 'Dead Rising', it may have been a good idea for Microsoft to clean this up before it got any messier, especially after the company sent out an email invite for one of its recruitment events that contained phrases like 'hella nom', 'lots of dranks' and 'getting lit'.
Though this was an accident on the company's part, lets hope that this behavior does not become the norm from the Redmond giant.