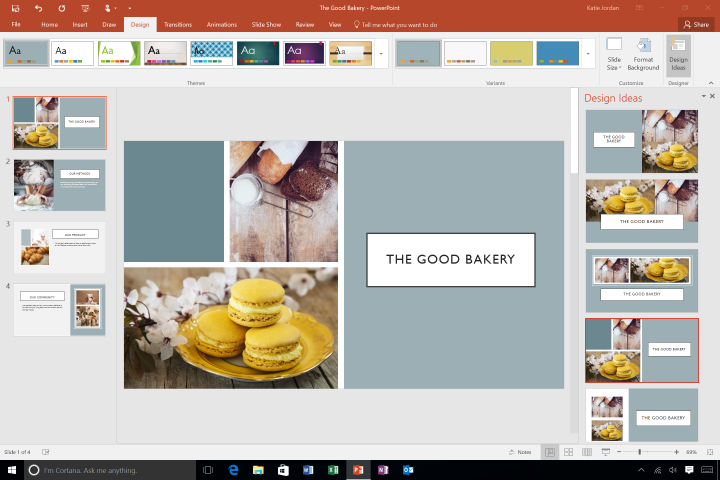 Following the release of PowerPoint Designer and Morph, new intelligent tools in PowerPoint that automate the creation of slides and presentations last year, Microsoft today announced three new enhancements for PowerPoint Designer that give users even more creative options and greater visual impact, all within seconds.
Multiple images:

With support for multiple images, you can now insert more than one image to represent your big idea visually. Currently, all PowerPoint themes support two images, while the specific Office and Gallery themes support up to four images. This is just the beginning. Designer will expand over time to allow you to insert even more images across all PowerPoint themes.
Color extraction
New color extraction capabilities add even more value to Designer's automated recommendations by extrapolating the most visually impactful color option from your inserted picture and then applying that color to your existing slide. The color extraction choice is based on functional design principles, such as light colors on top of dark backgrounds for maximum effect. With color extraction capabilities, Designer takes the concept of high-quality professional slides and turns it up a notch. Color extraction currently works with the new Gallery theme and will continue to roll out across the other native PowerPoint themes within the upcoming months.
Facial recognition
Facial recognition enhancement improves Designer's cropping capabilities for images with faces by identifying people in an image and then optimizing the position of their faces—making faces the most important element in the picture. By incorporating facial recognition, Designer can now avoid cropping out portions or all of someone's face, keeping it intact within the design layout.
If you have Office 365 subscription, you can get all these features for free.