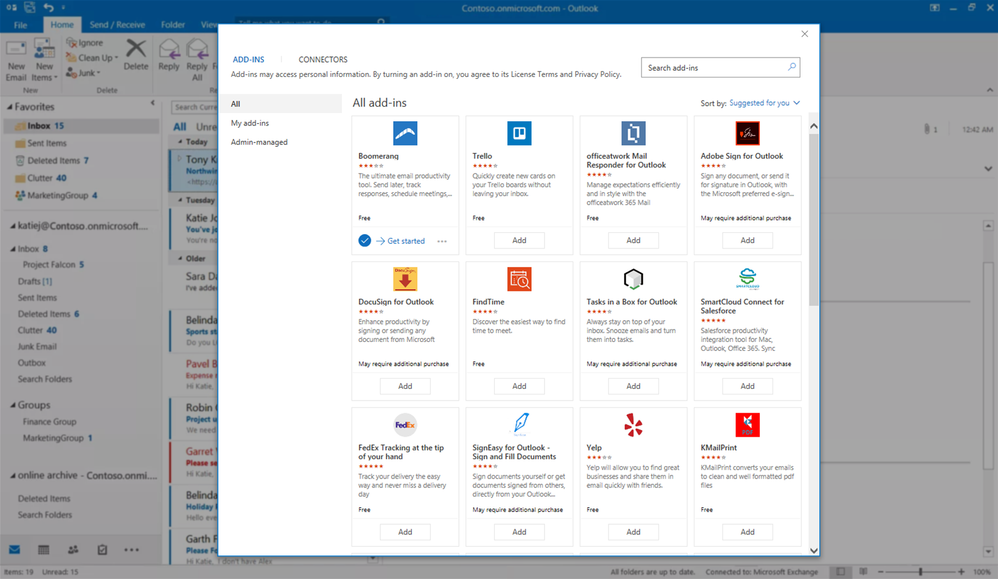 Microsoft today announced an improved add-in store experience within Outlook. This new experience comes with a redesigned layout, improved search experience and quick start guides that will help users to easily find their desired add-ins. Read about the changes in detail below.
Redesigned layout and quick start guides helps you to quickly review all available add-ins, with a brief description. To enable an add-in, just click "Add", and the add-in will be installed. You can also access quick start guides that help you get more information on how to use the add-in.
The "My add-ins" tab shows all add-ins installed by you including store and custom side loaded add-ins. The Admin managed tab will show all the add-ins deployed for your organization by your administrator, which you can choose to install.
Now, you can quickly search all available add-ins by add-in name or keyword. For example, if you type in a keyword like "contact" and the top related add-ins will be available for you at a glance.
This new experience now rolling out to Outlook 2016 and Outlook 2013 for Windows, Outlook 2016 for Mac and Outlook on the web with Office 365 or Outlook.com mailboxes.
Source: Microsoft