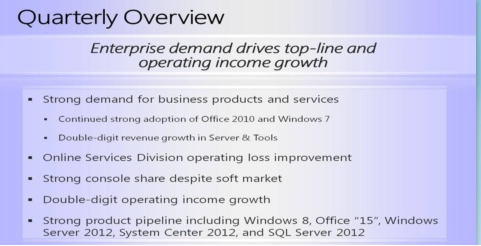 Today Microsoft announced its third quarter financial results and as usual it was a good result. Microsoft announced quarterly revenue of $17.41 billion for the quarter ended Mar. 31, 2012, a 6% increase from the prior year period. Also the operating income was up 12% YoY to $6.37 billion. Net income and diluted earnings per share for the quarter were $5.11 billion and $0.60 per share, compared with $5.23 billion and $0.61 per share, respectively, in the prior year period.
While almost all of the divisions at Microsoft showed revenue growth, Entertainment and Business division which holds Xbox, Xbox LIVE, Skype and Windows Phone resulted in drop of revenue by almost 16%. Microsoft said that the poor video game console market was the reason behind this drop.
Microsoft is expecting strong growth ahead after this year as its in the verge of refreshing almost all of its product lines across the divisions. Windows 8, Windows Server 2012, SQL Server 2012,  Office 15, Windows Phone 8, System Center 2012, Halo 4, etc, are releasing in Q4 2012 which may result in strong financial results.
And on Windows Phone front, Microsoft just mentioned that the launch about Nokia Lumia 900 and HTC Titan II LTE smartphones in US and Lumia 800 launch in China.
Source: Microsoft