No compromises. That's the name of the game among flagship handsets in the 2010s. Thinking back, Microsoft has never had a truly no-compromise flagship handset for a myriad of reasons. Either the OS didn't support powerful SOCs like the Snapdragon 805, or there was no support for high-resolution screens, or the OEMs had some artificial limits to their hardware (16GB 925, no micro sd slots in 1020 or 930) Either way, Windows Phone flagships always had some tangible flaw in the hardware you could point to when compared to Android or even the iPhone. Now, Microsoft has taken over the direct production of Windows Phone handsets and have created the Lumia 950.
Make no mistake, this is the first no-compromise Windows phone flagship device to exist. The screen is great, the battery life is brilliant, and it is packed full of power and tricks.  For many Windows Phone users, the Lumia 950 represents a return to form. Between 2012 and September 2014, Windows Phone had received flagships at every quarter with increased sales each time There was always a brilliant device for a Windows user to pick up, show off and use. While they weren't top of the line, they were at least there.  In the interim between the Lumia 930 and Lumia 950, many users had all but forgotten what a high-end Windows Mobile device looked, performed and felt like.  We were left with relics of the past, 1520, the 930, and the Icon.  All great devices in their own regard but more than a year out of the flagship game is a long time to tap your toes, waiting for the next big thing.  Now, we have the "next big thing", and it is fantastic.
5.2 Inches, 2560 x 1440, 564 ppi, OLED  ClearBlack Display
Qualcomm Snapdragon 808 Hexa-Core, 1.8 Ghz Processor
20 Megapixel, PureView, Zeis Lens, OIS enabled Rear Camera
5 Megapixel Front-Facing Camera
3000mAh Battery
Iris Scanner
32 Gb internal Storage w/Micro SD expansion up to 200 Gb
Continuum Support
USB 3.1 Type-C port
4k Video Recording with up to 120 fps slow motion in 720p
Starting at $550 in the United States
Video Review
In the Box
We didn't get the standard box for the Lumia 950 so we can't be sure what will ship to consumers in different regions. However, for the sake of completion, we'll go over the content of the box. Lumia phones have not come with in-box headphones for a while,  and the Lumia 950 doesn't buck that trend. While some  may feel it is an unforgivable omission, the truth is most people simply have a pair of headphones they actually use lying around somewhere. Most headphones with smartphones are either rubbish or discarded shortly after a brief period of infatuation to return to the previously mentioned set of headphones. If Microsoft included headphones more inline with the premium headphones that came with the Zune devices,  then it would be a different matter entirely. More interestingly, the box came with two USB-type C cables for charging. One of the cables was attached to the fast charger (more on that later), and the other had a USB Type A connection for use with other USB wall adapters or to transfer data through a computer. These two cables provide more flexibility than a single one and step aside the issue of USB-type C not being as widely used as the older specifications.
Design
While flagship Nokia Lumia devices had a design inspired from the Nokia N9 with curved class and a unibody polycarbonate body, the Microsoft Lumia 950 steps away from all that.  Microsoft picks up design cues from the design language first introduced with the Lumia 635, then carried on in all subsequent Microsoft Lumias (aside from the 532 and 43x series) . This design is now the "generic" Lumia design and features a flat screen with a slightly curved back shell. True to form, the 950 is wrapped in a completely polycarbonate shell which comes in either black or white. Removing the shell reveals the SIM card and expandable storage slots and  the removable battery. As all the important bits are hidden under this back, Microsoft doesn't have to include any other slots or gaps for anything other than the standard 3.5mm headphone jack and USB type C connector. This means that the Lumia is completely smooth all the way round. That being said, the removable back is slightly hard to take off, at first it shouldn't be an issue going forward anyway. If you don't take off the back cover often, you wouldn't notice, if you do, you'll probably get used to it.
The 950 also includes the standard layout of buttons you've come to expect from your Lumia device, volume up and down, followed by power and the two-stage camera button. All of which I might add feel really solid and provide a very satisfying click when pressed.
[shunno-quote]The Lumia 950 is very light, but the polycarbonate might disappoint some[/shunno-quote]
For those of you who long for the metal wrapped bodies of the 830 and 930 of yore, you will be disappointed with the all polycarbonate shell, however, Microsoft seems to have anticipated your needs and has partnered with companies like Mozo to offer alternative shells to fit your desires. On the other hand, we've discussed this metal versus plastic issue internally here at WMPU and concluded that while metal looks great on a device at first, the number of scratches and dents make it look uglier in the meantime, even if you're religious about not dropping your phone like I am.  It just happens.
As I've spent the last few days with the device I've realized that while the 950 is not an ugly device by any stretch of the imagination, (possibly save for the ring around the camera)  it's not a device that turns heads either.  I haven't placed it on a table between family and friends and had them say, "Hey new phone?" or "Which phone is that?".  It looks like a black phone. Which is fine, I'm not so vain as to place my self-esteem on comments about my phone, but it would be nice to have some colour options. (And I'm still a little bitter that all of the rendering of the device showed it in Cyan) That being said, the 950's design is completely functional, it feels great when you hold it, lies flat on a table and doesn't feel heavy or slippery.  This device clocks in at a mere 150 grams, which is easily par for the course for any high end device.  To give some perspective, the 4.7 inch iPhone 6s comes in at 143 grams, while its big brother, the 5.5 inch 6s+ comes in at 155 grams.
Display
The display of a smartphone is one of the most integral parts of its body, it is what users will constantly be interacting with and will form part of the first impression users get of the phone. With this in might, Microsoft has to nail its flagship display  experience right out of the box. In our experience,  The 5.2 Inch, 2560 x 1440, OLED  ClearBlack Display leaves absolutely nothing to be desired. Colours are bright and vivid and at 564 ppi it absolutely wipes the floor with Apple's so often referenced buzz word laden "Retina Display" iPhone 6s+ which comes in at 401 ppi.  The screen itself is very accurate and can clearly be viewed from any reasonable angle with minimal distortion.
[shunno-quote align="left"]The Lumia 950's display is simply gorgeous[/shunno-quote]
As the screen is an OLED screen, the blacks on the 950 are very deep and very black. It gives a wonderful experience if you choose to theme your Windows Phone with the dark theme. Text is sharp and everything, the tiles on the start screen look great and it brings out the beauty in Microsoft's new MDL2 OS design.
The 950 also comes equipped with the latest that Corning has to offer with Gorilla Glass 4, Gorilla Glass 3, which is virtually unscratchable. Glance-Screen is also present in the 950, which is a do or die feature for me. One of three that I have to have on my device, Glance-Screen, a hardware camera button, and a micro-sd slot, and one could argue wireless charging.
The super sensitive screen is also present and functions wonderfully.  (This is also one of my most coveted features and one I use thoroughly while wearing my gloves at the motocross track).
Honestly, I struggle to find anything negative about the 950's display,  Great resolution, deep blacks, Glance-Screen, accurate colors.  Microsoft clearly it hit it out of the park here.
Performance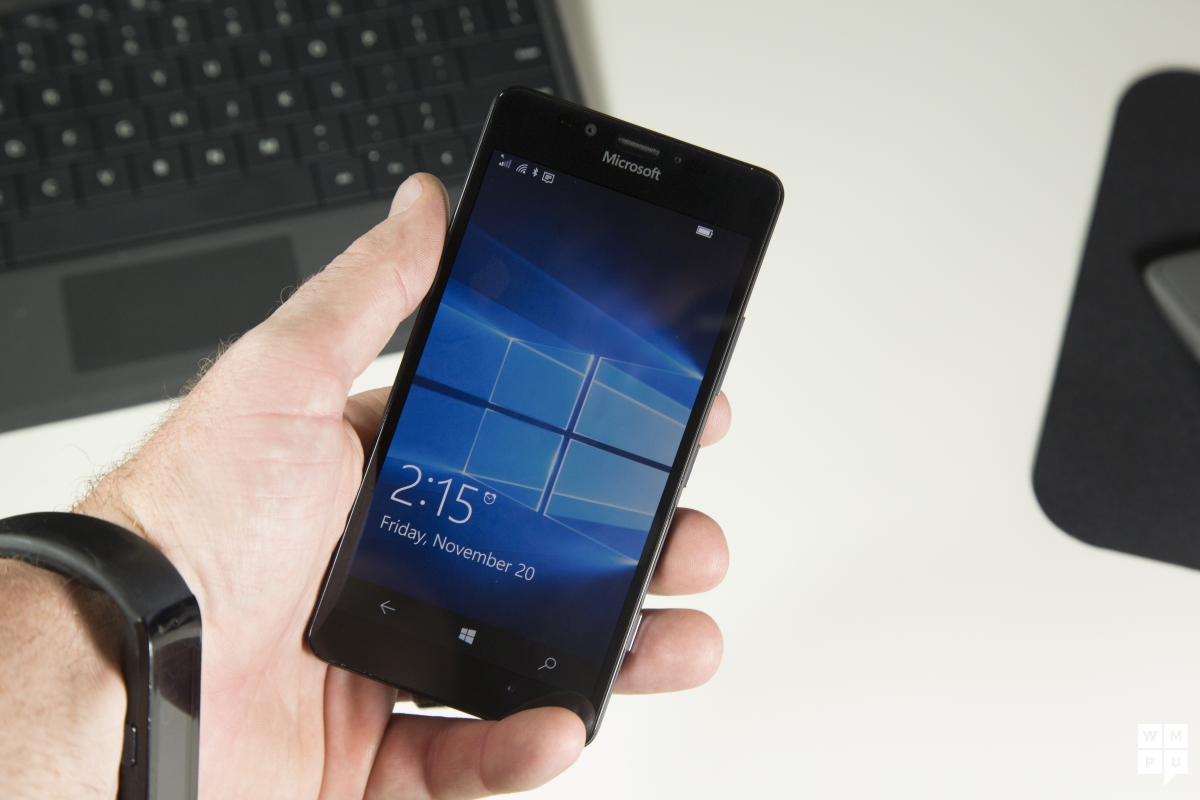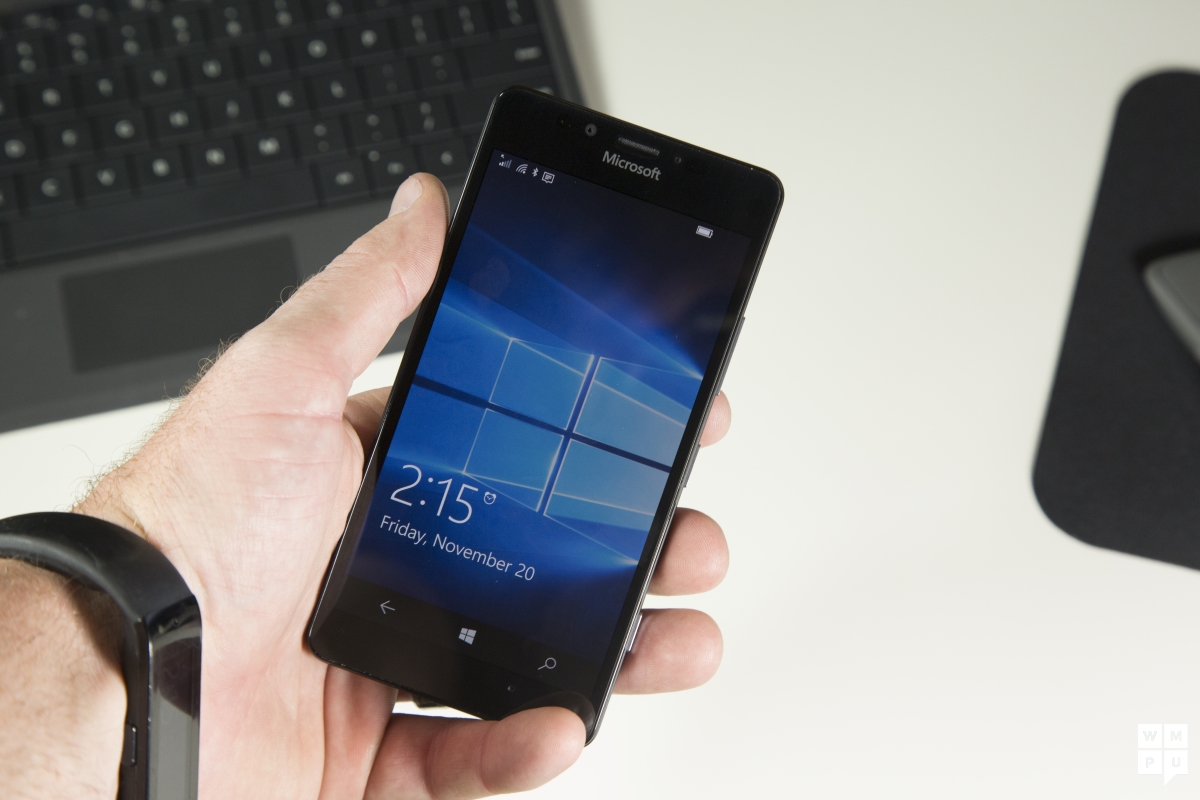 I'm afraid this portion of the review is going to seem a lot like the display portion from above.  The performance I've gotten out of the 950 has been superb.  I haven't noticed a single circumstance of lag in day to day use.  As we all know a lot of this is due to Windows 10 Mobile's light footprint and ease on the resources of the device,  Unlike so many Android devices out there, Windows Mobile devices just don't seem to have that 6 month slow down.  Windows devices are as fast the last day you use them as the day you took them out of the box.  (Oh, I can hear the comments now).
Onto call and the overall sound quality of the device. What can I say, it makes calls and people can hear me. What more can you want? In all seriousness, the 950 performs as well as any device available on the market today. I haven't had any dropped calls; the call quality is as good as any other device I've owned. That said, I ran into an interesting experience today while on a call today I experienced something called, "AT&T HD Call". At first I thought that I had accidentally turned the call over to speaker phone, but apparently I experienced a "high definition" call. Who knew? And I'll say this, the all was noticeably clearer, it sounded distinctly different than a person's voice typically sounds on a phone call. I hope to experience this again.
As far as the sound quality of the device, headphones perform well. The audio is clear and everything you'd expect from a high-end device. The external speaker handles loud volumes very well. As a recent owner of a Lumia 830 that I accidentally blew out the speaker with high volumes, I can say it's refreshing to use a device that is free of the tell-tale crackle of a blown out speaker.
[shunno-quote]It's fast, and handles multitasking without any struggle.[/shunno-quote]
Games on the device run fast and smooth, taking pictures back to back to back on the device is fast and easy and multitasking is a breeze.  What can I say, this device just absolutely screams.   Here's some perspective for you, I'm currently writing this review on the 950, via continuum, wirelessly projecting to my TV, using a Microsoft Universal Folding Bluetooth Keyboard and Surface Edition Arc Touch Mouse, in Microsoft Word, while listening to music from Groove, with Edge running 4 tabs, and messaging my wife, all at the same time, with ONE device. Color me impressed, I expected to at least get a little frustrated with the experience.  Yet, here I am, typing this review on my phone, and loving every second of it.  Take all of that together and tell me that this device can't perform with a straight face. You just can't do it.
I'm hard pressed to imagine a scenario where I'll notice the difference between the 950's hexacore processor and the XL's octa-core processor.
Camera
Microsoft, by virtue of Nokia's Lumia devices have established themselves as a leader in smartphone imaging and for good reason.(Did you ever own a 1020? Epic!) Microsoft has picked up right where Nokia left off offering Zeiss lenses, which are some of the best optics currently offered in a phone.  The 20 MP rear shooter is more than capable.  In the few days that I've had the device I've been really impressed with the shots I've been able to get out the 950.
[shunno-quote]Lumia 950's camera is really good, if not, the best out there.[/shunno-quote]
Lines are sharp, colors are crisp and the 3 color flash is a flash on a phone that you might actually consider using, though as a purist, I still try to avoid it at all costs. And for you…..shudder…….selfie enthusiasts, you'll be pleased to know that the 950 comes equipped with a perfectly acceptable, 5 MP front camera, which performs as well as any front-facing shooter on the market, which is to say, total crap compared to the camera you should be using to take your photos, the rear facing camera.
Like I mentioned before, shooting multiple shots in a row on the 950 is not a disappointing experience.  In trying to catch shots of my dog or my son, I often have to catch as many shots as I can into a small period of time to get one where they're actually looking at me.  This was a lamentable experience at best on my 830, and the experience on the 950 couldn't be any more different, and it's a welcome change from what many of us have come to know so well with our Windows Mobile devices, missing the shot you want to get from a slow launching and performing camera.
Moving on to video.  The 4K video that the 950 captures are absolutely beautiful.  Just like stills, the colors are crisp, the lines are sharp and it's overall just a wonderful experience.  There's another little nugget I want to touch on as well. Concerning high frame rate videos.  As we've covered in the last few weeks, high frame rate, or as some have come to call it, slow motion video has come to Windows Mobile.  120- fps video can be captured on the 950 at a resolution of 1280 x 720 pixels.  Which for those of you who just have to shorten everything, and insist on leaving the second "b" out of babe, translate to 720p video capture.
[shunno-quote align="right"]4K videos are absolutely beautiful[/shunno-quote]
This is a kind of a mixed bag on the 950 currently.  Again, as a motocross rider, this feature excites me greatly.  Long have I desired to be the one posting the epic slow-motion shots through a whoops section on Instagram, and now I can.  Given the right conditions the slow-mo effect in Windows 10 Mobile can yield some great results.  Primarily a good source of light is the determining condition of a quality video.  Light is everything when we're talking about high fps video at any capacity, I don't care what you're shooting on.  This comes with a lot of technical mumbo jumbo, but the short story is, the higher the frame rate, the harder it is for the image sensor to utilize light.  Meaning, you'll definitely get your best results shooting in broad daylight.
One other thing I feel I should mention is that there is a bit of a glitch when it comes to editing the slow motion in your videos.  See the video above as an example of what I'm talking about.  When initiating a high frame rate recording, it's almost as it the phone just isn't quite ready to chew through that much data yet, and there's a hiccup in the recording.  If you read the performance part of this review, I think you'll agree with me that this probably has less to do with hardware limitations and more to do with a bug in the software.  One that I hope is remedied soon. One last thing interesting thing I'd like to point out is that when recording video is high fps, audio is not recorded, which seems a little strange to me.
Software
This seems to not even bear repeating but I'll run through it anyway.  The Lumia 950 is running Windows 10 Mobile Build 10586.  A lot of beta testing has happened to get the OS to this point.  Many of you, including myself have been along for the ride.  And I must say, Windows 10 Mobile really does feel like a finished OS at this point.  I know some of you will disagree with me, and I'm not saying that everything about the OS is perfect.  (The hideous little circle in the email tile for one thing). What I am saying is that this is a Windows 10 Mobile ready for primetime.  It's ready to be your daily driver and performs very well.
But this review isn't about Windows 10 Mobile, it's about the 950, so I want to focus on features that up until this point hasn't really been experienced by anyone.  Windows Hello and Continuum.
[shunno-quote align="left"]Windows Hello is awesome[/shunno-quote]
First off, Windows Hello. Long story short, it's awesome. Setup only took a few minutes and was a simple walkthrough process. Now count me as one of the masses that's less paranoid, but I'm not a person that puts in a PIN to unlock my device every time I pull it out of my pocket. Setting up a PIN was one of the requirements to initiate the Windows Hello setup. In function, this is meant as a backup should you fail to sign in with Windows Hello, which in my experience never seemed to be the fault of the device. It was all on me. Most often I didn't hold my phone close enough to my face, but after a while of having Hello or a PIN required for every time I unlock my device, the distance, and gesture to unlock the device became second nature. In less than half a day, Hello was effective nearly 100% of the time. It's a well thought out and implemented feature that I for one welcome in place of a traditional PIN.
[shunno-quote align="right"]Continuum is incredible, but needs more UWP apps.[/shunno-quote]
Now onto Continuum. Again, reference the performance portion of this review to get an idea of how I've been able to utilize Continuum, it's incredible.  It is genuinely an impressive bit of software and implementation.  However, here comes the editorial part, currently continuum can only run Universal Windows Platform apps, that's to say, apps that share the same coding between Windows PCs and phones.  What that means is, Facebook, Twitter, 6tag and Netflix CANNOT currently run on your device in Continuum mode until those apps are updated to support Windows 10 APIs. You can still launch them on your phone, and view them on your phone's screen, but you cannot view these apps on the screen you're projecting to with Continuum. This isn't a big deal as you can watch Netflix and use Facebook on Edge in Continuum, but some people may have been expecting to run all their apps, and it is best to set expectations in check with reality. There are a fair few universal Windows apps in the store, so this shouldn't be an issue for many common tasks (using Office, taking notes, watching videos, YouTube).
I debated the pitfalls and merits of this with some of my other WMPU colleagues as recently as yesterday. All in all, I come away from the experience, slightly disappointed, yet optimistic.  Continuum is awesome, I'm excited for it to make it to the masses.  I'm excited for people to be excited and blown away by it, I certainly am.  But, I'm also not looking forward to the conversation with family members that hearkens back to the days of explaining what the limitations of Windows RT were, explaining that, "Yes it runs apps from your phone with a mouse and keyboard……but not all of them."
Let's just call Continuum a mixed bag right now, and call it what it is.  This is a feature that no other device offers right now.  So it's hard to complain about, and in the right situation, it's absolutely fantastic! In others leaves you scratching your head.  I truly am cautiously optimistic on the future of Continuum.  If all goes according to plan, Universal apps will become the standard, not the exception.  I, and many of my colleagues hope that Microsoft starts touting this feature in full before someone else comes in stands on stage claiming to have "changed the game" and "revolutionized the way you use your phone".
Battery
Battery life on the 950 has been stellar.  As you'd expect from any modern high-end device, the 950 should easily get you through the day with moderate use.  I've always got either my music via Groove or Audible going from my device and the battery didn't drain as much as I'd expect. This is great, especially since the 920 and 930 had the battery life of a potato.  Now, to refer back to the fast charging cable I mentioned earlier, USB  type-C fast charging is legitimately amazing!  Last night, I was sitting at 20% charge and decided to really see what fast charging could do.  In a half an hour, to the minute, I went from 20% to 66% charge.  That's 46%, in a half hour! You'll love this feature if you're a frequent flyer, no pun intended.  Seriously, if spend a lot of time sitting in airports between layovers, fast charging could be your savior. If you're someone who forgets to charge your device before going to bed, you can absolutely get away with charging it during your shower and breakfast and still come away with a useful phone. Combine this with Windows Phone's natural ease on the battery life of a device, and you've got yourself a great  device in terms of battery.
[shunno-quote]Battery life on the 950 has been stellar[/shunno-quote]
For our more thorough battery test, I performed our standard WMPU Battery Test. For those who don't know, the WMPU Battery Test includes playing music at 50% sound on speaker while reloading our website every 30 seconds with full-screen brightness. In the WMPU Battery Test, the device was able to survive roughly 7 hours and 20 minutes.
Conclusion
Microsoft's Lumia 950 is a great phone, there's no denying that. The issue with the phone, that has been an issue with Windows Phone flagships since the 950 is that flagships don't sell well as much as low-end devices. Given that light, some may be questioning why Microsoft uses flagships at all, but it is important to note that the majority of mobile phone users with high-end models tend to upgrade their device to another one in the same line. Across ecosystems, however, those with low-end devices tend to be the most switchers. Microsoft doesn't want a compromised devices you can't wait to switch from, they want one you can tout in front of others and use with joy. There's also the issue of the software experience.
[shunno-quote]This is the first no-compromise Windows phone flagship device to exist[/shunno-quote]
While Windows 10 Mobile is really good, ad has great apps on it, several users who use long-tail apps might find themselves bereft of an app that does something specific. Some common apps like Snapchat are absent, and others still are left un-updated. How big of an issue is this? It depends on your use case. For the vast majority of people, the Lumia 950 will be a great device that does what you want. The original iPhone didn't have apps and features that were common place in other smartphones, yet it was loved. This phone has features that set it aside from other devices in the market. It is not just another iPhone looking device that happens to run Android, it is actually special. The Lumia 950 is the flagship we've been waiting for, and Microsoft knocked it out of the park here.