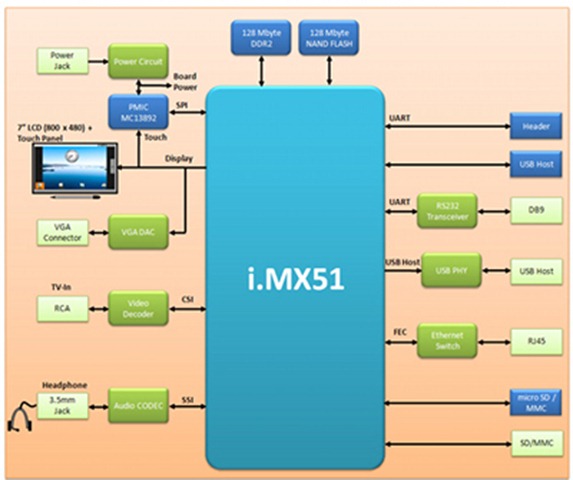 Press Release: iWave Systems Technology Pvt. Ltd., a leading embedded system design house in Bangalore-India has successfully ported the latest release of Windows Embedded Compact 7®, on Freescale i.MX51 SOM module. It provides the latest features such as Silverlight 3.0, Connect and Consumer Media, MPEG-4 HD, MTP, Multi-Touch, Expression Blend, AirSync and also Adobe Flash10.1.
Commenting on the module launch, Mr. Vivek Tyagi, Country Sales Manager, Freescale Semiconductor India Pvt. Ltd., mentioned, "iWave Systems Technologies is a Proactive Design Partner of Freescale Semiconductor. iWave has been involved in bringing out SOM and Reference Designs on Freescale i.MX Platform. The long standing relationship has been beneficial to many of our product customers as iWave reference designs have shortened their cycle time"
iWave's path breaking design capability has brought the SOM board at a size of 70mm x 70mm which is one of the specifications of International standard Q7. The low power, small foot print and high efficient SOM has been designed to cater Industrial automation, Automotive, Medical, Media and Entertainment industries. The SOM solution provides the ODM/OEMs to design and develop innovative and cost effective products to bring value to their customer.
This Off-the-shelf SOM framework along with Windows Embedded Compact 7® is an innovative approach which reduces 60% of the product development life cycle for the ODM/OEMs. It also recommends by adding application specific input/output interfaces and communication modules such as Wi-Fi, GSM/GPRS to the SOM will bring a complete product within a shorter period.
Specification:
Freescale [email protected] (ARM Cortex A8)
128MB DDR2 RAM, 128MB NAND Flash
Edge connector: One 10/100 Ethernet MII Interface One MMC 4.0/SD Memory 2.0/SDIO 1.2, Two I2C Interfaces, One USB 2.0 Host, One USB OTG (with Phy), Two UART Interfaces, SPI Interface, SSI (Audio) Interface, CSI Interface, Display Interface (24 bit), 1080i / 720p, TV-Out
$66 per unit for a Minimum order of 1000 pieces only, conditions apply.
About iWave Systems
iWave Systems Technologies Bangalore India, established in 1999, focusing on Embedded Technologies works on Embedded Hardware, FPGA and Software . It designs and develops cutting edge products and solutions. iWave's expertise has brought out multiple SOMs based out of Intel Atom, Freescale, Marvell and Texas Instruments .iWave product and services focus to cater Industrial, Automotive and Medical industries, across the globe. iWave has offices in Tokyo and Munich. iWave is a Windows Embedded Silver partner and an award winner of the Partner Excellence Award 2009. Please visit the site www.iwavesystems.com
For further details contact [email protected]