Editor's note: The MSPoweruser app is now available for PCs, and you can get it from the Windows Store here!
It's finally here! The MSPoweruser app is now available for Windows 10 PCs and Mobile devices. The new MSPU app is based on the Universal Windows Platform, and it'll be coming to other devices such as the Xbox One, HoloLens and the Surface Hub in the coming months. As this is an UWP app, it also supports Continuum for Phones which is a really great feature on Windows 10 Mobile. So what's new in the new MSPU app?
Firstly, we have rewritten the app from scratch to provide a much better user experience, along with a lot of new features. Our app includes a beautiful user interface which provides a really good user experience on PC. On Mobile, the user interface is very similar to our previous Windows Phone 8.1 app, but we have improved a lot of UI elements throughout the app. On PC, you get a column-based UI which makes it really fast to read articles on our app. You can also use your keyboard's left/right arrows to navigate between the articles, which is very handy. We also have a swipe-to-open hamburger menu on Mobile which lets you switch between the different sections very easily.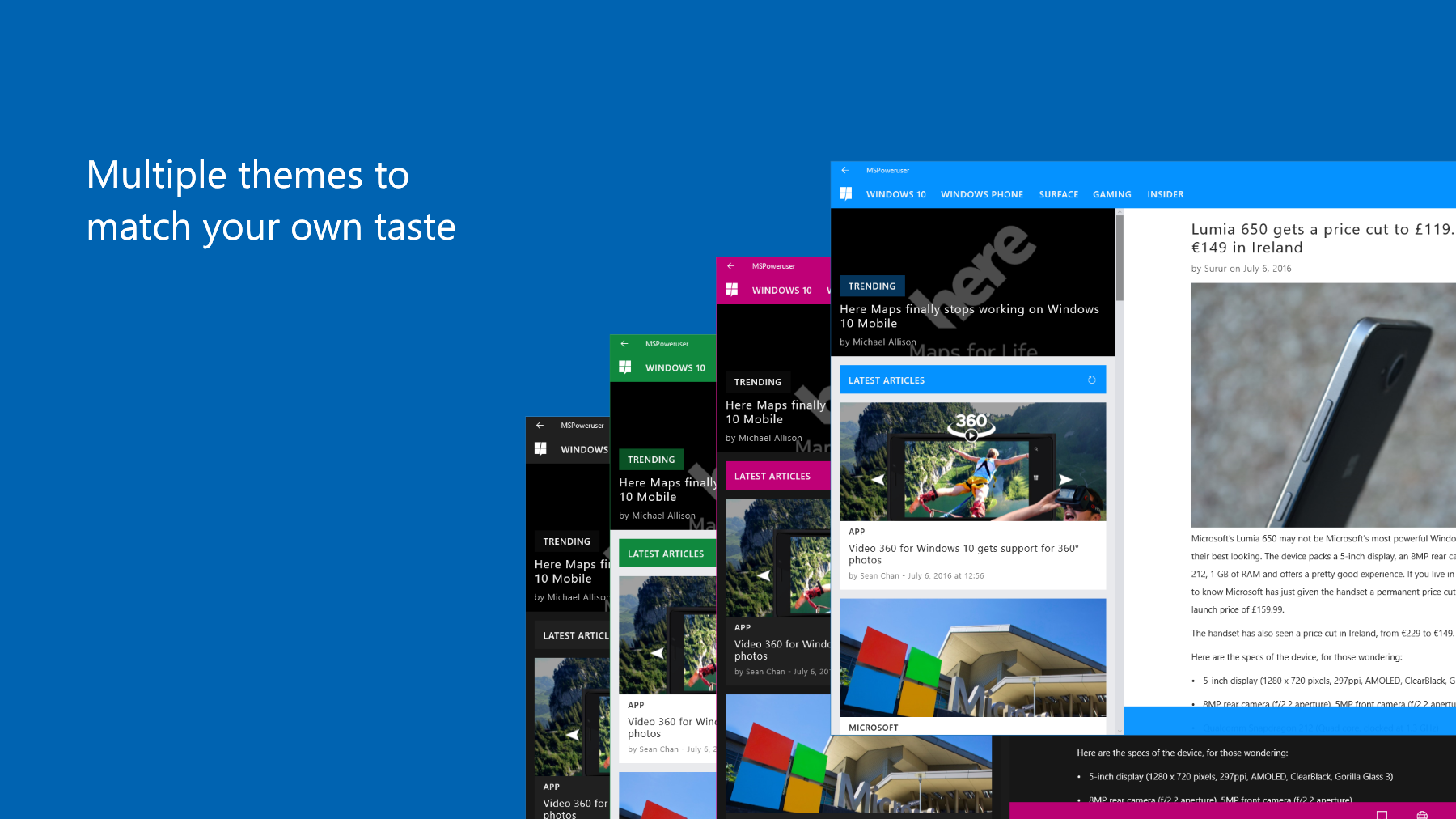 In addition to this, the app includes several themes: a dark theme, a light theme, a black theme, a light accent theme, and lastly, a dark accent theme. We spent a lot of time designing these themes, so we hope you'll like it! If themes aren't enough, we have also added the ability to customize the typography settings within the app; you can change the font size, and change the font itself, too.
All the usual features such as Live Tiles and Push Notifications are also included in our app. With the UWP app, we have improved reliability for the Push Notifications, as well as Live Tile — which a lot of our old Windows Phone app users will like. We have also added support for Hero Notifications, which you can enable from the Settings of the app. Additionally, if you don't want latest updates from the Live Tiles and Push Notifications, you can disable then from the Settings.
Our app also supports other features like an integrated YouTube player, where you can change the quality of a video to save data. In addition to this, we have also added native support for the MSPoweruser Podcast — however, we have a better implementation for Podcasts coming with a future update. Once again, Comments support is also present in the app, and you can join the discussion very easily from your Windows 10 PC or Mobile device. You might notice that we're using a web wrapper for the Comments section, and that's because our comment system provider (Disqus), doesn't have an official SDK for Windows 10 — which is coming soon, and we'll update our app to add native Comments support once the Disqus SDK is available.
This is just the start of the app, and we are planning to release a bunch of updates in the near future. For now, here are some of the highlight features of the app:
Universal Windows Platform — supports Continuum, and available for PCs and Mobile (coming soon to other Windows 10 devices)
A beautiful user interface — switch between a dark or a light theme. Don't like the default accent? Change it to match your accent on Windows 10
Push Notifications — keeps you updated with the latest news right on the Action Center
Hero Image support for Push Notifications on Windows 10 Anniversary Update
Live Tiles — keeps you updated with the latest news right on your Start Screen
Left/Right arrow keys shortcut — lets you easily navigate between the latest articles
Support for Jumplists — lets you easily access all of the sections of the app on your Windows 10 PCs
Built-in support for YouTube videos, MSPoweruser and Comments
Built-in support for Search — allows you to search all of our articles (over 49k)
And here are some screenshots of the app:
Gallery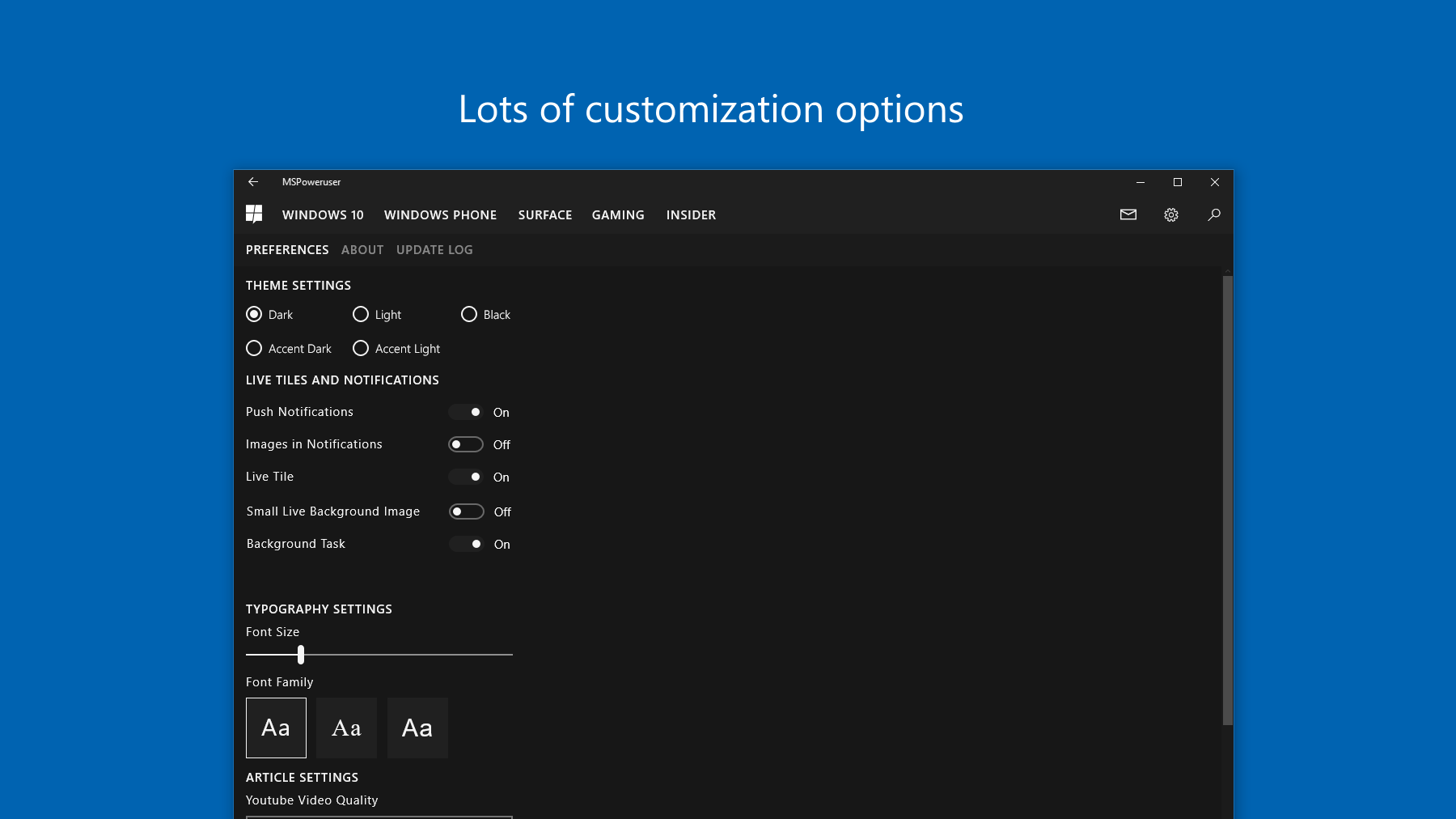 ---
We have been testing the app for a few months, and you won't find a lot of bugs or rough edges. But of course, there are some bugs and other issues which we might have missed. So, we need your help to address those. If you find any bug or have any feedback, please let us know here. And if you like the app, don't forget to rate it in the Windows Store!
---
You can get the MSPoweruser app for your Windows 10 device from the link below. However, as we just published the app earlier today, it'll take a little while for the Windows Store to show the updated description, changelog and the new screenshots. Additionally, the app isn't available on Windows 10 PCs just yet as Windows Store is still processing the update, but it should be available wihin the next few hours.