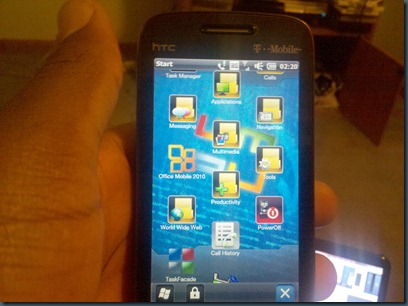 Well guys after hours of perfecting the ROM, Ark delivers you a freshly cooked ROM in the flavoring of Windows Mobile 6.5 and 6.5.3. The ROM is build on 23518, which is by far the best and most stable 6.5.3 ROM so far, and also 21889, which is the most stable 6.5 build so far.
Here is some information for you guys:
* CE OS 5.2.21889 Build 21889.5.0.87 / CE OS 5.2.23518 Build 23518.5.5.0
* HTC Sense 2.5 Landscape
* LEO SMS engine updated
* HTC Sense updated
* Better video playback (Youtube)
* New WM theme by [Shadowline]
* Manila TV, for more info check this thread http://forum.xda-developers.com/showthread.php?t=534185.
* TomAutoCabInstall.exe (Just create a folder on your SD card with the name Autoinstall, you can put cab files, xml or other customization files, and these will auto install on first boot.
* And a few more things…..
* You can also get a glimpse of my rom on Youtube
EDIT: I advise you to make an hardreset after flash and remove the sim card.
* Create folder in Root of Storage Card called [ Autoinstall ]
* Copy all your cabs in that folder
* After Flash , and during customisations all your cab will be installed.
* Also set your cabs to read only
* So get Your Storage Card prepared with all your Cabs to install.
This ROM is based and build on his original ROM, but this one is made for you, and I think you will all like it, because it is fast stable and looks good(to me).
He put A lot of time into the ROM and I think, if you can, give him a little something and Donate to ARK for his work.
Download the ROM:
DO NOT FORGET TO HardSPL or you will brick your device. WE ARE NOT LIABLE FOR BRICKED DEVICES! Seriously!!!
Special Thanks to Shadowline for the startup, wallpaper and theme Graphics, Click on his name to donate for his Work. If you want the wallpaper for Manila, click here and enjoy.