Table of contents
For years, the Windows Phone market didn't get any interesting Windows Phone devices. Last year, Microsoft introduced its new flagships — the Lumia 950 and Lumia 950 XL, but these devices didn't have a lot of impressive features when compared to some of the other options on the market. Following the launch of its new Lumia devices, the company wanted to give other OEMs opportunities to build their own Windows phones. What followed was quite interesting: a bunch of new Windows Phone devices from some OEMs you probably never heard of. But the Windows Phone market saw some really interesting devices in the recent months, most notably the VAIO Phone Biz and the NuAns Neo. Annoyingly, most of these devices aren't available for purchase in the United States or Europe.
Classic PC manufacturer, HP, on the other hand, has been working on its own Windows Phone for a while now. Their device launches in the United States later this month — and no, it's not the run-of-the-mill underpowered, forgettable third-party Windows phone. We are indeed talking about the HP's Elite x3, a powerful device that offers (almost) everything you may need on a modern smartphone and just a bit more. From things like the latest processor, to the latest biometric security features — HP has packed a lot of goodies in the Elite x3. And that's exactly what makes the device a special Windows phone. But is it worth the $799? Let's find out.
Video Review
Design
When it comes to design, we haven't really seen any impressive designs on the Windows Phone market. NuAns recently brought the Neo with a unique design, but overall, Windows Phones are mostly boring in terms of design. Sure, Microsoft used to offer its Lumia devices in a variety of colors but that was quite a while ago and the company has stopped producing the colorful Lumia devices which made them pretty special. But that's not any different with the Elite x3. The x3 includes the usual matte black plastic on the back. You also get to see the HP logo near the bottom of the device, which looks simply gorgeous. From the front, the HP Elite x3 does look pretty nice thanks to the front-facing speakers on the bottom. The speaker grill at the bottom gives the Elite x3 an interesting look, making the device look a lot better. If HP just went with the usual speakers on the back, the device wouldn't look half as good.
Elite x3 feels good in hands, but the plastic black makes it look cheap
The Elite x3 feels pretty good on hands. It's not great, though. The matte black plastic feels quite cheap and it can also be a fingerprint magnet. HP should have opted for a polycarbonate back, similar to what Microsoft did for most of its Lumia devices. Sure, the polycarbonate make still isn't very premium, but it feels a lot better than the usual plastic.
One thing I really like about the Elite x3's design is the fingerprint scanner's placement. The placement of the scanner is just perfect for my hands. On the other hand, the placement of the volume rockers and power button can be a bit annoying. They are very close to each other, and you will probably find yourself hitting the Volume Up button while trying to unlock your phone.
Elite x3 is water resistant, and it can easily survive 1-meter drops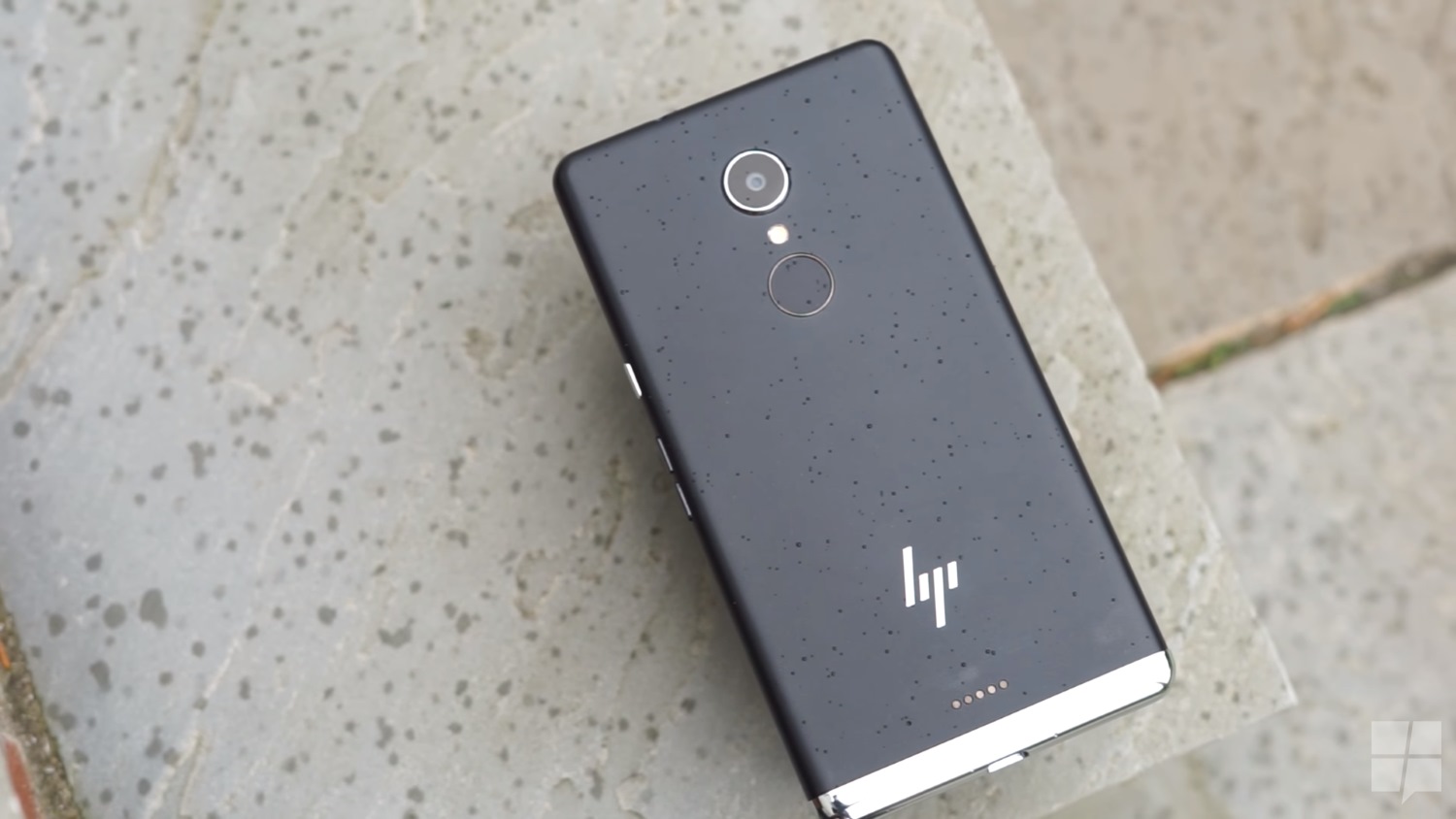 In terms of the build, HP has done a great job with the Elite x3. This design is water resistant and dust proof, which should give you a good idea of how good the build quality is. The device is very sturdy, and it should easily survive 1-meter drops. Try that with a Galaxy S7 or iPhone!
When buying the Elite x3, you probably won't be buying it because of its design. The design of the phone isn't anything impressive for the price, it's just fine — don't get me wrong, the device feels really comfortable to hold in hands, but the plastic on the back simply feels cheap.
Display
Smartphone displays these days are quite similar to each other, most devices include the usual AMOLED displays and there isn't anything surprising to see on most new smartphones' displays. Similarly, the HP Elite x3 features a huge 5.96-inch display. It's a WQHD AMOLED display, which is what a typical high-end smartphone would feature. The 5.96-inch display on the Elite x3 produces bright colors, and the viewing angles on the display are also pretty great. To put it simply, Windows 10 Mobile looks gorgeous on the Elite x3 — when you aren't under sunlight, that is.
The 5.96-inch display is fantastic, but struggles under sunlight
The HP Elite x3's display can really be tough to view under sunlight, and that's definitely not something you would want to experience on a high-end device. The display isn't very bright under sunlight, but if you have used some of the recent high-end Lumia devices, you'll notice the difference. Also, if you are coming from a Lumia device with a ClearBlack display, the HP Elite x3's display can be a bit annoying as the blacks on this device aren't really deep — and that feels quite weird, especially if you have been using Lumia devices with ClearBlack displays.
Windows 10 Mobile doesn't utilize the huge display space in some cases
HP has also included things like Double Tap To Wake on the HP Elite x3, but it's missing support for Glance Screen. Sure, Glace Screen is more of a Lumia-only feature, but I really miss it on the x3. The 5.96-inch display on the Elite x3 can be left under-utilized by Windows 10 Mobile, and that's really annoying. For example, the Windows Store search results show only 4 apps per page, and there are lots of empty space. Microsoft could easily fit around 10 apps in the UI, but that's not the case here. Similarly, Cortana still doesn't scale to take advantage of larger displays, and there's a small amount of empty space on the display. However, the Start Screen of Windows 10 Mobile looks really beautiful on the 5.96-inch display, and the one-handed mode in Windows 10 Mobile can be handy — especially if you have small hands.
HP has mostly done a decent job with the Elite x3's display, but the display performs poorly outdoors. More importantly, the lack of a ClearBlack display and Glance Screen can be annoying. Additionally, there are lots of areas where Windows 10 Mobile doesn't take full advantage of large displays, and that's something Microsoft needs to address in the near-future.
Continuum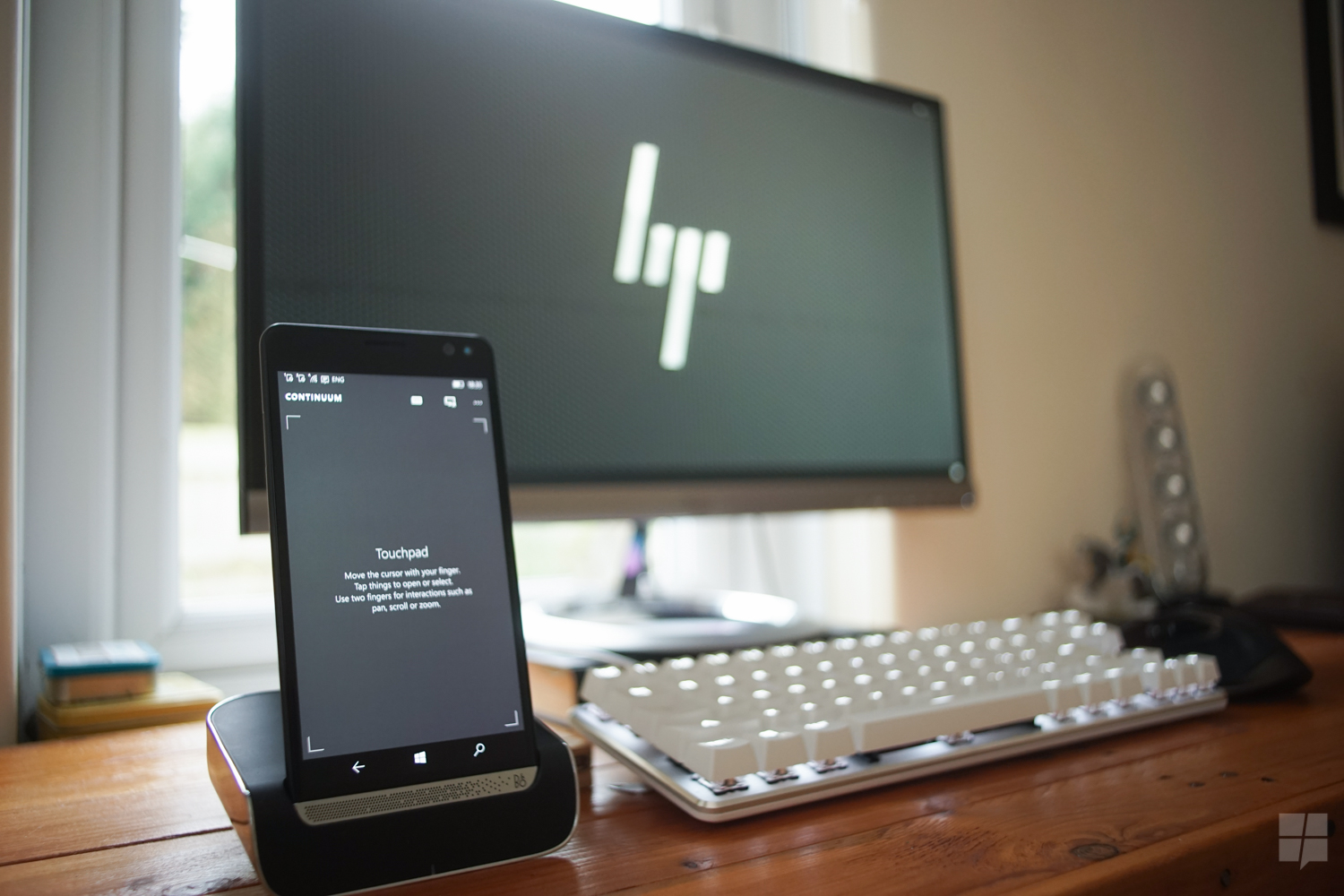 When promoting the Elite x3, one of the key features HP has been talking about is Continuum. For those unfamiliar, Continuum for phones allows users to use their phone as a PC by connecting to an external monitor. Once connected, users can use an external keyboard and mouse to control the OS, which provides a desktop-like experience on the external monitor. For example, if you have used apps such as Outlook Mail & Calendar or Skype Preview on your Windows 10 PC, you'll get a similar experience on your phone thanks to Continuum. It's a very neat feature which you can find on other Windows 10 Mobile devices like the Lumia 950/XL, Acer Liquid Jade Primo, and even the NuAns Neo. Continuum on the Elite x3 is quite impressive in terms of performance. Switching between apps is smooth, and there isn't a lot of lag which you may experience on some other devices like the Lumia 950 XL. The Elite x3 was able to handle multi-tasking very easily during our testing.
Continuum on the x3 is impressively fast
To test the Elite x3's power, I opened up 10 Universal Windows Apps, including 3 web pages on Microsoft Edge. I edited an Excel spreadsheet, browsed Reddit using Readit, browsed Twitter, checked out the weather forecasts and read my email on Continuum. And guess what? Elite x3 was able to handle all of these tasks without any hiccups. Microsoft Edge also performed surprisingly well on the Elite x3, and it was able to load resource-heavy websites quite quickly, too (but then again, don't expect it to load websites as fast as your PC).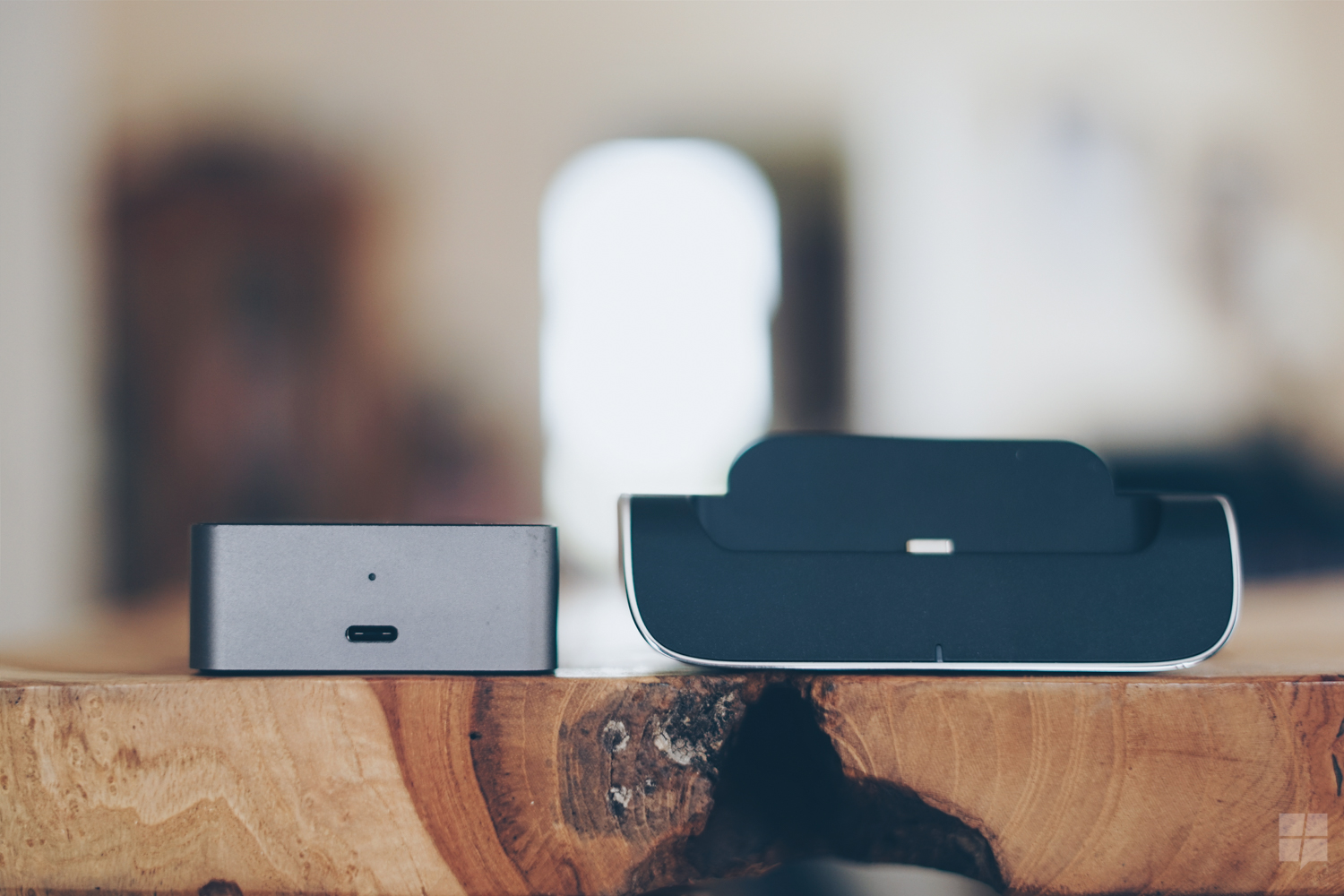 One thing I should probably mention is that HP is selling a Business Pack for the Elite x3, which comes with the Continuum dock but you can buy it separately, too. HP is calling it the Desk Dock, and the dock is pretty great. To use the Desk Dock, you'll have to connect it to a power source which is a good and a bad thing. Firstly, the charger for the Desk Dock is quite big — it's almost the same size as a laptop charger. Secondly, the Desk Dock can charge your Elite x3 while you are using Continuum, which is definitely a really good feature. One thing I dislike about the Elite x3's Desk Dock is the lack of any HDMI ports — HP has included a DisplayPort, which is what you'll have to use to connect to an external monitor. The lack of an HDMI port is very weird, especially considering the fact that most of us still have a monitor that uses HDMI.
HP's Desk Dock weirdly uses a DisplayPort instead of an HDMI port
Now, there's a major issue with Continuum on the Elite x3: the device may get pretty hot really quickly. If you have around 10 or more apps open at the same time, you'll probably experience the same issue. The device gets worryingly hot when you push it limits — but then again, you probably won't be using more than 5 apps in Continuum.
Continuum also has some of its own issues that aren't really related to the Elite x3. It's been more than a year since Microsoft introduced Continuum, and since then, we didn't see any major updates to one of the key features in Windows 10 Mobile which is really quite disappointing. For example, the feature still lacks support for split screen, and multi-windowed apps are still not present. Continuum has a ton of potential and I really hope Microsoft is working on making this feature a lot better.
I am certainly impressed with Continuum on the Elite x3 — the feature is really fast on this thing, but pushing its limits can cause the device to overheat. The Desk Dock's lack of HDMI is a bit annoying, but it can charge your device while you're using Continuum — and that can be life-saving at times.
Performance
When it comes to performance, most high-end Windows Phone devices don't disappoint. And that's the same case for the Elite x3. In fact, it's the fastest Windows Phone I have used to date. The Snapdragon 820 on the Elite x3 is able to open up apps instantly, and switching between multiple apps isn't a problem either thanks to the 4GB of RAM. Windows 10 Mobile Anniversary Update also runs smoothly on this device — all of the animations are smooth, and everything feels really fast. Even Facebook's apps ported from iOS are smooth on this device. Needless to say, switching between apps on the Elite x3 is also very fast. You can start browsing a website, open up your mail, start editing a Word document — and when you switch between these apps, you will not notice any lag whatsoever.
Thanks to the Snapdragon 820, the Elite x3 flies in most cases
Of course, the Elite x3 may struggle in some cases but that's something you'll see on most smartphones out there. It is worth noting that the device's performance may not be very impressive out of the box, but once you download all the available updates, everything should feel a lot faster. The HP Elite x3 is already very fast, and if Microsoft focuses on improving the performance of Windows 10 Mobile, the device should be even faster.
HP's Elite x3 is undoubtedly one of the fastest Windows 10 Mobile devices out there. The device's performance may not be noticeably better than the Lumia 950 XL, but it's still better than all the other Windows Phone devices out there. For $699, you are getting exactly what you would expect: a fast Windows Phone device which can handle multi-tasking without any hiccups.
Camera
A lot of Windows Phone devices include really great cameras. Microsoft has done a superb job with its Lumia 950 and Lumia 950 XL, but that's what Lumias were mostly known for. The HP Elite x3, on the other hand, doesn't have an impressive camera at all. It's simply disappointing for a high-end phone.
The HP Elite x3's camera generally produces poor pictures. These pictures aren't very detailed, and you'll start to notice the camera's weakness when you zoom in on the photos. The colors on the images feel washed out and there's quite a lot of noise, too. Even with HDR enabled, the Elite x3's camera fails to shine.
Elite x3's camera produces mediocre pictures
Low-light images are not great on the Elite x3 either. When compared to a device like the Lumia 950 XL, the Elite x3's camera will disappoint you. The images aren't very bright, and they simply look terrible. To be honest, the photos produced by the Elite x3's do not look like they were taken with a high-end phone — these images look more like they were taken with a mid-range Android phone. Yes, it's that bad. Things get even worse when it comes to actual image capturing experience. The HP Elite x3's camera can be slow when trying to autofocus, and it can fail to focus a lot of times as well. In case you are interested, you can find some camera samples here.
(Editor's note: The camera on our Elite x3 caused the device to reboot quite a lot, but HP tells us that this will be addressed with a firmware update coming very soon). 
Video Recording on the Elite x3's rear camera is actually decent for the most part. The audio quality on the videos are great, and the video quality is also decent enough. However, auto-focusing issues continue to disappoint here as well, and the camera can end up taking 5–10 seconds to focus which is really annoying. This is obviously something HP can fix with firmware updates, so hopefully it'll be fixed in the near future.
The front facing camera of the Elite x3, on the other hand, isn't very impressive — but it's not bad either. The 8MP sensor can take some good selfies — under good lighting, that is. The front-facing camera of the Elite x3 can also record good quality videos with great audio, which is very important for business customers.
Now, I don't blame HP for putting a mediocre rear camera on the Elite x3. The company is marketing the device towards its business customers — and to be fair, most businesses don't care a lot about a smartphone camera. The front camera can be important for business customers, and HP has done a decent enough job on that front. Almost everything about the Elite x3 is perfect, but unless you care about your smartphone's camera, HP's Windows Phone will disappoint you for sure.
Security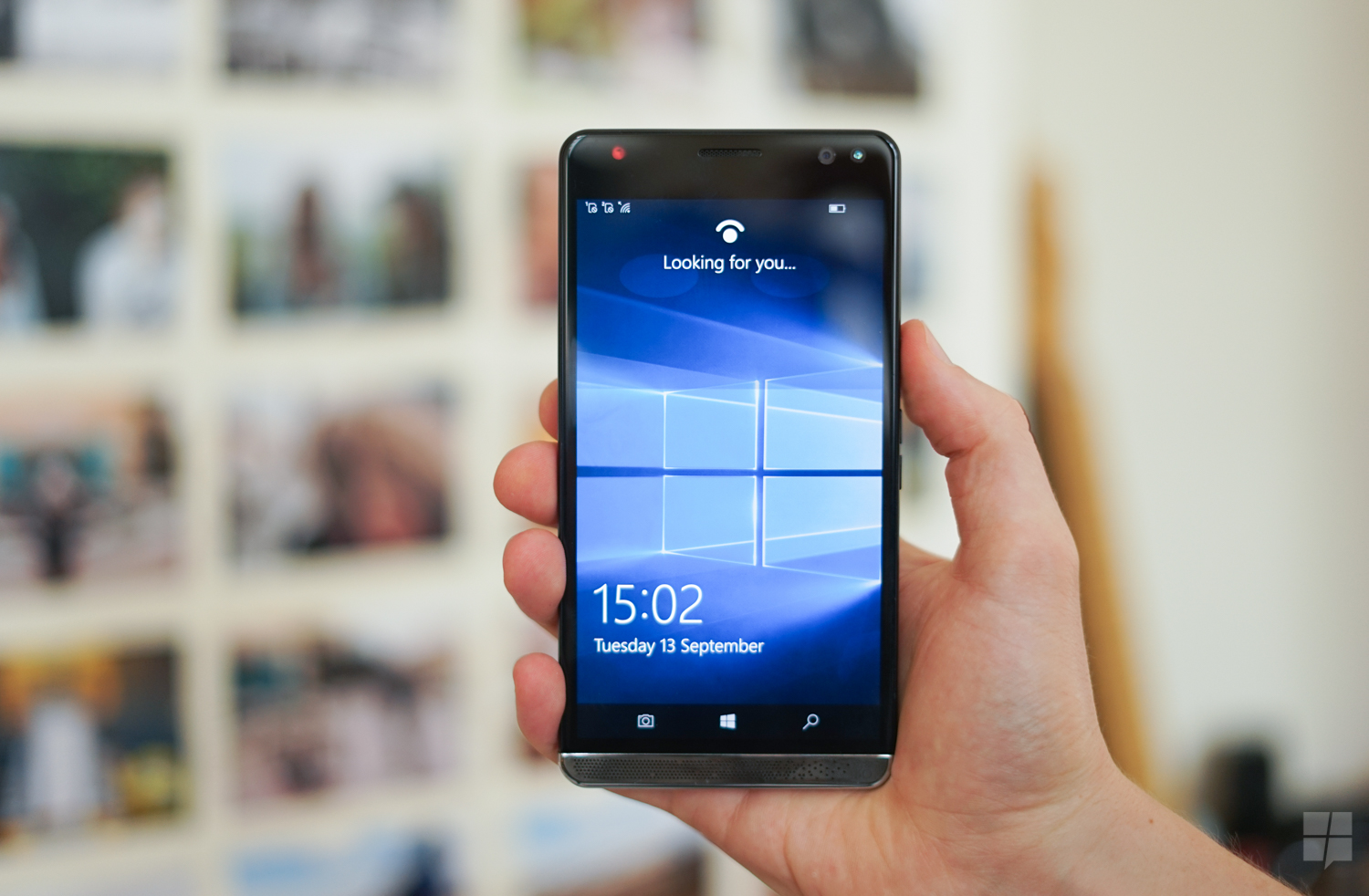 Security is an important part of the Elite x3. Keep in mind that this is a business targeted towards businesses, and security is really important for businesses. For the Elite x3, HP has included an Iris scanner and a fingerprint scanner which will let you protect all the private information on the x3. Let's talk about the Iris scanner first. Now, as you may already know, Iris scanners aren't fast just yet. Microsoft put Iris scanners on its Lumia 950/XL, and the Iris scanner wasn't very fast on those devices. Recently, Samsung also added the Iris scanner to its Galaxy Note 7 and it wasn't fast there either. Similarly, the Iris scanner on the Elite x3 isn't fast but it definitely is quite secure. To make the unlocking experience slightly better, HP has included a camera preview that will make things easier for you when trying to unlock the Elite x3 by showing a preview of what the Iris scanner is seeing. Pretty neat indeed. Additionally, the device also includes Iris Anti-Spoofing which will protect against spoofing attempts.
Fingerprint and Iris scanners are pretty good on the X3, but they aren't very fast
Unsurprisingly, the fingerprint scanner on the Elite x3 is way faster than the Iris scanner. The setup experience for the Fingerprint scanner is quite fast, which is really nice to see since this can consume a bit of time on other devices. Similar to Fingerprint scanners on other smartphones, the Elite x3 lets you add multiple fingerprints which can unlock the phone. In terms of speed, the Elite x3's fingerprint scanner isn't very impressive. The fingerprint scanner on the Elite x3 can easily take 2–3 seconds to unlock the phone. Of course, that's not very slow but if you compare it to some of the newest smartphones in the market, you'll start to see the difference. For example, the OnePlus 3's fingerprint scanner can unlock the device instantly. Yes, it's that fast. Even then, the Elite x3's fingerprint scanner is very nice to have alongside the Iris scanner. At the end of the day, you'll probably find yourself disabling the Iris scanner since the Fingerprint scanner is much more accurate and faster.
Windows Information Protection on the Elite x3 is exactly what businesses require
HP has also included Windows Information Protection (formerly known as Enterprise Data Protection). This feature is mostly for business customers, and it's designed to prevent accidental data leaks, securing your personal information. According to HP, Windows Information Protection won't interrupt your experience as the OS automatically encrypts data which comes from corporate sources. It is worth noting that Windows Information Protection is available in the Windows 10 Mobile Anniversary Update, which won't be available out of the box on the Elite x3 — but it should be available when you update the device.
HP's Elite x3 is definitely a good choice for businesses looking for a secure smartphone. HP has included a fingerprint scanner that's fast enough, and the Iris scanner can also be useful when you can't access the fingerprint scanner. The fingerprint scanner on the Elite x3 isn't very fast, but it is the first Windows Phone to have a fingerprint scanner, and it works fairly nicely for the most part. But of course, the availability of Windows Information Protection makes things a lot better for business customers.
Battery
Battery life is also important on smartphones these days. Most smartphones nowadays don't come with impressive battery life and that's because most companies are focusing on making their smartphones thinner (I am looking at you, Apple). HP, on the other hand, put a gigantic 4150mAh battery on the Elite x3 which is more than what you normally see on most high-end devices. For example, the Galaxy Note 7 has a 3500mAh battery, the iPhone 6s Plus has a 2750mAh battery, and the Lumia 950 XL has a 3340 mAh battery. Thanks to the 4150mAh battery on the Elite x3, you can get around 1.5 days of battery life with moderate usage. Usual tasks like replying to emails, browsing the web, browsing Twitter should easily let you use the device for 1 and a half days. Bu of course, when you push it limits and use the device heavily, the device's battery may struggle a bit to last 24 hours.
The 4150mAh battery on the x3 handles things smoothly
In case you are wondering, Continuum for phones can also decrease the battery life by quite a bit. As I have noted earlier, the Desk Dock for Continuum can charge the Elite x3 while you are using Elite x3, which is really useful since Continuum can use a lot of battery.
HP has also included the usual things like Quick Charge and Wireless Charging, and both should work pretty nicely on the Elite x3 just like most other smartphones. Overall, I have no complaints about the Elite x3's battery life: it can easily last a day, fast charging is nice to have, and Desk Dock charging the device while using Continuum is also pretty neat.
The small things
HP put a lot of effort into making the Elite x3, and it shows when we look into the smaller things on the device. First up, let's talk about the speaker on the front of the device. HP has included a Bang & Olufsen speaker in the front of the x3, and the speaker is decent enough. The quality of the sound produced by the speaker isn't very great, and it also isn't very loud either which might be slightly disappointing for some users. In fact, it almost feels like the speaker has cracking issues. I was pretty surprised by the quality of the Elite x3's speakers, to be honest — it sounds worse than my OnePlus 3's speakers.
The Bang & Olufsen speaker isn't very loud
Alongside the Bang & Olufsen speaker, HP has also included a pair of headphones with the Elite x3, and that's quite surprising to see on a Windows Phone. Most of the time, when I get a new phone, I usually buy a third-party headphone because the ones which come with the phone are mostly pretty bad. What's great about the Elite x3's headphones is the fact that they are not the usual run-of-the-mill headphones that you get with most smartphones.
The Elite x3's headphones actually sound great, and it also features a sleek design, too. The device's headphones come with a fabric braided headphone cable which will prevent it from tangling. The headphones obviously don't include any "premium" features like noise cancellation, but they are still very good and a lot better than the awful headphones you'll get with most smartphones.
The headphones on the x3 are really good compared to other phones
Other minor things like call quality is also nothing to be worried about. Lastly, I should point out that the HP Elite x3's packaging is really impressive. The device's business pack comes in a pretty huge box, but everything in the box is packed nicely and makes the investment feel worth it. Everything from the Desk Dock, to the phone itself, is presented very nicely which is very rare for a Windows Phone — or even an iPhone.
Conclusion
The HP Elite x3 deserves a different score depending on if you are buying it as an enterprise user or consumer. For business users, the device offers a sleek smartphone with the latest specs that's super-durable, with amazing battery life, great security, a dazzling unique feature in the form of Continuum and WorkSpace, and ongoing support by companies that enterprise already trust. Microsoft's Windows as a Service policy will also mean the handset will continue to improve as the company iterates on Windows 10 Mobile. There is simply no other handset which offers the same feature set and it is very easy to recommend to business buyers looking to revolutionize their workflow around hot desking and only managing one device, vs a business phone and business laptop.
For businesses, the Elite x3 is well worth it with Continuum, battery life, security and the huge display
For consumers, the picture is much less rosy. The HP Elite x3 offers poor performance in the areas which matter, such as camera quality, outdoor screen quality, speaker quality, app availability and importantly value for money, especially with such great deals available on the comparable Lumia 950 XL. Consumers do not generally need Continuum and will not have access to HP Workspace at all, and will be put off by the high price of HP's accessories, and likely should steer clear.
For consumers, the picture is much less rosy
This is HP's first take on a Windows Phone. For the most part, HP has done a solid job. They built a Windows Phone which is a lot better than Microsoft's own flagship devices in some cases, and that's quite refreshing to see. HP is already busy working on another Windows Phone, which will be targeted towards consumers and hopefully fix some of the features which consumers care about the most. But if you want to get the latest and greatest Windows Phone, the HP Elite x3 is definitely worth it.
If you want to get an Elite x3, you can get it from Clove here, Microsoft Store (US) here, and Microsoft Store (UK) here.