Is Copilot the best AI companion out there? Help us find out by answering a couple of quick questions!
Looking for an efficient hardware diagnostic tool? You've likely faced hardware issues like malfunctioning hard drives, slow performance, crashes, and freezes.
The cause behind these problems can be difficult to pinpoint. Luckily, a hardware diagnostic tool can help you identify and resolve the issue quickly and easily.
In this guide, I'll introduce you to top hardware diagnostic software suitable for novices and advanced users. I've tried out several most recommended apps and singled out the ones that fulfilled my criteria for the best tools. You can find out more about my research process below!

Best Hardware Diagnostic Tool 
Here are the top 10 apps for analyzing hardware-related performance issues on Windows:
1. AIDA64 Extreme – Comprehensive Hardware Monitoring Tool for Windows
Once known as Everest, AIDA64 Extreme gives in-depth system information through detailed reports.
This software streamlines the process of overclocking, diagnosing hardware errors, conducting stress tests, and monitoring sensors.
One feature that especially interested me is its ability to thoroughly assess the processor's performance, system memory, and disk drives. 
Furthermore, it's compatible with many Windows operating systems, including 32-bit and 64-bit versions.
However, I observed a limitation with the OSD (On-Screen Display). You can't see it during gameplay. This significantly restricts its utility for monitoring temperatures and other information while gaming.
Plus, it also supports more than 250 sensor devices to measure crucial data like temperatures, voltages, fan speeds, and power consumption. 
This tool is a paid option, but it provides a 30-day free trial to explore its capabilities.
Pros:
Detailed computer information (temps, CPU, GPU, memory)

Small size

Quick results

Fairly good user interface

Excellent stress test module
Cons:
The OSD is hidden under the "File" menu

Absence of 3D performance measurement.
2. CrystalDiskInfo – Best Hardware Performance Tool for Hard Disks
If you're experiencing issues with your computer's hard drive, CrystalDiskInfo is a free diagnostic tool that can help. 
Moreover, it provides a complete analysis of the state of your disk drives, including USB drives, HDDs, and SSDs. 
The interface is user-friendly, and the multiple configuration options let you see exactly what you want.
Additionally, it's an excellent tool for evaluating the speed of storage devices and memory cards. This provides an accurate gauge of performance. 
During my analysis, I discovered that its benchmarking tools aid in system performance assessment and pinpoint areas for improvement.
Once installed, simply launch the program, follow the instructions, and run benchmark tests. 
Pros:
Free and open-source

Lightweight and offers a portable version

Compatible with NVMe drives

Provides S.M.A.R.T. device information

User-friendly and swift

Convenient shortcuts for easy access
Cons:
Doesn't offer explanatory information for the displayed data
3.  HWiNFO – Best Hardware Audit Tools
HWiNFO is a free Windows tool that offers a quick overview and in-depth information about your hardware components.
In my opinion, this program stands out among system audit tools due to its stability, data widget, and real-time system monitoring. 
Furthermore, you can generate complete or customized reports, use HWiNFO on a portable device, and monitor various hardware aspects in real-time.
Moreover, it organizes the gathered information into ten categories:
CPU

Motherboard

Memory

Bus

Video adapter

Monitor

Drives

Audio

Network

Ports.
On top of that, HWiNFO is compatible with Windows 11, 10, 8, 7, Vista, and XP. Also, 32-bit and 64-bit versions are available. 
Pros:
User-friendly and easy navigation

Offers DOS and portable versions

Frequent program updates

Provides real-time system information

Efficient memory usage

Includes a dark mode for comfortable viewing
Cons:

Information overload on a single-page

Lacks an in-game on-screen display feature

Unable to fine-tune GPU or CPU settings
4. CPU-Z – Best Internal Hardware Configuration
If you want to verify your computer's CPU configuration or double-check a new computer's specs, CPU-Z is a valuable tool. 
Notably, it's free to download and use. It's compatible with almost all Windows operating system versions. 
The standout feature is its ability to scan your system and reveal its internal hardware configuration. 
Another important feature is its user-friendly interface with tabs for CPU speed, RAM details, motherboard info, graphics card model, and more.
Notably, CPU-Z is handy for checking your installed components. It's one of the most widely used programs worldwide to obtain all the information about hardware.
Pros:
Provides information on core count, technology, core voltage, cache size, core speed, and more

No minimized data display, like in the systray

No Error 5 on startup
Cons:
Absence of CPU temperature data
5. JScreenFix – Best for Diagnosing and Fixing LCD Screens
Take a close look at your screen. Can you spot any persistent marks not caused by dust specks? If yes, you likely have a stuck pixel.
These pixels become noticeable when your screen goes black or dims. Fortunately, JScreenFix offers a simple solution to fix them on your computer.
It rapidly flashes various colors on the area with the stuck pixel.
Moreover, if the stuck pixels aren't due to physical screen damage, JScreenFix can help. It operates directly in your web browser using HTML5 and JavaScript, requiring no installation. Best of all, it's free.

Apart from its user-friendly interface, this web app works well on LCD and OLED screens. Moreover, it's compatible with various platforms like Windows 10, iOS, and Mac.
Pros:

Fixes stuck pixels in under 10 minutes

Success rate exceeding 60%

User-friendly, neat, and sharp interface

Pixel repair algorithm used on more than four million screens

Free
Cons:

It's only suitable for LCD and OLED screens

Requires multiple attempts
6. WiFi Analyzer – Best for Analyzing WiFi Connections
WiFi Analyzer is a free utility that precisely does what its name suggests. It scrutinizes your WiFi network configuration to identify potential interference with nearby networks.
Additionally, it offers detailed information about your network, like signal strength, channel usage, and security status.
After its analysis, it provides channel recommendations. While it may not be flawless, particularly in densely populated areas, it can significantly enhance your WiFi speed in some instances. 
Furthermore, it's a native Windows app that performs efficiently on traditional 32-bit and 64-bit PCs.  
Additional features can be unlocked through in-app purchases, including live tile support, signal strength alerts, customizable filters, and more.
Plus, it offers an ad-free experience and features a user-friendly interface for easy WiFi channel distribution assessment.
Pros:
Ideal for beginners

No cost

Accessible through the Microsoft Store
Cons:
Features are somewhat limited

No recent updates
Computer processors are usually sturdy but not indestructible. Problems can arise due to electrical surges or overheating, though these are rare.
In such cases, the Intel Processor Diagnostic tool comes in handy. This Windows-based tool effectively addresses processor malfunctions through comprehensive tests and result reports.
It's a valuable tool for detecting outdated drivers and processor issues. And if performance metrics fall short, the tool pinpoints the problem and recommends a new processor.
That said, it has various customization options. Simply access Tools > Config > Edit to adjust Intel PDT parameters from the default settings promptly.
Plus, this tool's lightweight design ensures it doesn't slow down your system. It keeps your user experience smooth and efficient.
Furthermore, getting the tool is a breeze. Download it from Intel's website, and ensure you pick the right version (32-bit or 64-bit) for your system.
Pros:
User-friendly

Free of charge

Helps prevent errors

Records all data in a document
Cons:
Uninstalling this application may be challenging

Compatibility issues may arise with older hardware devices
8. Windows Disk Management – Great at Managing Hard Disk Partitions
Windows Disk Management is the built-in tool for handling partitions in Windows 10. It also checks the health of SSDs or HDDs and helps create new partitions.
Furthermore, you can scan partitions for potential errors. To do so, right-click on the partition you want to scan and navigate to Properties > Tools > Check.
Moreover, it lets you manage hard disk partitions without rebooting your system or any disruptions. 
In addition, you can switch between an empty MBR and a GPT disk. This provides flexibility in your storage configuration. 
Pros:
Highly user-friendly

The download size is lightweight, about 23.6MB

Accommodates storage capacities of up to 16 TB
Cons:
Incompatible with dynamic disks
9. Windows Memory Diagnostic

–

Best for Resolving RAM Issues 
If you're unsure about your RAM's performance and want to check it, the Windows Memory Diagnostic (WMD) tool is here to assist you. 
This program is a built-in RAM testing tool available on Windows 10, Windows 11, Windows 7, and other modern versions.
Overall, it's a fantastic free memory testing program. It's comprehensive and straightforward to use.
Furthermore, it scans for any memory-related problems and provides a detailed report. 
One of its key advantages is troubleshooting when your computer experiences slowness, freezing, hanging, blue screen errors, or unexpected reboots. It can also help uncover issues with installed applications, whether related to memory errors or not.
Pros:
Available for free


User-friendly

Very compact download size

Fully automated memory test with no user intervention needed
Cons:
Limited to testing the initial 4GB of RAM

Additional steps for creating startup disk and CD image
10. Windows Resource Monitor – Easy Tool To Troubleshoot Hardware Problems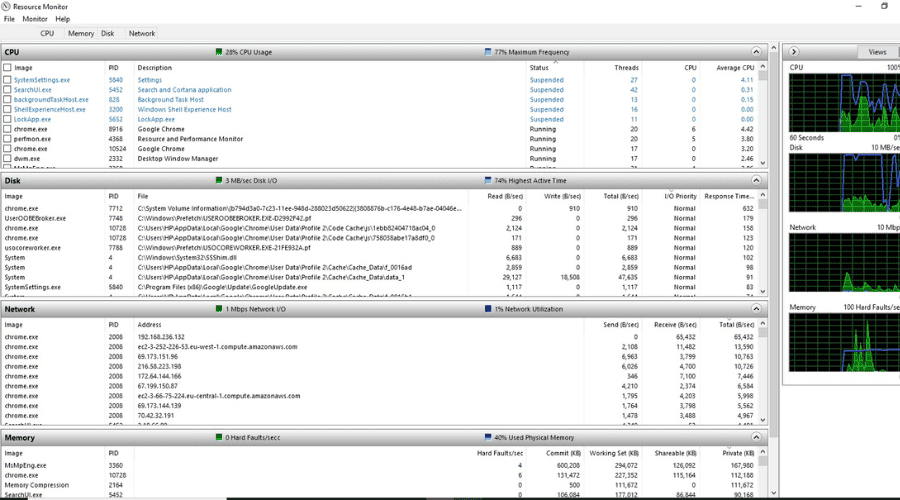 Resource Monitor is a built-in Windows tool for finding out why your computer is slowing down or if a specific app is freezing. 
Traditionally, you'd find it in the Task Manager. Now, it's a separate app in Windows 10 that you can open from the Start Menu.
It shows you detailed, real-time info about how your computer is doing. That includes CPU performance, memory usage, disk activity, and network information. 
Furthermore, it displays graphs and lists of the important hardware parts of your computer. It also uses filters to concentrate on particular apps or processes.
In my test, everything looked good, showing that my computer was running smoothly without any obvious hardware issues.
In addition, this tool allows you to identify resource-intensive apps or processes. You should consider closing or disabling them to enhance overall performance. 
Pros:
User-friendly interface


Offers real-time monitoring of resource utilization

Built-in utility in Windows

Gathers data for subsequent analysis

Assesses performance over extended periods.
Cons:
Limited advanced features

How I Chose the Best Hardware Diagnostic Tool 
For accurate and practical results, I considered key factors like:
Windows compatibility

Hardware coverage

Ease of use and interface

Efficiency

Whether it's open source.
Here, you'll find the characteristics I observed, guided by the following criteria. 
Free hardware diagnostic tool 
| | | | | | |
| --- | --- | --- | --- | --- | --- |
| Best Free Tools  | Hardware coverage  | Windows 11 compatibility | Interface | Efficiency | Open source  |
| CrystalDiskInfo | Yes | Yes | Yes | Yes  | Yes  |
| Intel Processor Diagnostic Tool | No | Yes | Yes | No  | No  |
| HWiNFO | Yes | Yes | Yes | Yes | Yes  |
| JScreenFix | No  | Yes | Yes | Yes | Yes |
| WiFi Analyzer | No | Yes | Yes | Yes | No |
| Windows Disk Management | No | Yes | Yes | No  | No |
| Windows Memory Diagnostic | No | Yes | No  | No | No |
| AdwCleaner | No | Yes | Yes | Yes | Yes |
| CPU-Z | Yes | Yes | Yes | Yes | Yes |
Premium hardware diagnostic tool
| | | | | | | |
| --- | --- | --- | --- | --- | --- | --- |
| Best Premium Tools  | Hardware coverage  | Windows 11 compatibility | Interface | Sensor Managing  | Efficiency | Open source  |
| AIDA64 Extreme | Yes  | Yes | Yes | Yes | Yes | Yes |
| HWiNFO Pro | Yes  | Yes | Yes | – | Yes | Yes |
How To Use Hardware Diagnostic Tool
To effectively identify and resolve hardware issues, I'll guide you step-by-step on how to use the appropriate tools:
In this guide, I'll use HWiNFO as an example:
1. Visit the HWINFO website and click on the "Download" button.
2. Save the downloaded file to your computer and launch the HWiNFO installer.
3. Click on the "Summary" icon to get an overview of the overall performance of your hardware.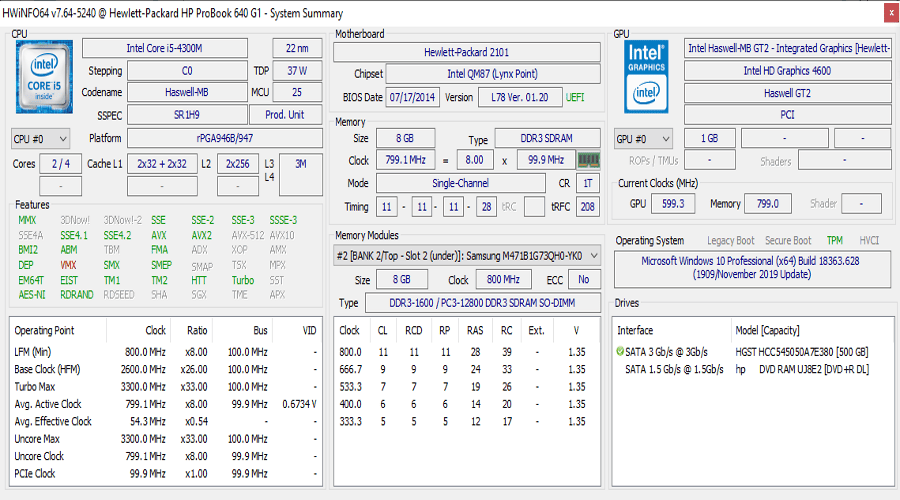 4. Details of the selected hardware component will appear in the left-hand pane. For instance, if you're diagnosing Memory, you'll find relevant information here.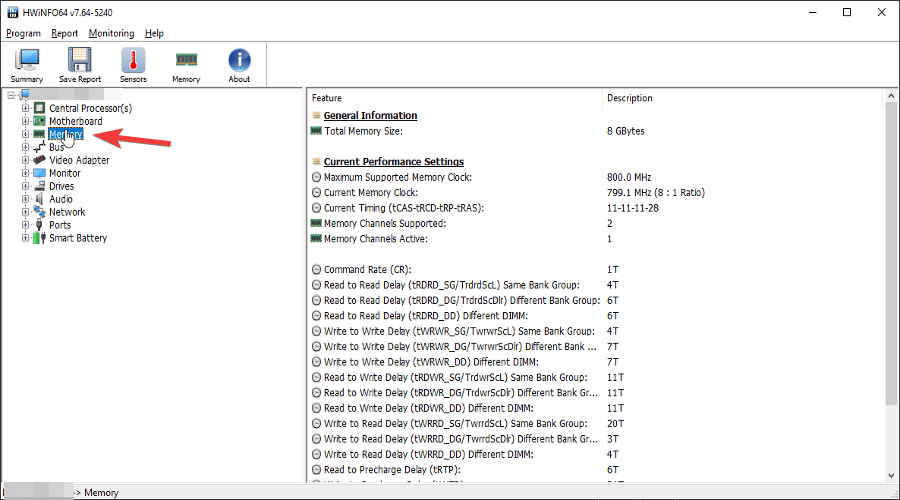 5. You can also explore additional features such as:
Checking real-time sensor values in the "Sensors" tab
Reviewing sensor value history in the "Logs" tab
Generating hardware health reports using the "Reports" tab.
Conclusion 
So, now you know what to look for when browsing for a hardware diagnostic tool. With so many available options, choosing the best one for your needs can be daunting.

Whether you're a novice or a seasoned tech enthusiast, there's a tool on this list that will meet your requirements. Make sure to download it from official sources and run an antivirus scan afterward to ensure your PC's safety.