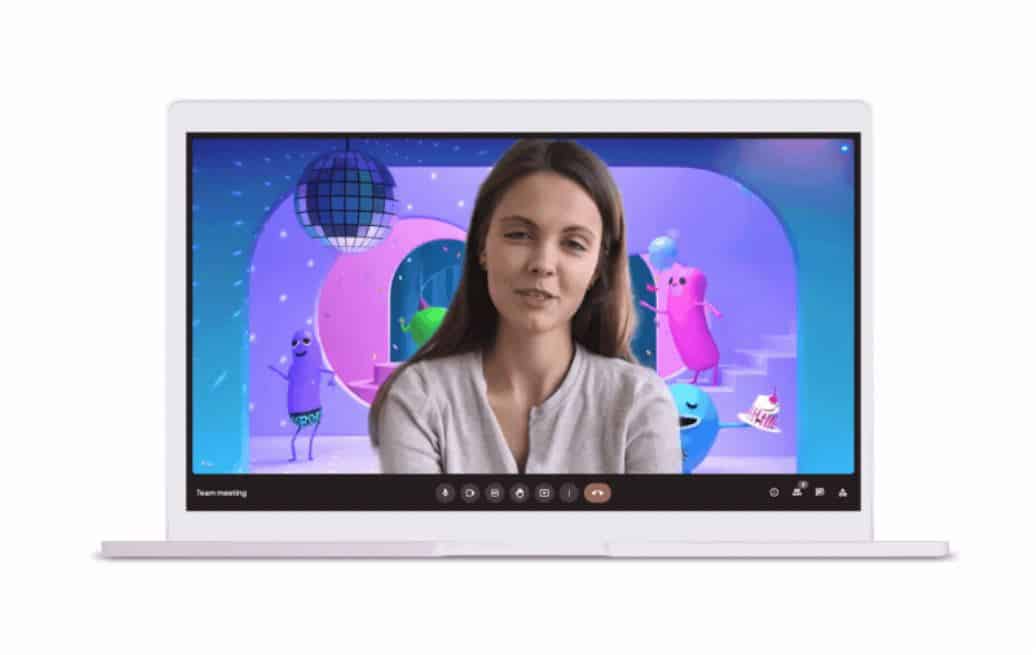 Google today announced a major update for Google Meet. In the coming weeks, Google Meet will get several brand-new features including background replace, Autozoom, Data Saver, Light adjustment and more. Read about these features in detail below.
A new design that makes it easier to present and engage with others

Unpin to make the presentation tile smaller and view all participants.

Starting next month, when viewing and sharing content with any group of people, you'll have more space to see the content and others' video feeds through our refreshed new look and improved ability to pin and unpin content. In the coming months, you will be able to pin multiple tiles to customize what you focus on. For example, you can highlight a presentation and the speaker, or multiple speakers at the same time. Participants' names will always be visible, so you can quickly see who's who, and better engage with everyone on the call.

Highlight different speakers and tiles for a better experience.

People have told us they concentrate better and often feel less tired when they don't see themselves while talking. So we're making it possible to resize, reposition or hide your own video feed. When doing so, you can use the freed-up space to see even more people on the call.

Minimize your own video feed from view.

High-quality and reliable meetings on any device

To support video calls when you're on the go, we're launching Data Saver this month. This feature limits data usage on mobile networks to allow you and the person you're calling to save on data costs, which is especially important in countries where data costs can be high, like India, Indonesia and Brazil.

Now, Google Meet on the web automatically detects when a user appears underexposed and enhances the brightness to improve their visibility. Light adjustment will be rolling out to Meet users everywhere in the coming weeks.

Automatically enhance brightness and improve visibility.

In addition, we're introducing another feature powered by AI called Autozoom, which helps others see you more clearly by zooming in and positioning you squarely in front of your camera. Autozoom will be available to Google Workspace (paid) subscribers in the coming months.

Fun new backgrounds on mobile and web

Last month, we started rolling out background replace, Q&A and Polls for Meet to Android and iOS devices. In the coming weeks, we're adding the ability to replace your background with a video. Video background replacement can help you maintain privacy for what's behind you while also making your video calls more fun. There will initially be three options to choose from: a classroom, a party and a forest, with more on the way soon.

Use a video background to make calls more fun.
Source: Google