Is Copilot the best AI companion out there? Help us find out by answering a couple of quick questions!
Is Google Docs not underlining spelling errors for you? It's my go-to word processor app, so I know how annoying this can be. After all, this feature can be a real lifesaver, especially if you're typing fast.
Are you facing the same problem with Google Docs? If so, let's get to the root of the issue to fix it.
Why Is Google Docs Not Underlining Spelling Errors?
According to my research, here are the most common reasons why Google Docs isn't underlining spelling errors anymore:
Somebody else was recently using the app on your personal computer and they turned the spell checker off.
You've accidentally turned it off while doing something else.
Your operating system (OS) is outdated.
You have pending browser updates.
No matter the reason, it's important to fix it instantly so you can go back to your efficient workflow practices.
How To Fix Google Docs Spell Check?
There are several ways to fix Google Docs spell check. I'll start with the easiest and move on to the more complicated methods, so you can keep trying them one by one until you solve the problem!
1. Select Your Preferred Language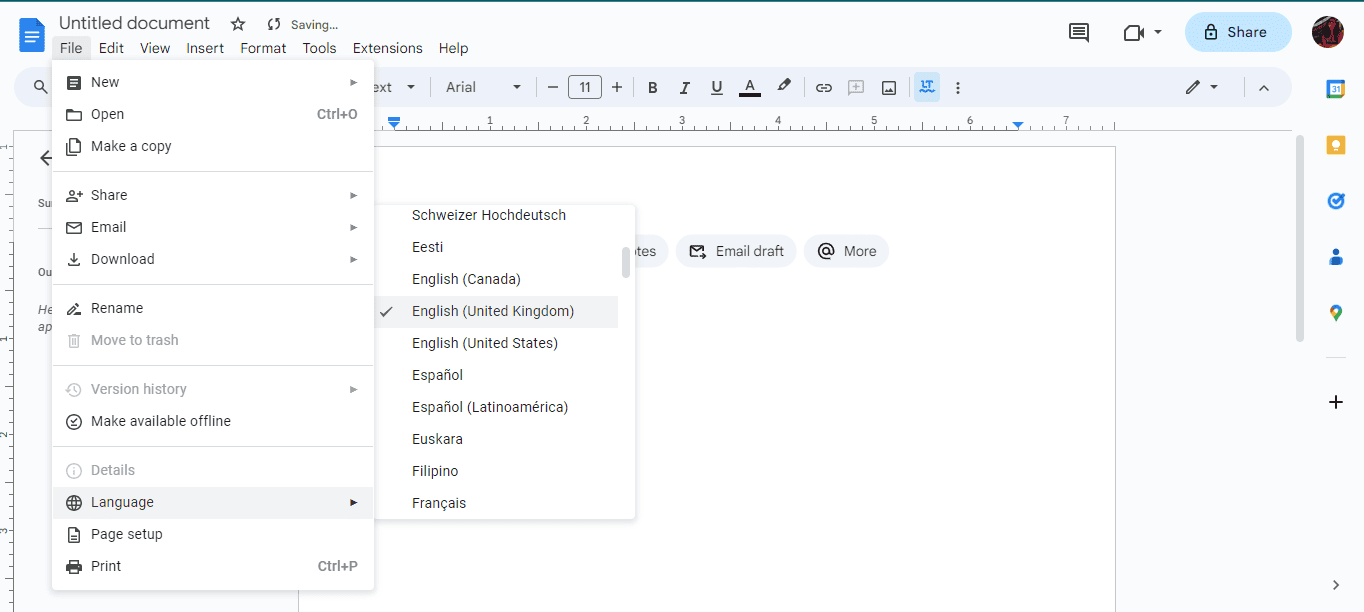 The Google Docs spell check might not work at times if your preferred language isn't selected manually. Hence, follow these steps:
Go to Google Docs and open a new document or an existing one.
Go to File > Language.
Select the language and you're done!
2. Enable Spelling and Grammar in Tools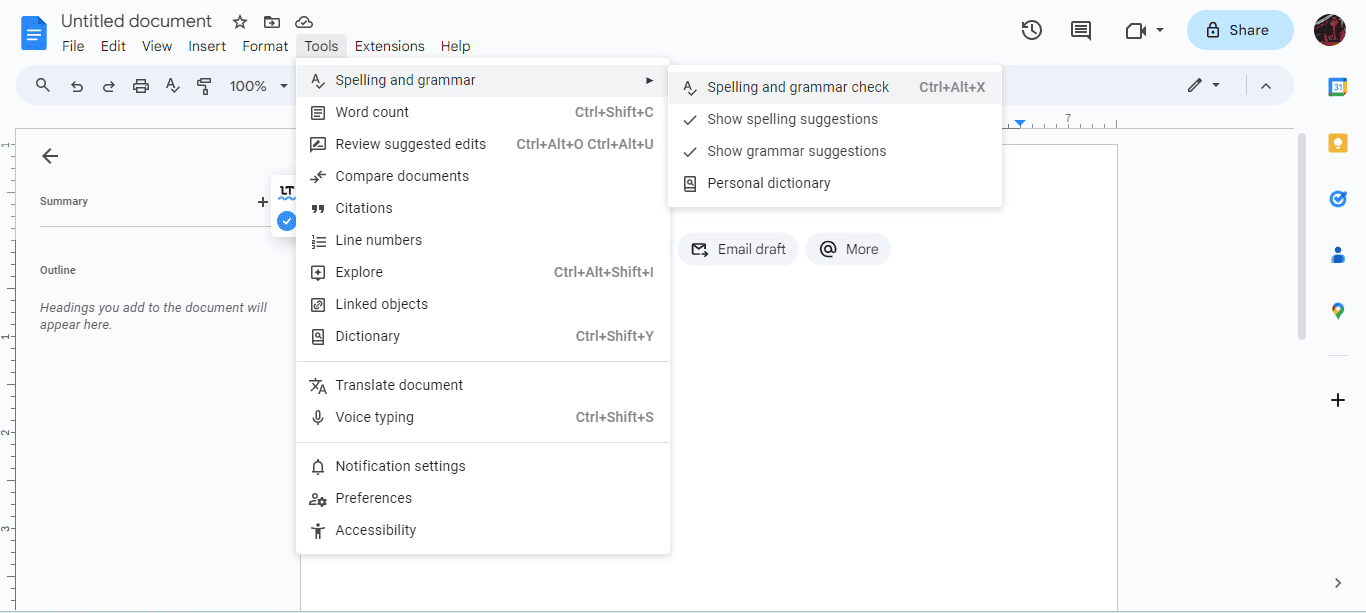 Is Google Docs still not underlining spelling errors? The feature may have been turned off, either manually or accidentally. To enable spell check, do the following:
Once you're in Google Docs, go to Tools.
Next, click on Spelling and Grammar.

Ensure Spelling and Grammar is turned on and has a tick beside it.
You can also enable Show spelling suggestions and Show grammar suggestions.
Alternatively, you can use Grammarly as a tool to correct your errors and paraphrase your sentences more easily. This software is non-intrusive and very easy to use with Google Docs, due to it being delivered through a browser extension.
3. Fix Google Docs Formatting
If you've pasted the document from somewhere else or downloaded it, Google Docs spell check might not be working because the formatting is different.
To change it:
You can press CTRL + A to select all the text.
Click on Format, scroll down to the bottom, and click on Clear Formatting.
You can also enable Spelling and Grammar once more by using the shortcut: CTRL + Alt + X.
Additionally, you can make a copy of the document (File > Make a copy) and enable spell check in that document to resolve the issue.
4. Reset Browser Settings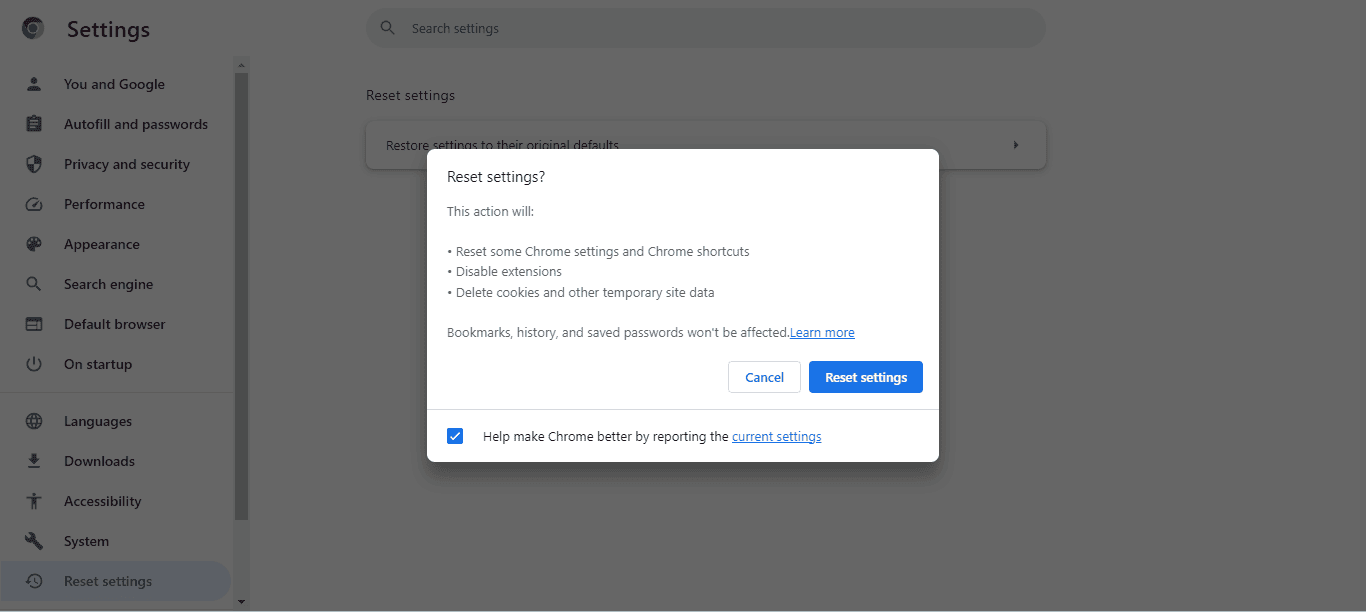 If you've tried all the methods I've suggested above and still had no luck, it's time to reset your browser settings. If you're a Chrome user like me, follow the steps listed below:
Click on the three dots beside your Google account.
Scroll down, click on Settings, and wait for a new window to open up.
Scroll down to the bottom again and click on Reset settings.
Click on Reset settings to their original defaults.
Once you do that, you'll be prompted with a warning.
Click on Reset Settings and you're done!
5. Ensure Your Google Chrome Browser Is Updated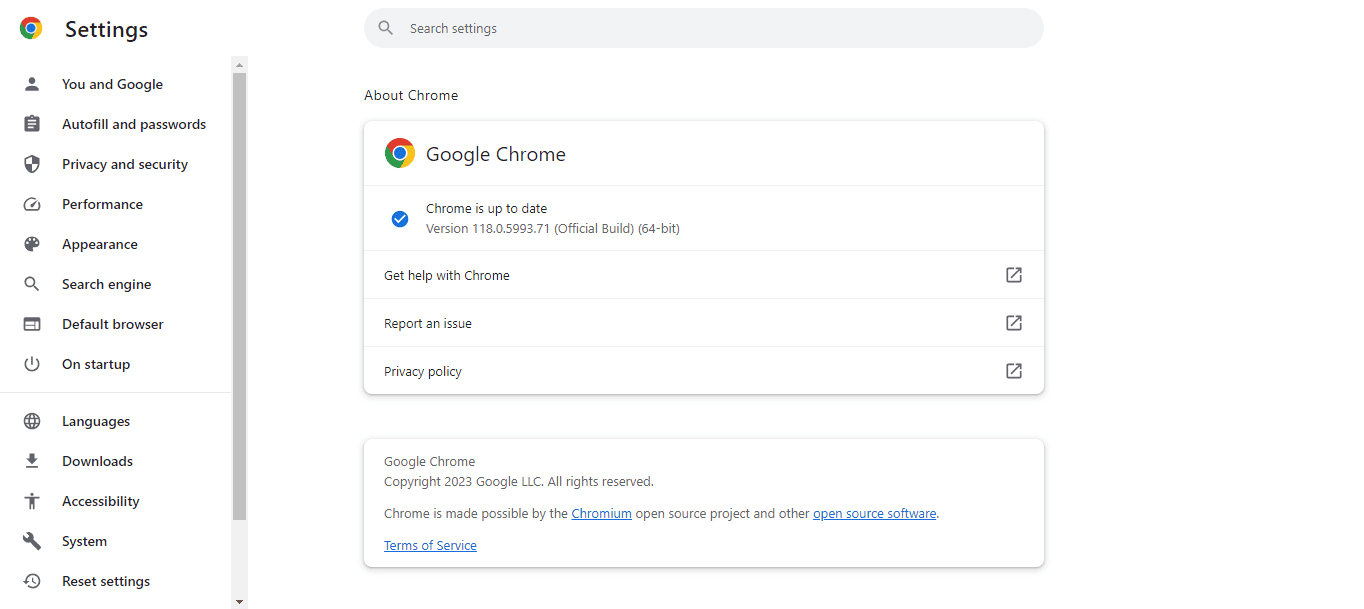 Google Docs not underlining spelling errors could also happen if your Chrome browser is not up-to-date. Here's how to check for updates:
Click on the three dots beside your Google account on the top right of your screen.
Scroll down and click on Help > About Google Chrome.
A window will open up, and you'll be able to see if Google Chrome is up-to-date.
If it's not, click on Update.
Once it's done, go to Google Docs, enable spell check once more, and try again. The issue should be resolved by now.
6. Disable Your Browser's Built-in Enhanced Spell Check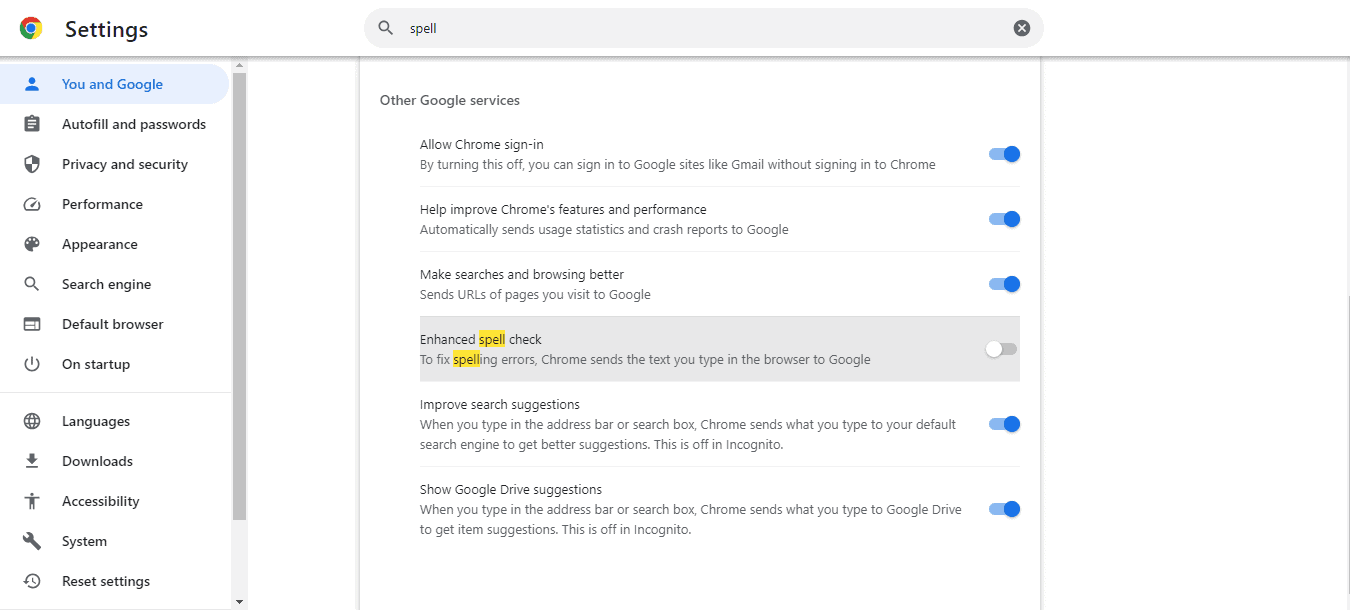 Every browser has a spell check. If you're on Chrome, there are two: a basic and an enhanced one. Your browser's built-in spell check could be overriding the one in Google Docs and preventing it from working.
To resolve this, you can disable Google Chrome's enhanced spell check:
Click on the three dots on the top right of your screen.
Go to Settings > Sync and Google Services.
Scroll down to Other Google Services > Enhanced Spell Check.
If it's enabled, turn it off by clicking the toggle bar.
7. Update Your OS to the Latest Build
Finally, maybe your operating system is outdated which also affects Google Docs. If you're on Windows 11 like me, follow the steps below to update your OS:
Search Windows Updates Settings in the Search bar.
Click on Check for Updates to see if there are any.
Once you complete the updates, your computer will restart. You can then reopen Google Docs and enable Spelling and Grammar check.
Conclusion
Google Docs not underlining spelling errors can happen out of the blue. However, the methods suggested above are sure to resolve the issue. In my experience, you or someone else on your PC most likely accidentally disabled the spell checker. Try all the methods and feel free to share which one worked out for you in the comments!