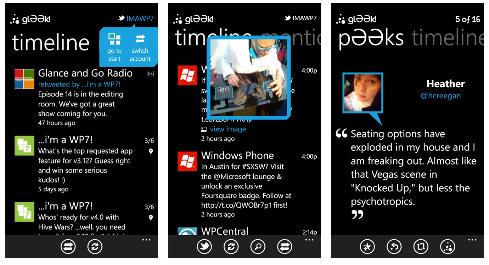 While Rowi 2.0 is waiting for marketplace approval and Carbon twitter client getting updates every now and then, there is an another new twitter client called Gleek which is now available in Windows Phone Marketplace. Look at their feature set below,
Get the coolest, fastest Twitter client available for Windows Phone!
gl??k! is the not only the most fully featured Twitter client on the Marketplace, but is also the ONLY app that will bring you random tweets (p??ks) from users around the world!

With gl??k! you get everything you'd expect from a full featured Twitter client including:

– View timelines, mentions, friends, favorites
– View trends, searches, lists and memberships
– Send tweets, mentions, messages, replies
– Manage multiple accounts
– View tweet conversations

But you also get:

– Full landscape support, including Orientation Lock!
– Add text effects to your tweets, including ?????? ????!
– Pin everything to Start, including accounts, friends and lists!
– Full Light Theme, Dark Theme, and Today's Pick support!
– Easy tap view of videos, images, and locations!
– View all retweets in a "jump list"
Just fyi, the app is from the creators of i'm a WP7 social app for Windows Phone. You can find the app here from the marketplace.
Source: Glance and Go Radio via: Windows Phone Daily